1xBet becomes Global Partner of FC Barcelona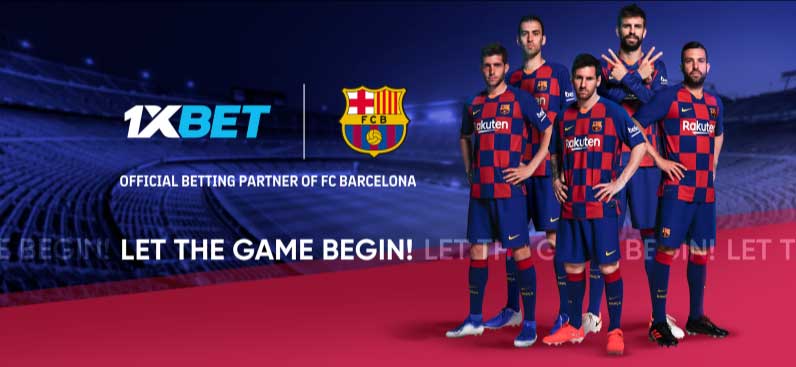 Renowned online betting company and legendary club sign 5 season sponsorship agreement.
1xBet and FC Barcelona have officially teamed up in a new sponsorship deal which sees the innovative online betting company become a Global Partner of the club. The historic agreement will extend through the next five seasons until at least 30th June 2024.
The deal commenced on July 1st, 2019 and will form an integral part in the global expansion strategies of both brands. It also shows the continuation of FC Barcelona's quest to source premium partners from different spheres in order to maintain its position as a world leader in sports marketing and sponsorships.
1xBet and FC Barcelona will be closely coordinating efforts in different categories while making use of wide-ranging assets which will include utilizing the squad in marketing campaigns and promotional material.
1xBet is a recent winner of the SBC award for 'Rising Star in Sports Betting Innovation' and is recognised as a leader in the industry. Since being founded in 2007, 1xBet has grown exponentially and currently employs in excess of 5000 skilled workers globally. The company is already renowned for its top sponsorship deals with the likes of Tottenham Hotspur, Serie A and La Liga Media Partner amongst others.
1xBet spokesperson Alex Sommers summed up the partnership with this statement: "We are very pleased to reach an agreement with one of the best clubs in the world. We are certain that 1xBet has something to offer all FC Barcelona Fans. We expect that the cooperation of two world-class brands will be lucrative for both parties. Barcelona's slogan is "More than a club" and we hope that over the next 5 years, the fans will come to realize 1xBet is more than a bookmaker."
Josep Pont, FC Barcelona board member and Commercial Area Head, agreed with those sentiments - "We are convinced that this deal with 1xBet will help us to continue to grow both on and off the field. The deal consolidates our global expansion strategy and we are sure it will help us to connect with new sports fans all around the world."
About 1xBet
1xBet is the world's leading betting company and has rapidly developed over the past 12 years. With offices in Europe, Asia and Latin America, that growth continued. It offers the best odds on the widest selection of pre-match and live events, together with casino games, slots and live casino games. With over 250 payment solutions worldwide and customer support in more than 30 languages, 1xBet is the ultimate online betting destination.


VISIT 1XBET