22Bet Mobile App
22Bet Mobile Version
22Bet is a virtual bookmaker operated and owned by Marikit Holdings. This name is popular between keen gamers, since they have launched other famous gambling websites. 22Bet is a combination between a sports portal and a virtual casino. It provides huge number of options for betting therefore it is quite interesting to try in case gambling is your cup of tea.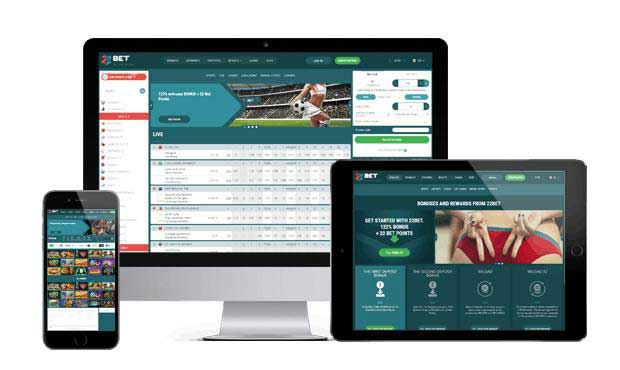 Installation is easy and intuitive. Google Play Store does not list the 22Bet Mobile App, which is why you will have to download it directly from the website.
- Open 22Bet in one of your mobile browsers, using the link: 22bet.mobile
- Push the green button "Installation" at the top of the page.
- Adjust the security settings of your system, by allowing unknown sources to install on your phone. For that to happen – first go to Settings and then to Security Options and tick the relative box.
- Finish your installation, and start to enjoy a mobile version of 22Bet.
Apple fans have got a dedicated 22Bet Mobile App as well. They are capable of employing every option and feature of the bookmaker, by pressing a few buttons on their phone screen. The iOS App is a piece of cake to install. Follow the instructions:
- Open directly your App Store and log in.
- Since 22Bet is based in Cyprus – you have to switch your profile user region to Cyprus, if you would like to download and utilize this app. Open Settings and click on the button, which changes region or country. Agree with the Terms and Conditions.
- Now search for the name of the bookmaker – 22Bet, in the Apple Store. After you hit on Get – the 22Bet Mobile App is going to download directly to your phone.
- Now you can switch your Country back to where you really reside.
The moment you first look at it, you will discover that the mobile site variant is very similar to the desktop version. The colors are replicated, the only difference is the arrangement of icons and bars, which have been optimized for browsing with a mobile device. To the top and to the right, you will see the two buttons for login and registration. To the top and to the right – you will find also 3 bars. Click on them and a top menu will promptly appear, which navigates to various sections of the site such as casino, sports-book, live casino, live results, bonuses page, language setting and customer support.
The mobile version is also multi-lingual like the desktop website. Except for English it supports many languages like French, German, Chinese, Indonesian, Portuguese and
The application also allows access to a real-time customer service via chat – they will respond in the frame of two minutes.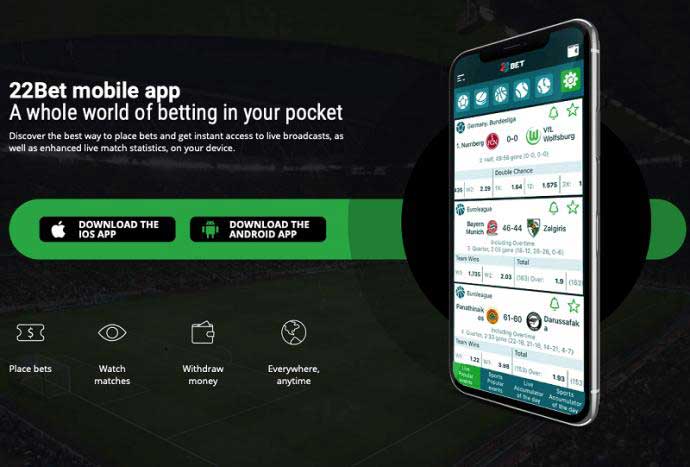 22Bet Mobile App
In order to follow the trend and show some style – 22Bet has got not one, but two wonderful different applications for your mobile devices – one for iOS and one for Android. The website is well-represented by both versions of the 22Bet Mobile App.
It is a handy platform to carry around with your personal belongings – anywhere you go, 22Bet also goes – so that you may dispose of all the gaming features of this magnificent booking company on the fly.
You need to know that the desktop version provides the same odds as the mobile versions.
22Bet does have a finely developed and carefully organized section for sports betting. It has a stunning selection of markets – and that reflects in the mobile app as well.
From the convenience of your pocket, you can bet on tennis, hockey, football, basketball, badminton, motorbikes, cricket, motorsport, boxing and UFC. Alternatively you can bet on Muay, Kabaddi, Thai, Inline Hockey, Hurling, Figure Skating, Bowls, Biathlon, Sailing and Billiards and that's not all. 22Bet Mobile App provides the players with a large collection of sport, and live events every single day.
Football fans will be overwhelmed with the options: they even bet which team is going to score next, and plenty of the match's aspects. There is also a race-book – with a supreme collection of greyhound and horse races – from various places around the entire world.
Casino
The casino is mainly focused on slots, but there are also many casino games, and the portfolio is always getting bigger. Among them – the beloved, exciting, games with live croupiers – like Blackjack, Baccarat and Roulette. Provided by the titans in the industry such as Authentic Gaming, MEDIALIVE Casino, Evolution Gaming, ALG, DealorNoDeal, Portomaso Gaming,XPG, Vivo Gaming,Fazi, LIVE SLOTS, Lucky Streak, AG, N-Live and there are more to come. These great services are the reason for the impossibly realistic feeling when you play the game. Slots come with the beloved option to play for free – that is without wagering any real money.
Features of the 22Bet Mobile App
You have got the live in-play betting feature – which allows you to wager at any time of the matches, which are going on. The mobile version also lets you wager on many events at a time – and this has many advantages.
Another interesting option is the long-term betting – it gives you the option to bet on event which will finish after a lot of time – for example, who will win in the league, which team will score the most goals, and who will win a marathon – virtually
There is a feature named "Enhanced Odds" in the sportsbook of the mobile website, which contains chosen games and a combo consisting of a few games, which have odds higher than the normal. Usually these events rank among the popular daily bets.
Instead of live-streaming, 22Bet provides us with a portal with live results – quite a resourceful section – if you mean to wager on live bets.
There is also a section for special bets. It allows one to bet on different events like: alien existence, upcoming elections, the weather and even the end of the world. Though some might find them ridiculous – those are good options if you want some variety from your usual betting markets.
Offers
With your mobile version, you will receive some great bonuses –all of which are neatly listed on the promotional page. None of these is specific to the mobile app. But in case you are a loyal customer, you can choose among a lot of bonuses.
System
Among the mobile browsers, which are capable of loading 22Bet are Chrome, Mozilla, Opera and Safari. You can use the application on the following phones: Samsung Galaxy S, Samsung Note 2, Motorola Z3, Nexus Smartphones, Samsung Tab A2, iPhone x, iPhone 5,5c and 5s, HTC Desire Smartphones, Huawei Mate series smartphones.
Payments
Never mind of your country you reside in – you can deposit via the 22Bet Mobile App. You can use over 100 methods of payment – bank cards (credit and debit), e-wallets, crypto currency, e-vouchers, payment system, internet banking, cash transfers – use your imagination…The minimum of the deposit is €1.
Rating
All of us are lucky, that 22Bet provided us with a mobile gaming platform, developing the two apps for iOS and Android users. They are flawless in function, and they offer every feature, you can find in the complete version of the desktop website. The mobile version provides entertaining, stable and cozy gaming options.
Customers find the 22Bet platform as absolutely fine and they even recommend it to each other. Evidently the bookmaker is one of the best beloved in the industry. It also takes measures of security – for the safety of their visitors (firewalls, encryption software, and care for the personal information.) One may conclude that the site offers very adequate service. It is clean, simple, and functional. It has got easy and tidy design, exceptional functionality, services for everyone and it makes it easy for the customers to withdraw/deposit.
More about 22bet ......
Topping up your account is a piece of cake – you are allowed to use more than 100 variants of systems for payment, some of which even depend on your whereabouts.
Whenever you want to withdraw your money – we have provided you with more than 60 payment systems. The first time you withdraw, you pass through a KYC procedure, in order to complete the withdrawal.
Absolutely! Your favorite casino games are several clicks away.
Customer support is essential. Live support is available to 22Bet users 24/7. Apart from this option – you may want to send an e-mail to the company – and e-mails are usually answered between 12 and 24 hours, or in some cases even faster. 22Bet Mobile App cares to provide quality help for its customers at all times.
Should you ever like to cancel your account – the proper way to do this is to contact the Customer Support. 22Bet's agents will take your hand and help you proceed with the deletion in a safe and quick way.