22Bet
There are millions of people online who like to entertain themselves with gambling. There are hundreds of bookmakers, who give them the chance to satiate their passions online. 22Bet is one of the elite and distinctive betting companies. Though it is rather new it stands out from the crowd with its all-inclusive gambling options, reliable and speedy processing of bets, and amazing opportunities for betting, high odds and personalized approach to every customer.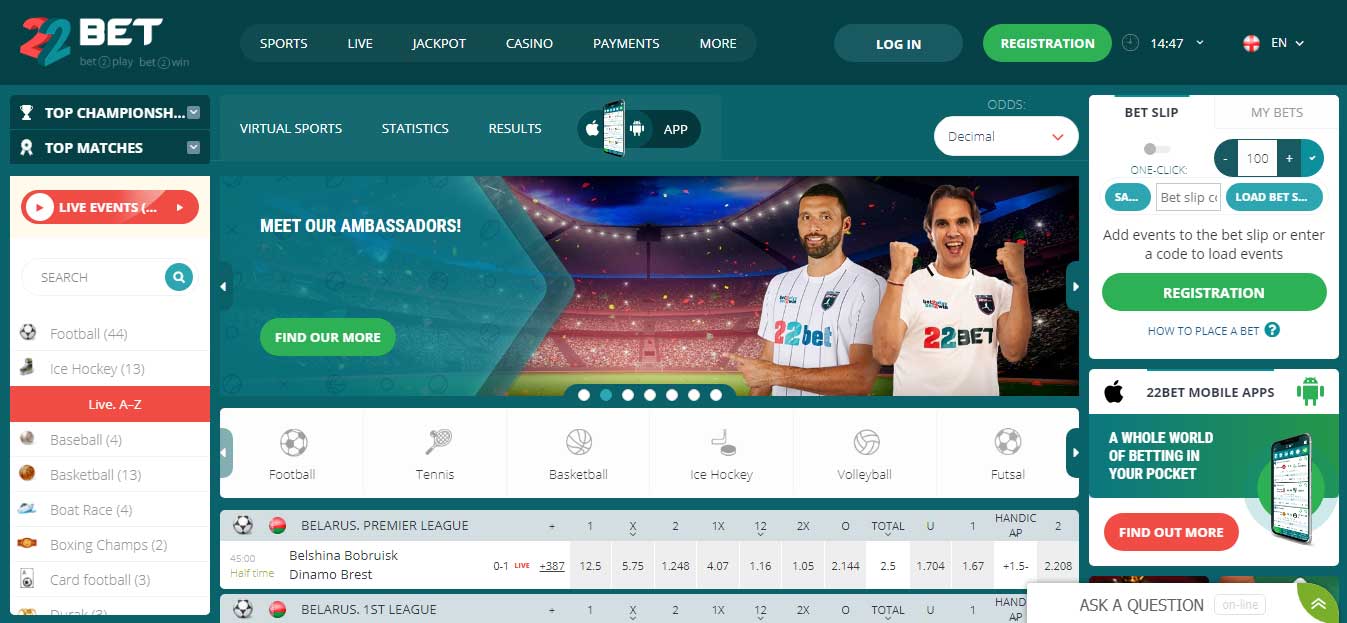 Players can play 24/7 and get as bold as they can with their guesses. Licensed by the government of Curacao, 22Bet are a trustworthy Betting Company which pays to its hundreds of thousands of customers 100% of the winnings, bids them good luck and warns them about responsible gambling.
Interface
The webpage greets the eyes with a pleasant nuance of dark green. The fancy logo is in the top left corner of the page, along with the slogan of the company: "Bet to play, bet to win!" In the top menu of the page you can see the links to the sports events, the live betting service, the jackpot, the casino, bonuses, and payments and so on.
Next to the menu are the registration and the log in button, current time in your time zone, and in the top right corner you can choose your best preferred among 59 languages. Below the menu line, to the left there are the top championships and the top matches proposed by the bookmaker. Some cool advertising, green banners right in the middle of the main page, distract your eye pleasantly.
To the right there are your bets and the links to the mobile applications. In the midst of the page – you can see the information about the current sports events, and there are buttons of different sports to choose from. Scroll to the end of the page for some information about the company.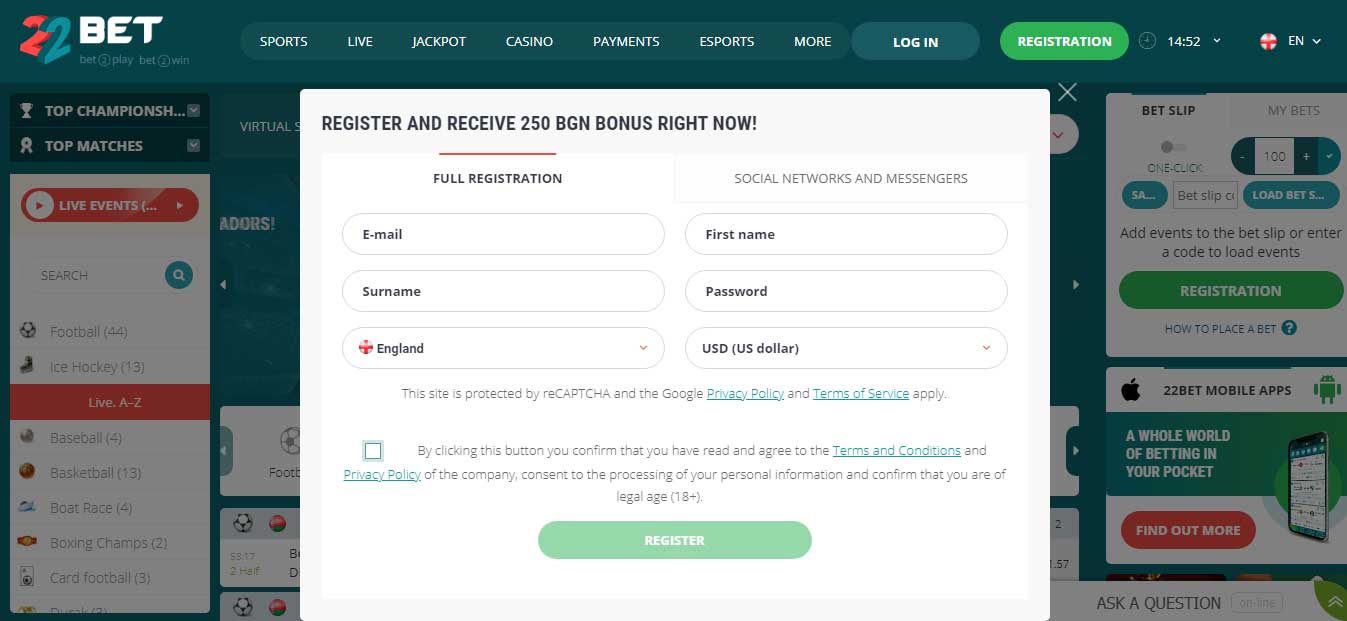 22Bet prides on the easiness of the registration process. It can be done most easily with one of the following social networks: VContact, Ok, Google+, Яндекс, or your e-mail. All you have to do is pick your currency, your nationality, agree to the Terms and Conditions of the bookmaker, then choose by icon (logo) and log in the respective network. If you choose full registration, you will be asked to fill in:
1. Your active e-mail.
2. Your First name.
3. Your Surname
4. A Password Field
5. Your country of residence.
6. Your national currency.
Then again you have to agree with the T&C. You are going to receive an e-mail with the confirmation link. Log in with your new details. Voilà – you are ready to play.
Bonuses and offers
In the Top Main Menu – to the right you will see an item called More – hover on it with the mouse. The first sub-item is called Bonuses – you want to click on that for a revelation about all the bonuses catered by the bookmaker. Every day if you play the game of the day – you are eligible to win some free spins. Weekly Rebate is offered by 22bet.
Also, when you make deposits, by default you take part in the Bookmaker's Lottery. A deposit made on Friday will win you a 100% bonus, for participation in the promotion RELOAD Friday. Money prizes for you every week – you have to participate in the Weekly Race to win. Of course – the company welcomes its customers with the well familiar First Deposit Bonus.
After registration, via email, you will receive an e-mail that your fabulous bonus awaits you. You can gain this bonus right after your first log in if you fill in all the details in your account and top it up. The company offers a 100% Welcome Bonus – which is different for the Sports and the Casino section. The least amount you can deposit is USD 1 or EUR 1 and you receive just as much.
Sports Betting
According to the company's vision life without sports is unimaginable. The sports section is the Home of the website. You will be stunned by the huge variety of betting options. 22Bet does not simply cover the most popular sports such as: Football, Basketball, Tennis, Ice Hockey, Table Tennis and Volleyball.
It also lists on the website less frequent sports such as: Badminton, Snooker, Baseball, Bicycle Racing and even Darts. There are animal sports like Horse Racing and Greyhound Racing, and virtual sports, even Martial Arts and Political Events. You can bet on anything – you are limited in your opportunity to win some good money only by your imagination!
Live Betting
Among the fattening-your-wallet features 22Bet prides on is the Live Betting. No wonder it has got an entire dedicated section in the website. There are plenty of live events – perhaps more than a thousand matches in sports such as: ice hockey, football, boxing, baseball, snooker and water polo. Live betting is best described as the option to make bets on sports events after the start of the match. These are quick, highly intuitive decisions and people can make them, while the game's going on. It's a good option for both experienced and beginner gamblers to try their good luck.
Mobile 22Bet
If you are anything like contemporary people, then your phone is the wonderful device you carry with you in your pocket and it should cater to all your needs – including gambling. Guess what – with 22Bet you are carrying around an entire sports-book and a casino.
There is both an iOS and an Android application of the betting platform – available for you on the website – a download just a click away. You will discover an entire pocket-size new world of entertainment that you can comfortably move around with you.
More about 22bet Mobile app ......
Payment methods
Nobody is neglected. There are all in all 47 payment companies, which work with 22Bet. Among them the 7 most popular methods are paying with MasterCard or Visa, Skrill, Neteller, PaySafeCard, Rapid Transfer. You have also some e-wallet options such as Qiwi, Perfect Money, Epay, Jeton Wallet, and Stickpay.
For your convenience crypto currencies are also supported and you can pay with BitCoin or Ethereum for instance. There are 35 different methods of withdrawal. You are at all times allowed to check on your withdrawal requests. The minimal sum you are able to withdraw is 2 Euro.
Support and Contacts
22Bet makes efforts to please its customers. It doesn't only provide a bookmaker service with wonderful conditions, it also does its best to create comfort and please everyone. Their customer service is something to pride on – they react to every request, 24/7 in all the platform languages. There is a live chat – you can ask anything by pressing a single button. A polite agent will reply promptly and will solve your issues like a charm.
Rating and conclusion
22Bet develops fast and unfolds its potential – we appreciate their service, because it is centered on the customer. It provides all the best options for the gamblers to enjoy their favorite pastime, and be surprised with wins, and risk, and get all those rushes of adrenaline, while sitting at home – the safest place in the entire world. No wonder gambling has been with us since ancient times.
Although 22Bet doesn't impose any fees on its customers – the company cannot guarantee that the tax authorities in the country you come from do not have laws regarding winnings from a betting company. You are a responsible to conform with the regulations in your own country concerning gambling.
Should you want to cancel the promo emails from the company – there is a button "Unsubscribe" at the bottom of each email you receive. Press that button and we will never bother you again.
Yes – it is possible. Just log in your account. You are able to follow your betting history when you click on My Account, Bet History. You can also subscribe to receive reposts on it in your personal e-mail account.
Yes, check under Casino in the Top Main Menu – you will see a link which will take you to the Live Casino. Games are powered by various titans in the industry such as Evolution Gaming, SuperSpade, Atmosfera, Medialive, Authentic Gaming. You can check the most popular and even keep your favorite games for your convenience. 24/7 you have got at your disposal great live dealers, who make the games even more enticing.
In the upper right corner of the main page there is a small icon, which will show your language by default. If you want to use any other language – just click on it and you will get a huge number of languages to choose from. All you have to do is recognize the flag of the country, whose language you want to pick.