JVSpin
JVSpin is a tantalizing online place, where people gather to do their favorite activity – gambling. Worldwide there are a surprising number of people, who are in love with gambling and JVSpin is one of the original, yet elite venues, where your dreams come true. Completely novel - on stage since 2020, it provides its service under the administration of the government in Curacao – which makes it an absolutely legitimate and secure place for players all around the world. Day and night, there are wonderful guessing games and games of luck offered by JVSpin to test the good fortune of passionate gamblers. Nowadays we do everything on the Internet - we work hard and we play hard – we satiate all our passions online. Time for new betting companies such as JVSpin to break through in the gambling industry.
Interface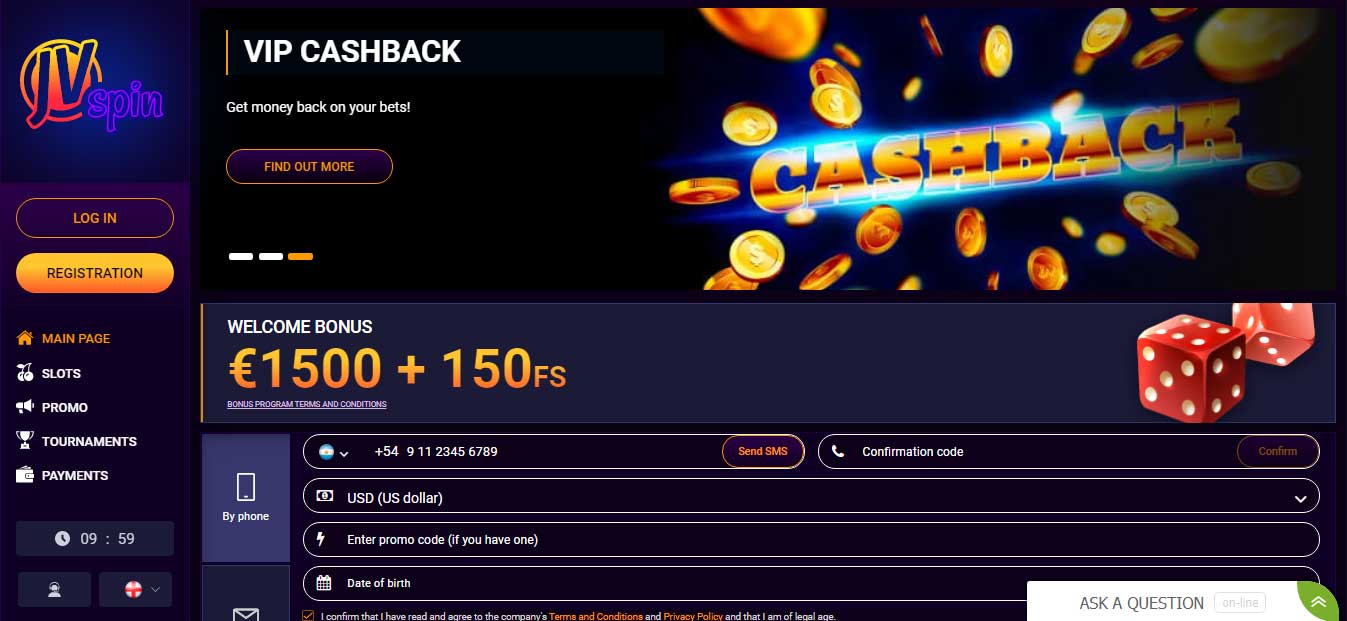 Good news is the main page really loads – it loads independently of the time, it loads independently of your location, it loads in your native language, and it loads fast as the wind. The basic color is elegant black, but there are some flashy banners and the flashy logo in the fruity colors of a Caribbean fiesta. The main menu is neatly tucked to the left under the logo – just below the buttons for login and registration and it is surprisingly simple to navigate. It has got links to the Main Page, Slots, Promotions, Tournaments and Payments – well basically that's all there is. Still is that not everything a keen Casino gambler can dream about? Everything is so well and neatly organized that navigation around the site is a piece of cake. You can change the language below from the left corner of the page, by selecting your national flag.
Registration
The registration process is - as usually with all the respectable betting companies online – easy, intuitive. There is a registration form, which greets you on the main page in the right middle section of the screen. You can register either using your phone or your e-mail. In the first case - the short fill-in form requires personal data such as your phone number, your native currency, a promo code if any, and a date of birth – to prove that you are an adult. The system will reply with a code of confirmation, which will login you into the website. If you choose to register vie e-mail, you definitely have to enclose your e-mail. But you should also select your country of residence, your area and your city. You need to choose and confirm a password. It is a simple, two-steps process of registration – finally you are also required to provide your name and date of birth. Of course, you will have to agree with T&C. How wonderful, you are already a registered customer!
Bonuses and offers



If you want to check on JVSpin bonuses, it is advisable to open the link for Bonuses in the main menu. It takes you to a dedicated page, where you can find more information about the generous promotions the bookmaker has to offer. Press the button Learn More to find out about some huge and impressive bonuses. There is a list of rules you have to familiarize yourself with in order to be able to take advantage of the promos. JVSpin Casino has got promotions with some surprising figures. They reward their customers often and generously in order to stimulate them to play even more. You have to check carefully when you are elligible for a bonus, follow the rules and youhave the chance to wager and win an indecent amount of money.
More for JVSpin Bonuses ......
Lacking Sports
One surprising feature of the JVSpin online Casino is that so far, it has got no Sportsbook. It is entirely focused on the casino slots and table games, in this way it is capable of providing an even better casino experience. It's an online place so fabulous that can convert the keen sport betters into enthusiastic casino punters. Just a few online casinos can boast with a similar wonderful variety of traditional games and bonuses - a really fabulous collection for connoisseurs and amateurs.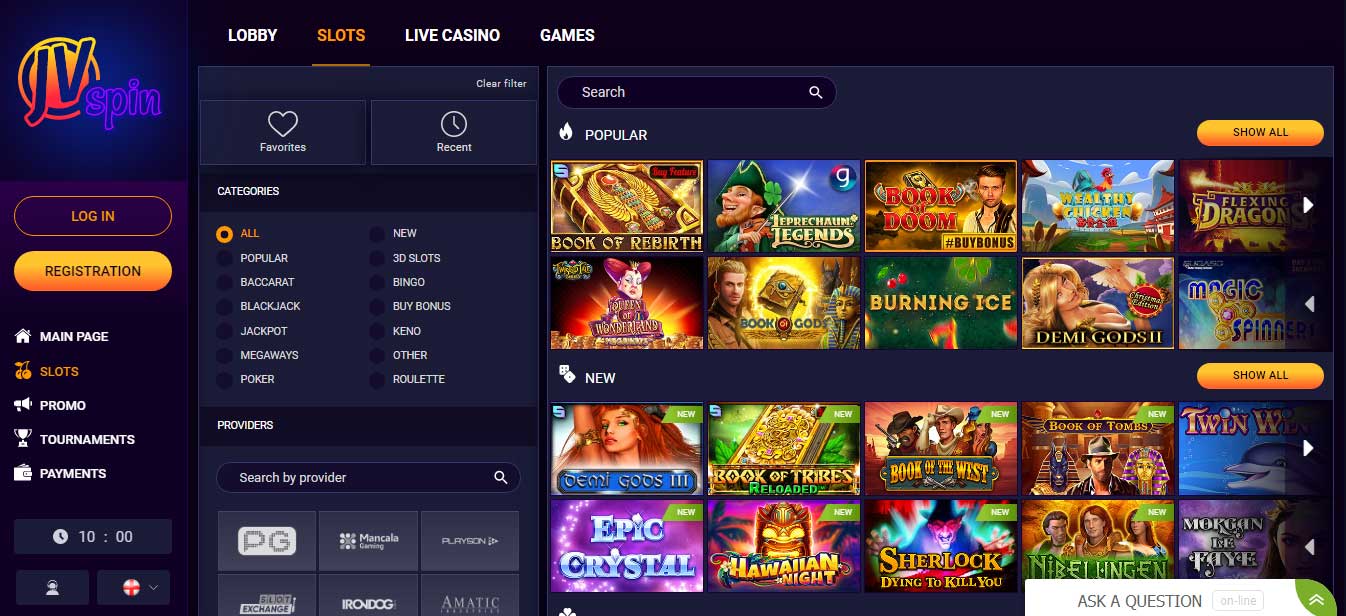 Slots come in categories – from the most popular to the newest. If you are a registered user – you may add games to a collection of your favorites. JVSpin's slots are the ever-green and smart gambling machines, which promise entertainment and luck. The beautiful selection is due to the company's partnership with names such as: Betsoft, PG, and Amatic – leading providers in the gambling industry. Listed along with the slots you will find the virtual versions of your best beloved table casino games: Baccarat, BlackJack, Roulette, Bingo, Keno and Poker. Lucky you!
For the love of all that is traditional in gambling, punters all over the world mostly flock in the live casino. There is something inherently entertaining in having a live croupier to lead your game, console you when you lose, and greet you when you win. Croupiers are finely groomed and treat the customers with utmost respect. Thus gambling is more pleasant and fun even if you have to lose.
More for JVSpin Casino ......
Mobile JVSpin
When you are on a road trip and you want to gamble with JVSpin – your phone is practically everything you need. JVSpin has got a superb, pocket-size, mobile casino. Isn't it lovely to walk around with your favorite games in your right hand? You can use Mobile JVSpin in the train or in the bus, or in the park, or even when you hang out with friends –you can play together. It's portable happiness.
More for JVSpin Mobile App ......
Payment methods
Click on the Payments tab in the main menu. It will take you to a surprising number of 41 ways to deposit your money. 26 of them are in crypto currency. You can always pay by a bank card, with an e-wallet, electronic vouchers or even via bank transfer. There are 38 ways of withdrawing your wins from the online casino. Among them 26 are in crypto currency. Deposits and withdrawals have never been so handy and contemporary.
Support
Of course – as any respectable online betting company – JVSpin has got a live chat activated with a button, which is situated in the foot section of the website. There is an online consultant ready for your questions one hundred percents of the time. You see the name of the consultant who serves you, and you can leave a five-star evaluation of his or her aid. This is very stimulating for the team to be really kind to customers. To the left, right next to the language switch button – there is an e-mail form just in case you decide to contact the team via e-mail.
Conclusion
With over 7000 games, 24-hours support, lavish bonus packages, decent license, fast and reliable payments – JVSpin Casino are one of the most promising novel casinos on the Web. JVSpin team obviously know exactly what are the players vital necessities: huge wins, fast withdrawals, licensed software, an awesome variety of games, a courteous and friendly customer suppport – yes we have got tall of these. As well as a convenient and handy Casino experience. So there is no need to tell how great and impeccable they are – you can join them here and now. "Spin the wheel and win!"
Your security with this online casino is guaranteeed by the government of Curacao. One of the requirements of the Curacao lisence is that the player should be over 18 years old. Gambling is a pleasure for adults.
Of course there is! The Live Casino is probably the most popular gambling option served by online betting companies all over the world. There is a link in the Head Menu that takes you to Live Casino and if you want to play – all you have to do is just log in your profile. There are popular and exotic games with live dealers, for the traditional casino experience. Games are really more charming with a live croupier.
Yes, both your Smartphone and your iPhone are compatible with the mobile version of JVSpin. Modern and convenient, adapted to any device – the casino welcomes you to spend your free time in an entertaining and pleasant way.
Should you have any questions or any problems unresolved, you should by all means contact the support team. On the website in the foot section you will find the live chat to the right and the e-mail form to your left. Help is available to you immediately 24 hours a day.
When you open the JVSpin casino main page, it loads directly in your native language as detected by the website. If you want –there is a small button with a flag in the left foot section of the site – right next to the e-mail form. You are free to switch to any language you like.