JVSpin Casino
Introduction
Around 40 million people all over the globe are the regular poker players of the world- and more and more of them have started to prefer online casinos. Humans are cuirious creatures, they are playful and they like to guess. JVSpin is designed to meet this basic human necessities – by offering the players an incredible casino platform, and catering the joys of gambling all over the world. The live casino is available to you immediatelly after you register with JVSpin. You will be required to enclose some personal information such as your cell phone number. But then the experience of online playing has got many advantages. You play from the most comfortable place in the world – your home. Can you imagine all casino pleasures at your fingertips?
Live Casino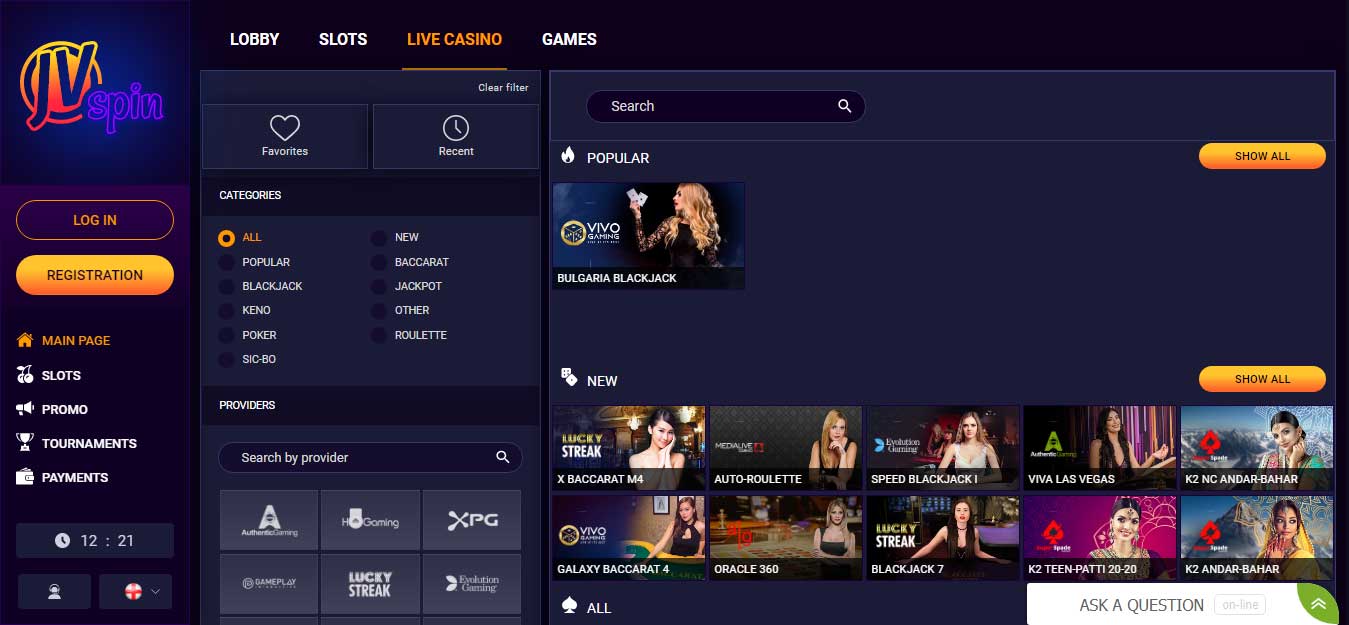 You can access JVSpin Casino from the upper menu on the main page, which says Live Casino. It takes forever to list all the live games the company has to offer to the casino lovers. There are categories which organize the games in order to facilitate the players in their choice. You can easily access the selection of popular and new games, as well as all the variants for Blackjack, Keno, Poker, Sic-Bo, Baccarat and Roulette – the best beloved casino games of all times. There are also games with a huge jackpot, listed under the Jackpot category. There are even additional games such as Andar Bahar, Dragon Tiger, Deal or no Deal, Monopoly Live, Dream Catcher, Lightning Dice, Bull Bull, and a few more. In general, a wonderful selection of games is presented by JVSpin Casino – you have great chances to find exactly what you want, and in most cases – even more than you have dreamt of. There is an awesome variety of ways to win with JVSpin.
You can also categorize games according to the software suppliers. They are: Authentic Gaming, XPG, Hgaming, GamePlay, Lucky Streak, Evolution Gaming, VIVO Gaming, GV, AG, Super Spade, BET Constrct, N2Live, Dreamgaming, Medialive Casino and Alg, there are around 70 providers. So you can easily filter your favorite games among the plenty.
In order to play most games, you need to have passed through the process of registration. Otherwise, whenever you click on a live game, a pop out says to you – "Want to play? Just log in your account."
But in case you just want to look, there are some games, which load, even if you are not logged in. For example N2Live's Baccarat RNG 1 – which is a game led by an animated character. Yes, a beautiful and sexy avatar is leading the game for you, it's as if you are taking part in a cartoon movie.
Another fabulous game again powered by N2Live, which fortunately loads for unregistered users is Baccarat Live 5. Here we have a quite attractive woman, who is dealing the cards with grace and style. She is very pretty, exclusively professional, and respectful. There is a tendency among the croupiers to wear low necklines, which is wonderful for the male audience. The live croupiers change quite often, but there is enough time to get attached to them.
The Live Casino Lobby
The Live Casino Lobby is a fabulous feature of JVSpin casino. When you load a game in the upper left corner – you see a link to the Live Casino Lobby. It takes you to a land of gaming adventures. When you click on it – you find listed all the live games which are going on at the moment. That's not all – there is a picture of the croupier, who leads the game. So you can pick your favorite dealers and easily discover if they are online. The Live Casino Lobby also allows you to pick a game easily, as it has got a menu for all the games you can play at the moment. You have a list of Blackjack games, Roulettes, Casino Holdem, Hi Lo, Pai Gow Poker, Keno, Poker, Baccarat, Dragon Tiger and Rusky Poker.
Live Baccarat
One of the best beloved casino games of all times is the Baccarat, which is also familiar as punto banco. It gathers the most affluent among the gamblers, it is really easy, it requires an obligatory dress code. But with JVSpin Casino you can play this game in your casual clothes at home. There are so many Baccarat games at JVSpin Casino, that there is something suitable for every taste. No matter if you want a fast game, with plenty of side bets, or if you want the chance to land a jackpot – there always is a table of Baccarat especially for you.
Poker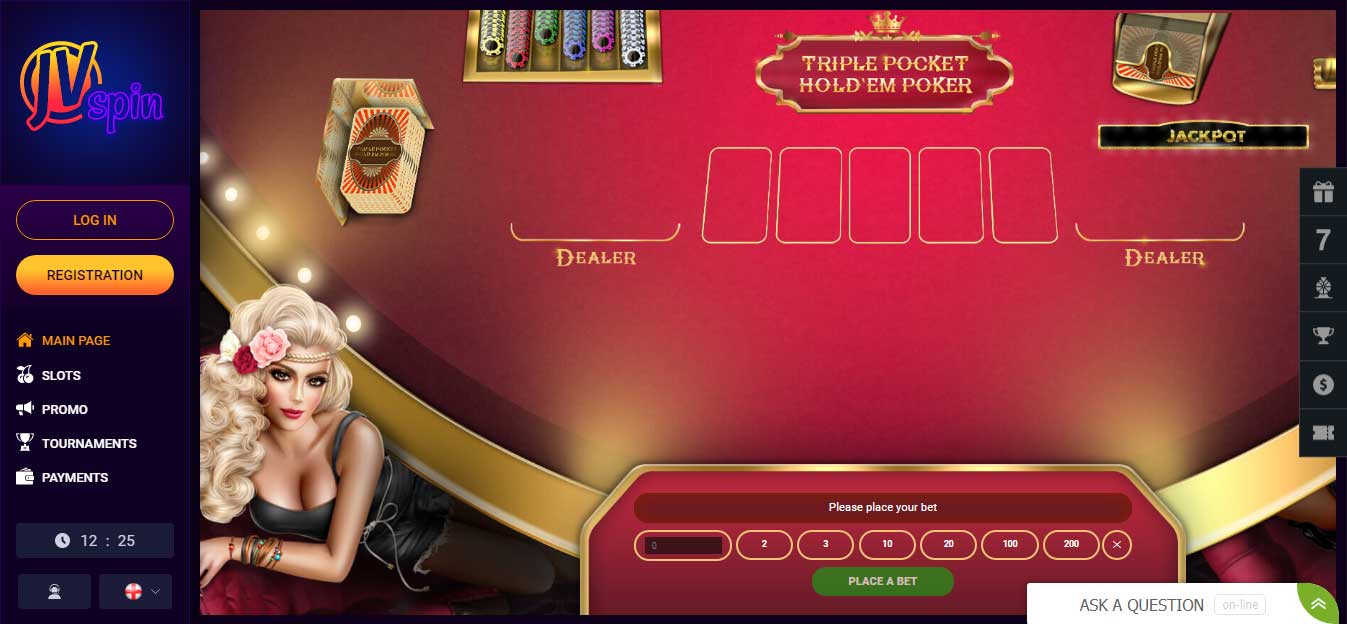 The Rusky Poker A is led by a male croupier, who is assertive, very professional looking. While leading he is discussing the game. He shuffles the cards in style. He announces the cards that are being dealt. He also traditionally gives thanks for your bets, he also heartily congratulates you on your wins and he bids good luck every single turn. The game is very dynamic and you have to choose really fast, before the bets close.
Blackjack
The dealer is a natural blonde, with deep dark neckline – she has got only one flaw – she is cartoon. Of course, you may switch the game for one with a real, breathing woman, or a really professional, pleasant man. All the live croupiers are well-groomed, and in the mood to serve everyone. People say it is possible to beat the house when playing Blackjack, but if you are not informed, or you are a bad player – you can lose a lot of money as well, so be careful.
Live Roulette
Watching the spinning wheel is one of the best delights any casino can offer. People have known this classical, gambling pleasure for centuries. Definitely the best game of luck in the globe, and to play it in an online casino is no less delight. It's a great treat to play Roulette in your own personal space.
Slot Games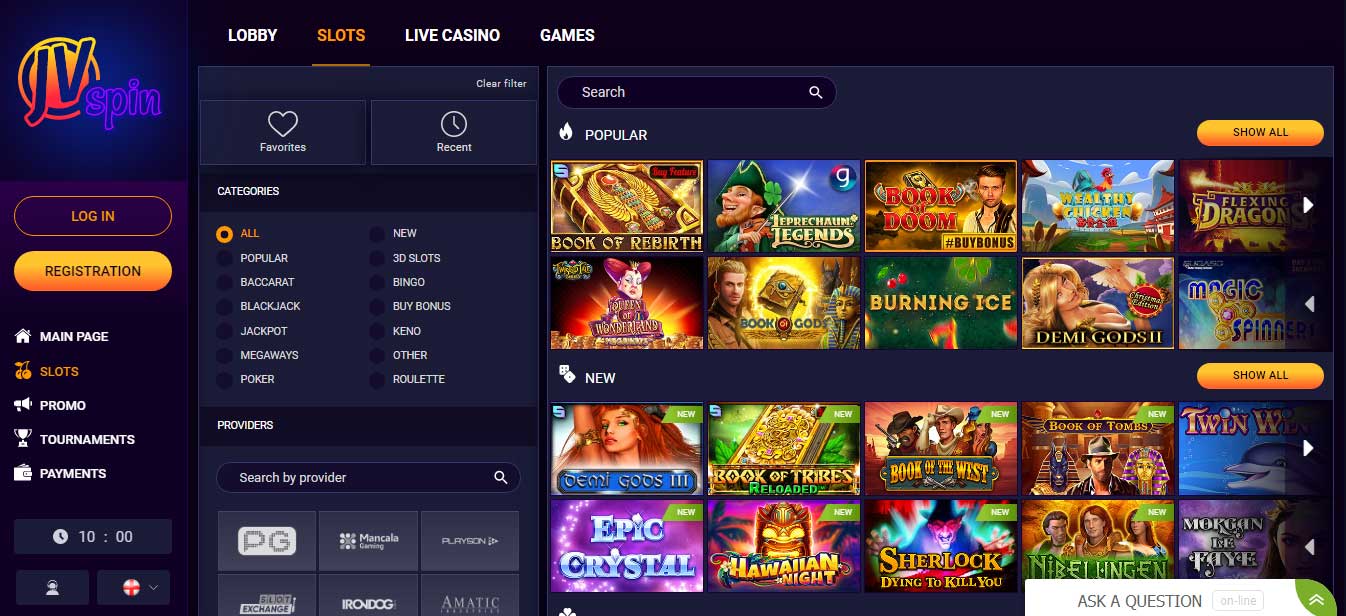 There is an entire directory of slots in JVSpin online casino – they have deserved their own dedicated link in the main menu. When you open the page – it seems loading will last forever. So, in order to make your search convenient – the company has listed the slots under the following categories: All, Popular, New and 3D Slots. The rest of the categories are for table games, which are not live: Baccarat, Blackjack, Megaways, Poker, Bingo, Keno, and Roulette. There is an "Other" category for all the rest. The popular games at the moment are Sun of Egypt, Wynloch Keep, Turbo Slots, Glover Wheels, Ali Baba's Gold, Western Barny, Wild Vick, Riot, Pirate's Map, Stunning Hot, Pela El Reno, Book of Gates, 1 Million Megaways, Queen of Spades, Megaways Jack, Re Kill, Stoned Joker, Book of Tattoes, The Mummy and a few others. The slot games can be played without a deposit but unfortunately you have to be logged in in order to only try the slots for free. In this situation – there are websites online which allow you to preview the respective game for free.
In the end if you have any questions – the support team are ready to help you any time of the day or night. They are very polite and well-trained and you will be very happy with their service. So join JVSpin and don't miss on the fun, that this incredible online casino has to offer.
The games are neatly organized in categories. There is also the very cool and original option called Live Casino Lobby, which provides an extensive list of all the games with live croupiers that are currently open.
JVSpin works with about seventy of the main names in the industry. You are bound to find the company you are looking for, and that not with an only suggestion for a single game. There is also an option for you to look for games of a chosen supplier.
Well, first and foremost, you have to be a registered customer, for most of the games require that your log in. In order to register, you need to be an adult (18+). You can try the games even before you deposit real money.
Here you will find professional, young, well-groomed people, who greet you and serve you with confidence.
You can every game a passionate gambler knows of: Roulettes, Blackjack, Poker and Baccarat, as well as the evergreen slots.
Yes, you can try every single game here. Even if all you want is to look at beautiful women and men dealing cards, there is something for you here. However, the adrenaline is much higher, when real bets enter the stage.