CoinPoker Crypto Poker App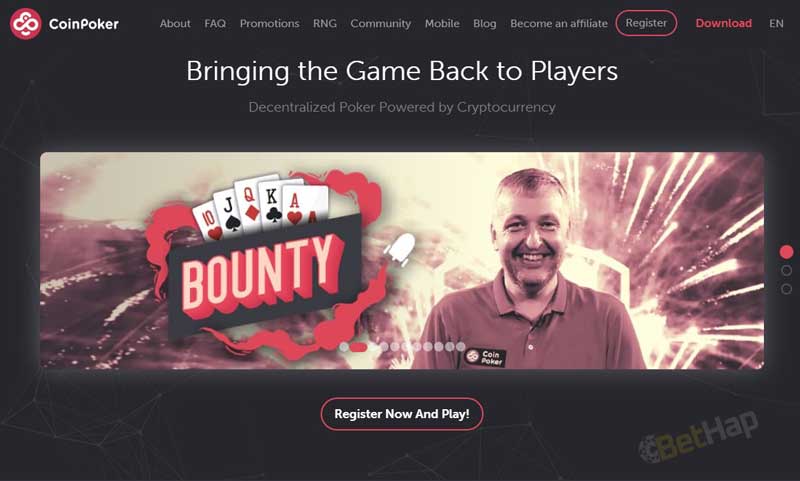 CoinPoker is a crypto poker application, that offers many advantages to its players all around the world. It was launched in 2017 by its creator Tony G, however, it started offering poker with real money in 2018. Today, CoinPoker is a famous, decentralized poker site. What does it mean decentralized?

It means that the website has launched a decentralized number generation software, which solves one essential problem when it comes to crypto gambling – the transparency. Clients have always be worried about their personal payment information, however, with the decentralized feature, there is nothing to worry about.

Today we will share with you more about CoinPoker as a crypto poker app, and we will share more about the cash games, the tournaments, deposit, and withdrawals, and much more. Furthermore, we will give completely honest opinion on the provider.
Cash Games at CoinPoker
CoinPoker is a platform that offers variety o cash games. You can find different poker games such as No-Limit Texas Hold'em, Open-Face Chinese, Pot Limit Omaha, and Pot Limit Five-Card Omaha. You will see some very popular cash games, but also some not so common, which may be very interesting for you.



There are standard games that can take up to 6 players at the table, and other ones with up to 3 participants. There are European evenings and much more interesting games, so you will definitely have the chance to find one that suit you at CoinPoker.
Tournaments at CoinPoker
CoinPoker offers a variety of tournaments that can happen within 15-minutes interval. There are more than 300 events for the players, and most of the clients really do love them since there is a free initial buy-in and an option for CHP rebuy for most of the tournaments.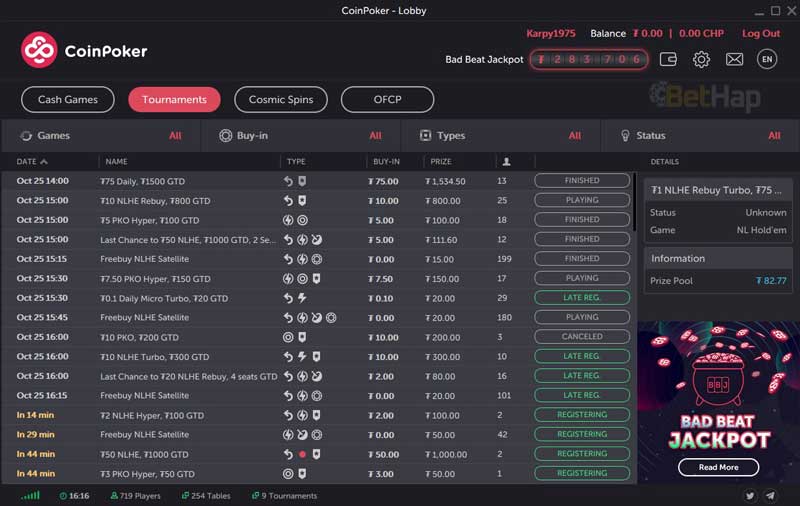 You should be aware that most of the tournaments are NLHE contest, but there are some opportunities for 5PLO and PLO ones too. There are special events on Sundays when the NoMercy Shooting Star begins at noon, and it costs 10,000 CHP to enter. There are many other similar tournaments, which you can enjoy as a CoinPoker player.
Cosmic Spins at CoinPoker
There is a lottery-styled games at CoinPoker, called Cosmic Spins. Three players are needed to start the game, and the system chooses multiplier between 2x and 1000x. All the players are competing for great prize pool with a lot of buy-ins.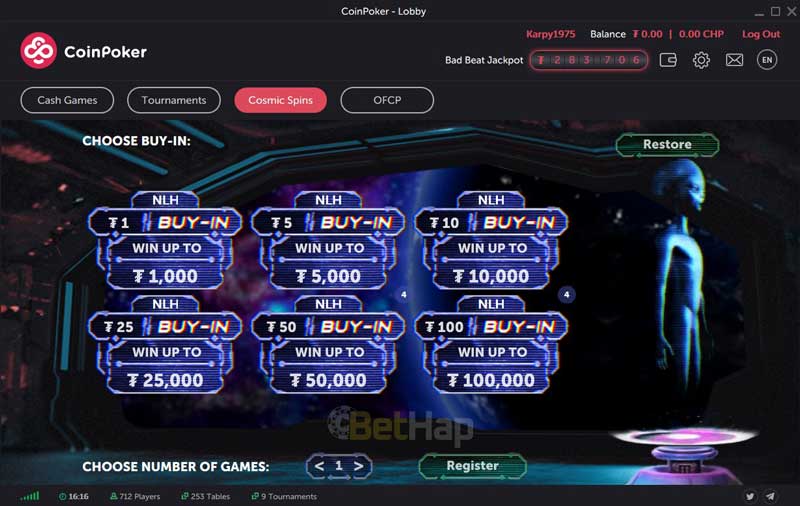 The winners of the game are rewarded between 2x and 20x, and there is first, second and third place winners. If you want to participate in a Cosmic Spins, you need at least 500 chips. The games can take up to 3 minutes.
You are a fan of Open Face Chinese Pineapple? Great, you can enjoy it in CoinPoker! The version offered at the website is one exciting way to poker online. The game is based on Chinese poker, and it is based no points, which means that all the players are trying their best to come up with good 3 hands with their cards.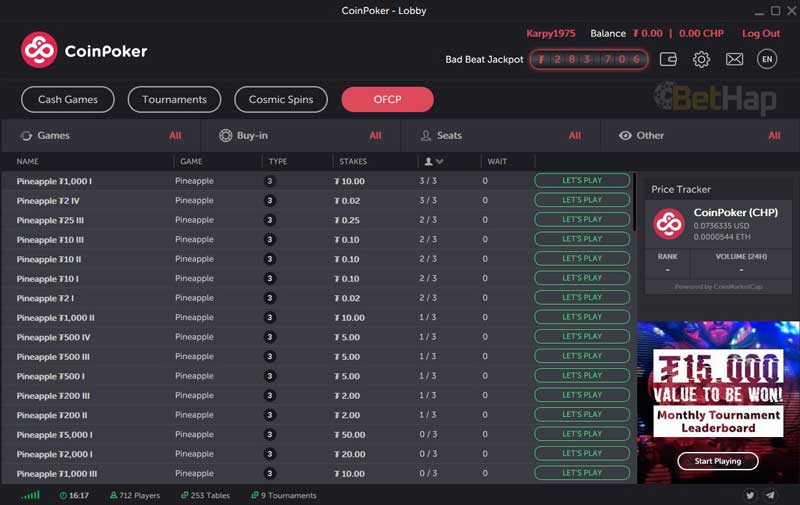 This poker is different than Omaha and Texas Hold'em, but it offers very good gaming experience. It was developed back in 2011, and it gives the players a chance to enjoy a little bit different poker game. The OFCP is the best known version of the game with simple rules and nice gameplay.
Deposits and Withdrawals
Of course, we will give detailed information about the deposits and withdrawals at CoinPoker. To deposit your account, you should use BTC, ETHC, USDT or CHP from your account. There are no extra fees charged, and all deposits are being processed immediately, and received in your account. However, when you are depositing with BTC, it may take a little bit more.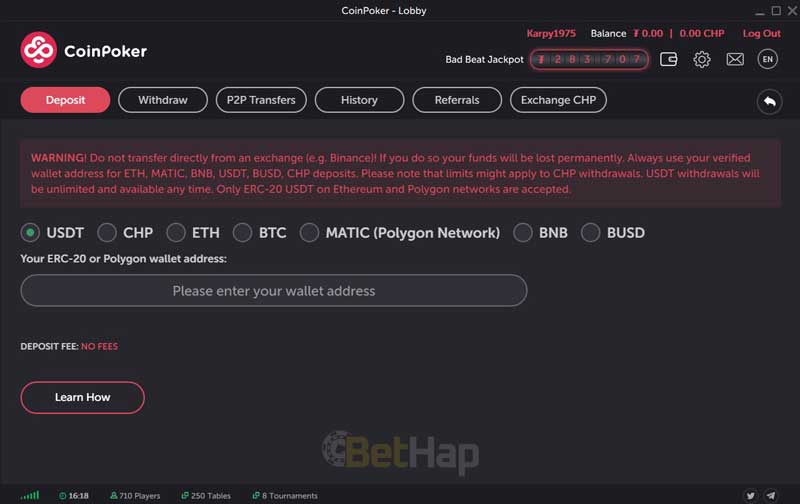 For your first deposit you should give your wallet number, and after that it will be assigned on your account, and it will be much easier to deposit money. To make a deposit, you should sue an Ethereum value, since the CHP is based on this currency. You can use your normal e-wallet, or you can use Binance and Polygon.

When it comes to withdrawals, there are no taxes, and you can use Ethereum, USDTP, CHP or Bitcoin. The process is fast, but there are weekly limits up to 1,000,000 chips which is similar to 6,000 dollars.
Bad Beat Jackpot at CoinPoker
There is one very interesting jackpot available at CoinPoker, called Bad Beat. It is loved by every player since everyone is a winner when this jackpot comes. What does that mean? The bad beat reduces the chances of losing and gives a present to every player on the table. Once the jackpot is triggered by a very good hand being beaten by a better one, everybody at the table gets a reward.



To trigger the Bad Beat minimum 3 players, have to be dealt at the beginning of the hand, and both pocket cards have to be used for the winning combination. This is more than amazing jackpot, since not only the winner is happy, but the other players around too.
CSOP Crypto Series of Online Poker at CoinPoker



CoinPoker offers a flagship Crypto Series of Online Poker for its players with great reward based on more than 20 events. There are great prizes, and that's why so many players love those series. They usually take up to a week full of different events, with a main one – the biggest CoinPoker tournament of the year.
RNG – "Decentralized" Card Shuffling
As we already mentioned, CoinPoker is decentralized website. What does that mean? It has RGN decentralized system that makes sure that all the players are fully safe. This is a random generation system for the users, that gives them insurance for their personal information, data and for the card shuffling.

The RNG system was introduced because many players have always been suspicious of the shuffling process. Thanks to the decentralized card shuffling, the players can be sure that the cards are being shuffled fairly.
CoinPoker Conclusion
Overall, CoinPoker is a poker-based platform that offers a lot of advantages to its players. It is decentralized, which means that is fully dedicated to fair play. Furthermore, there are many promotions and prizes for the players, and there are no fees for depositing and withdrawing. The platform Is very good, and it offers many opportunities to its players.

However, the community is still relatively small, and sometimes there may be lack of available players. There is one more minus of CoinPoker, which is the fact that it supports only bitcoin legacy, which is a little old.
If you have an issue, you can easily get in touch with the customer support of CoinPoker. You can do that by sending them a mail, use the FAQ section, or the telegram chat. Sending a mail is a good idea, since you will receive professional detailed answer very soon. The FAQ section is also very good, and the telegram group – amazing.
Yes, it is good that CoinPoker offers this decentralized system. It makes sure that the shuffling process of the cards is legitimate, and the players have fair chances to win and lose.
Yes, you can download CoinPoker on your mobile device, there are apps for both iOS and Android.
Yes, CoinPoker is available in Canada, and you can enjoy the best poker games with this website.
Yes, there are great tournaments with prizes at CoinPoker, and more than 300 events available for the players.