CoinPoker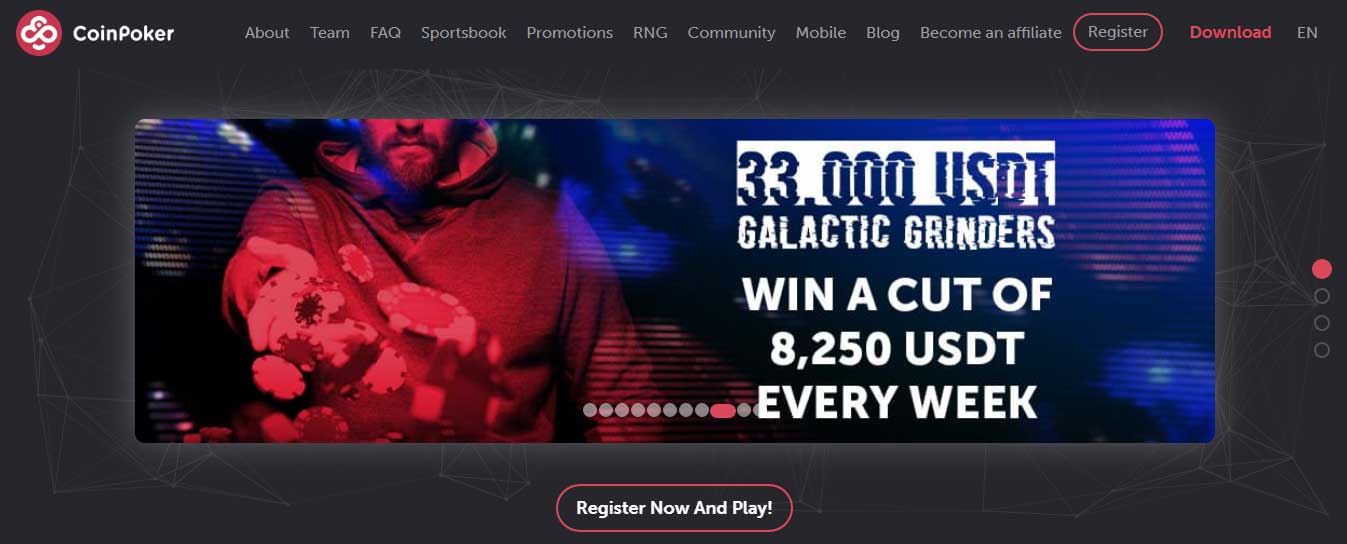 CoinPoker is an amazing place for poker games. The platform is of a community-based type and embraces the needs of all cryptocurrency owners. On this website, poker games can be played 100% anonymously through the following cryptocurrencies: USDT, ETH, BTC, or CHP tokens. CoinPoker was developed back in the 2017th year and since it's been one of the best revolutionary blockchain technology-based poker systems for players across the entire world. The operator has established the USDT stable coin as the main payment currency and offers CHP for extra bonusing fuel to make the players as happy as possible.
CoinPoker Registration
CoinPoker is an easy to be accessed crypto poker website. It's a 100% decentralized platform made by poker lovers for poker lovers. The most amazing pro in this poker crypto website is the fact that unlike in any other gambling website where you do not have to go through the verification account process. In short, you should only register in CoinPoker and then, you can start playing without any necessity of passing the annoying KYC procedure. The registration starts through the button Register placed at the top left corner of your website.

You will not be required to provide any sensitive personal details and to expose your identity to risk. Just enter your e-mail, a nickname to play poker with and double type a convenient to be remembered password to log in later. When you confirm your registration process, please, click on the button Download at the top right corner of the CoinPoker website. Choose how you want to play – through Mac, Windows, or a mobile phone device – and follow the installation instructions to receive the CoinPoker system on your computer or tablet!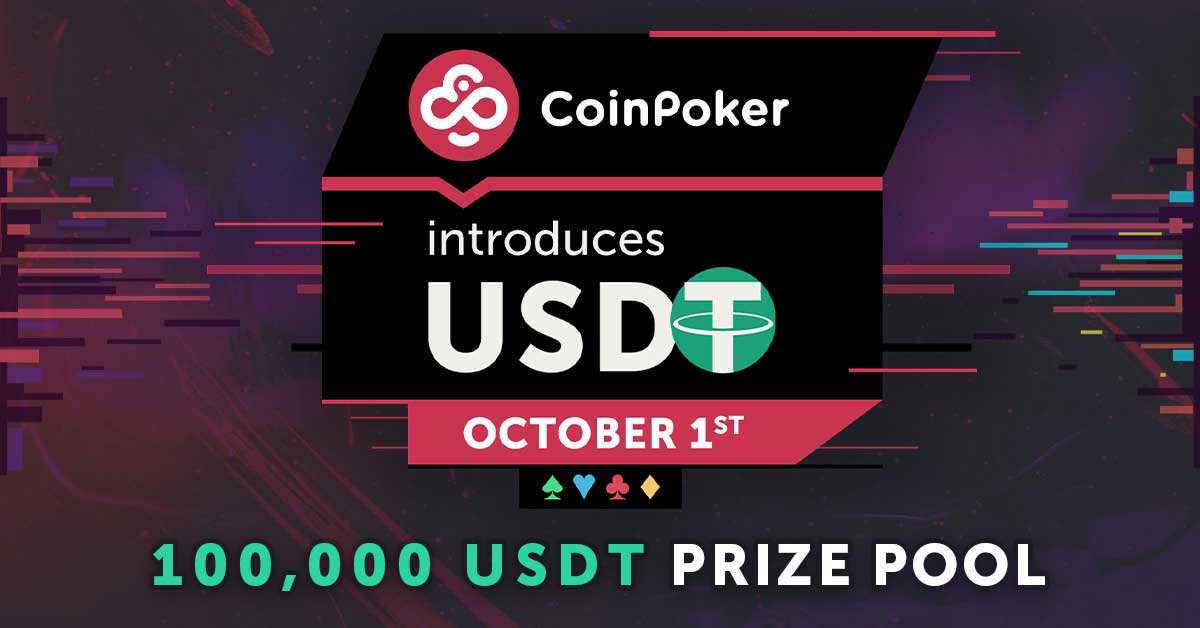 Enjoy the Holidays on CoinPoker. This promo offers you brilliant offers for 50% rather than the standard 20% rakeback as long as they use CHP payments. Plus, the promo guarantees freebuys every hour and promos for free tournaments with up to 100 USDT prize pools.

LaunchPad or the CoinPoker New Player Offer. Within 72 hours after your account creation activates your first promo mission and try to complete them all (25 in total) within 23 days. As long as you make with all the missions you will be granted a bonus of up to 125 USD.

Bad Beat Jackpot: Everyone's a Winner is activated every time you have lost with a good hand by a better hand. With this offer, you can receive up to 50% of your potential win.

Cosmic Spins with a total prize pool of up to 1,000 times your initial buy-in. Get more details on CoinPoker Promotions page.

Win a Cut of 8,250 USDT Every Week with CoinPoker through one of the top exciting poker tournaments on the website.

Referral CoinPoker program. Collect coins through anyone you have invited on the website.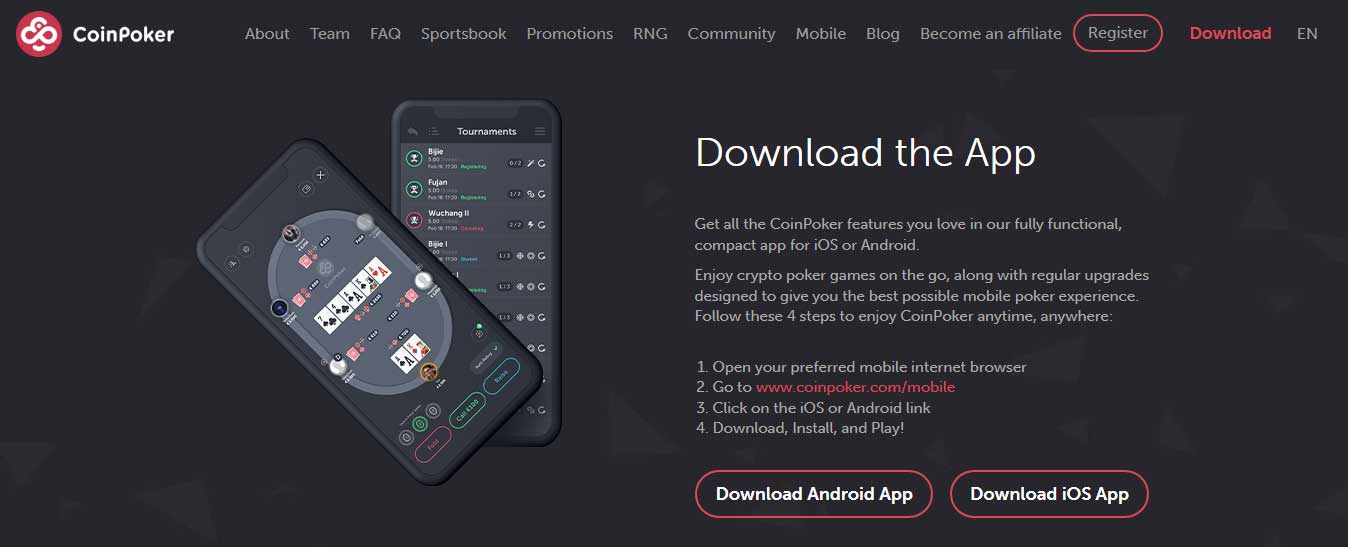 CoinPoker is compatible with most of today's top popular mobile devices. The website is available only for info and to play poker games you need to download the software product Exe file on your desktop device. However, mobile users can opt for some gambling experience on the go. For this purpose, they should have an iOS or an Android mobile phone, tablet, or iPad. Go to the section CoinPoker Download and choose the native application you want to use for some first-class crypto mobile experience.
CoinPoker games
In CoinPoker you can play most of the top popular poker game formats. The users with an official account on this website and an installed system on their devices can choose between a big enough selection of gambling options: No-Limit Hold'em and Pot-Limit Omaha are the top popular offers, but you can also try Omaha-8 and Seven-Card stud poker.
How about placing bets with cryptocurrencies? Actually, with CoinPoker this is 100% possible. Visit the CoinPoker Sportsbook section to see your options. In short, with this decentralized betting house, you can place bets with cryptocurrencies in the following disciplines: baseball, hockey, soccer, basketball, tennis, and American football. There are awesome markets and fantastic odds to benefit from! You are allowed to place both: CoinPoker single and multiple bets at any time you want.
Customer Support
CoinPoker has established quite a limited customer support service. Unfortunately, you are not allowed to contact the operator's team directly through a live chat or a phone call. Instead, you can write an e-mail message to CoinPoker representatives or reach them through any of their social network channels. Actually, CoinPoker has accounts in most of today's top social media, including Telegram, YouTube, Facebook, Instagram, Linkedin, Tweeter, Pinterest, Reddit, BitCoinTalk, etc.
The most special thing about CoinPoker is that this is a poker-related gambling house that accepts only crypto payments and is managed by a community-based team.
In CoinPoker you can make payments through the following cryptocurrencies: USDT, ETH, BTC, or CHP tokens.
You should not have to verify anything. After the registration process, you are ready to play CoinPoker poker games or place sports bets through the system software. The KYC process is not required or established in this gambling house, so you can cash out at any time you want.
In the CoinPoker crypto sportsbook service, you are allowed to place multiple and single bets from the following sports disciplines: baseball, tennis, soccer, American football, and basketball.
In the CoinPoker poker assortment, you will discover numerous freerolls and tables from the following poker formats: No-Limit Hold'em and Pot-Limit, as well as the less popular, but very exciting Omaha-8 and Seven-Card stud poker.
Just like the desktop players, the mobile customers in CoinPoker should at first install a native app. The management team behind this crypto poker website has established two native apps: one for Android and one for Apple users. You can download the apk files via the CoinPoker Download section through the homonymous button at the top right corner.