Exclusive Melbet Offer for Indian Premier League
Exclusively for the Indian sport punters one of the leading international bookmakers, Melbet has released brand new special offer.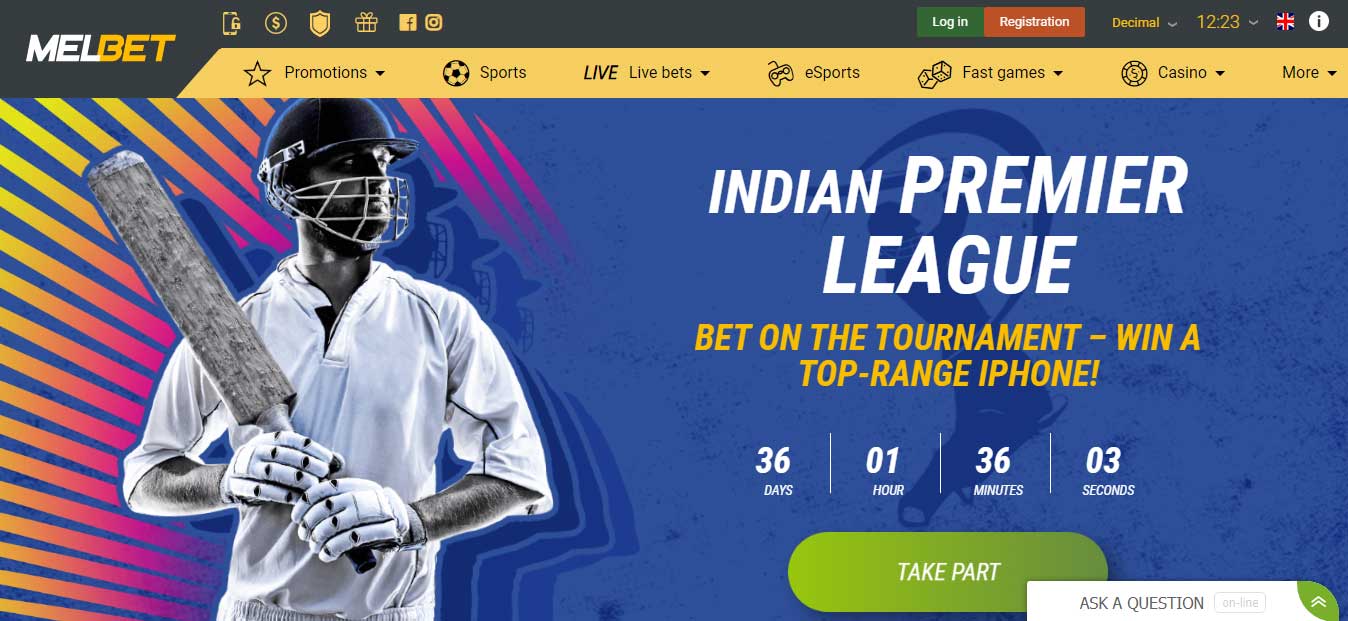 If you love placing sport bets on Indian Premier League this promo seems to be just right for you. Don't hesitate to read our Melbet Indian Premier League offer review below. Find out how to receive awesome gifts while betting on cricket below.
About Melbet Indian Premier League Offer
If you regularly place bets on Indian cricket events do not miss the chance to win some awesome presents from Melbet. The bookie's new promo is called Melbet Indian Premier League Offer and waits for you to join it right away. All you have to do is to place a bet on the tournament. With a bet you receive a chance to win one of the company's special gifts. The most amazing prize in this offer is a top-range brand new iPhone mobile device! It can be yours with zero efforts. You just need some luck and knowledge in cricket sport betting.

Here are the gifts you can win from Melbet Indian Premier League Offer:

- 1 Place – iPhone 11 Pro Max (5 winners in total)
- 2 Place – Samsung Galaxy S20 (5 winners in total)
- 3 Place – Xiaomi MI TV 4X 65 (10 winners in total)
- 4 Place – JBL Charge 4 (20 winners in total)
- 5 Place – JBP Tune 500 BT (30 winners in total)

Do you dream about the latest iPhone? You can have it while betting on your favorite cricket players from Indian Premier League! For all Samsung Galaxy S20 lovers, Melbet has gifts for you, too. Don't hesitate to test your luck right away. Enter Melbet and start betting on Indian cricket events right away. Indian Premier League is now live and expects you to join it online.
How to increase my chance to win a gift from Melbet Indian Premier League Promo?
We cannot promise you are going to win a mobile phone, JBP tune or a JBL charger, but we know something for sure: if you don't play, you have no chances for a win. And we have a special tip for you to increase your chances for a win. Just play as much as possible. The more you play in Indian Premier Cricket League through Melbet Indian official website, the more chances for a win you get. Get as many tickets as possible and see in a month if you are among the winners.

Here are the special prices for the ticket packs:

- 1 Ticket – 1 EUR
- 3 Tickets – 2 EUR
- 10 Tickets – 6 EUR
- 25 Tickets – 11 EUR
- 60 Tickets – 23 EUR
- 90 Tickets – 34 EUR
- 160 Tickets – 57 EUR
- 350 Tickets – 115 EUR
- 600 Tickets – 172 EUR
- 1,000 Tickets – Over 287 EUR

Play hard, win awesome gifts from Melbet and don't stop supporting your favorite player from the Indian Premier Cricket League. Join the bookmaker's awesome contest today, have a new device as a present from the company tomorrow! Stay tuned with us, so we can inform you about all of the hottest Melbet and Indian sport betting offers.
More for Melbet .....