Melbet Mobile App
If you want to be a respectable bookmaker you are in need of a proper mobile version. It is a time when people cannot live without their smartphones and iPhones. These people need to be able to bet from anywhere – this is the newest fashion in the world of gambling.

All this is a very good reason for MELbet to own wonderful mobile platforms for betting online – the aim is to make life as easy for you as possible.
Google Play Store will not serve you MELbet's app readily, but you can download it on the bookmaker's website. Make sure the installation of foreign applications is permitted in the settings of your phone. What you need to do is tick the small box in the section security or privacy. The smartphone provides you with two variants – to have the mobile version downloaded from the main website, or from its mobile version.

How Is the Android App To Be Downloaded And Installed?

From Your Personal Computer
Check the link, which has got a telephone icon – in the angle of the top left part of the website. Click on the button, which follows on the next page – you will be asked to enter your number and then the system is going to send to you an SMS with the download link for the Android application.
From Your Phone
Open MELbet's website in the browser and go to the end of the theme – after you click on the button for the mobile application – it takes you to a link. There you will find and download an apk file, which is then to be manually installed – from the folder containing your downloads.
MELbet For iOS
You may download this app from MELbet's website, as well as from the Store for Apps. However, the technical folk advises you to download it from the App Store. Installation is quick and even fun- just like any other iPhone application.
Download And Install The App
Another option is entering the mobile website and scrolling until you reach the end – there is a button with an apple – from which the download can be started. When you want to activate the app after the installation – you should open the phone settings – go to General – go to Device Management, and a pop-up will come out named "Enterprise App." You have to select "Kontrast" 000 and confirm. There – your mobile version is ready for you to enjoy it.
Betting On Sports
You are now capable of betting on your beloved sports when you lie in bed – or worse – when you are dining at the table. You can take MELbet wherever you go! Bet your money on your favorite leagues such as the Champions League, Seria A, Bundesliga or the Premier League, independently of where you are situated. You may enjoy some of the biggest odds that the industry can offer. You get some substantial value for the money you deposit.
Mobile Features
You can delight in all the featured of MELbets desktop version – it operates in the same way as the original website. The entire information is available for access any time and from anywhere. You can make withdrawals and deposits and also you may reach the support at all times and they are amicable and caring. There's a chance for you to wager on your beloved games, look up your history of betting and have fun with your favorite casino games and card tables.

Among your favorite features there are as well:

1. The option Cash Out
2. Live wagering on sport games
3. Live statistics
4. Live streaming of video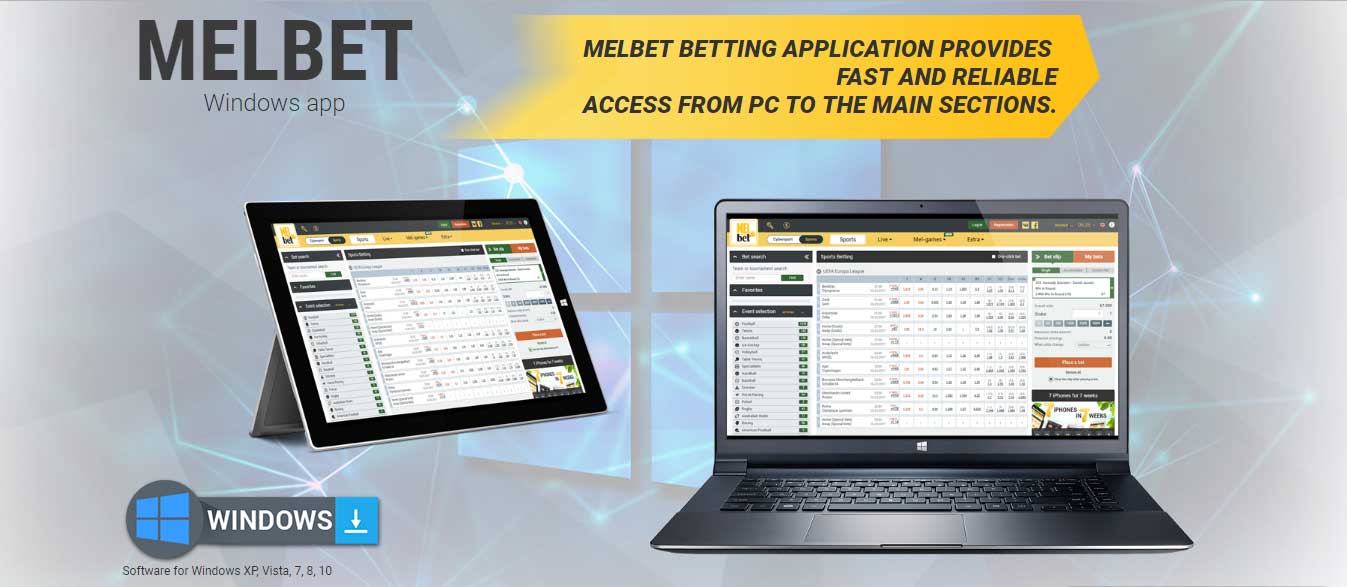 MELbet Mobile Version
You are capable at all times to pick the mobile site version instead of the Melbet mobile app. Some people don't feel good to have a bookmaker platform downloaded on the phone – it can always be found by your spouse or the kids. The mobile version of the site may be easily accessed from a large part of the Android browsers. If you are provided with a good internet connection, and your browser can load flash animation – you will be able to enjoy any feature of this website.
When you bet from your smartphone – nothing will change, the experience stays the same.
Yes, you may take your pocket casino everywhere with you – and you can play, play, play, play…You have unlimited access to card games, slot games, live casino, and video poker games – created especially for you to spend your extra time and win some extra cash.
Mobile Apps Vs. Website Version
If we have to make a comparison between the Mobile Site and the MELbet mobile app – we will find that the latter has got even better graphics. It also makes some features accessible online, and it doesn't depend on a browser or flash animation. The flaws are that usually, it needs an update – you have to do this regularly.

On the other hand – the Mobile Site does not need updates, or even downloading an application, but there are unfortunately no offline features, and requires a stable and good internet connection at all times.
Mobile Bonus
The bookmaker company does not provide special bonuses for the users of the mobile version – but if you are a new customer, you are capable of receiving the Welcome Bonus MELbet offers. If you are not playing for the first time – there are other promotional offers – the bonuses every player enjoys. It's a heavy competition between bookmakers nowadays – all of them present generous bonuses, but players are required to comply with important requirements. You have to consider this when you want to receive your reward.
Every mobile device is unique. There are obligatory conditions if you want to have the mobile application at your fingertips. Your platform version should be Android 4.1 or higher. But in case that is not your system, you can still delight in the mobile site version – by opening it with the browser on your phone. Have a look at this list of mobile devices, they can have the application most easily installed:

- Huawei, Sony Xperia, iPad Mini, Galaxy Tabs, LG, Lenovo, Motorolla, iPhone, Samsung, HTC, iPad, iPod Touch

To MELbet the main focus of the company is on its customers. When they cater to bookmaking services, they keep the player in their mind. They have attracted a great number of gamblers, who take delight in the online betting experience. By using the mobile application, you are capable of enjoying betting on all offered by MELbet markets. The phone version has been developed, so that you may thrust the bookmaker safely in your pocket and delight in its services wherever you go.

More about Melbet .....
Brilliant bookmakers come with their own Mobile app not only because it is fashionable but also because it makes the lives of their customers better. Nowadays we can't do without our mobile devices. Having a dedicated platform for betting is a great treat for all the players.
Gambling is a great distraction from the everday activities and it is wonderful to carry all the betting options in your pocket. While doing other stuff – you can bet on your favorite sports outcomes, while having a snack or watching the TV.
Yes, of course, you can bring your casino in the comfort of your pocket wherever you go. Wonderful slots, popular casino games with great variety are with you on the go.
MELbet's Mobile App is absolutely identical in features to the desktop website – it works in the same way. You have access to your gambling information from everywhere. In case you don't want to download the MELbet Mobile App, you can still load the website on your mobile browser – it will work.