Miami Club Casino



Welcome to Miami Club! On the casino stage since 2012, it's a certified project of one of the savviest and most talented crews in the gambling industry. Their ambition is to make Miami Club Casino the only gambling online venue you will ever need. Unlike other casinos, it utilizes a special technology, which guarantees 100% random results – that is unpredictable results. This provides the customer with a fully fair opportunity to win. The games are audited every month by Charles Moussaeau – a premier name in the industry. Fair game is certain!



The home page loads and the passionate gambler is immediately welcomed with that zing quality of the sight. A nice surprise - the prevailing color is magical purple – the sign of a magical practitioner, a color which humans also relate to devotion, spirituality, vanity, intelligence, individualism, aristocracy even majesty! In the page background flashes Miami right after sunset with festive fireworks around the buildings.

There is a neat menu to the side, which contains links like Home, 3 Reel Slots, Video Slots, Video Poker, BlackJack, Table Games, Progressive, My Games, Tournaments and Others. There is another sleek menu in the header, which contains links to Promotions, Banking and Getting Started.
Find the two buttons Sign Up and Login in the upper right part of the home page. When you start the process of registration you will be asked about your country of residence. On the next page you will have to provide your e-mail address, a username, a password, to fill in the Confirm Password field, and then choose your currency. The password must contain at least one uppercase and at least one lower case letter, as well as at least one digit.

Then you are asked about a title, first and last name and your birthday. The next form has to contain your address details, the city and state, the zip code and your phone number. None of your details can be missing when you agree with the Terms and Conditions.



The most attractive asset of Miami Club Casino are the Slot Games. At all times you see a stripe with the featured games in the header of the page. There are not many slots offered by Miami Club Casino, but each game is selected with the fond heart of a gambler – you are bound to have a good time. You can also add the games you enjoy playing to your own portfolio of favorite games, which you can later find by pressing My Games in the main menu.

You know what is very cool about slots? The fact that just in case you have installed Adobe Flash on your PC and even if you have not registered yet - you will have a free access to a demo version of every Slot game listed by the online casino. So you can play for free – you press the gray button Demo Now. The game does not load very fast, especially with a slow network connection.

When it loads – the game is a fairy tale come true, with wonderful background music, that keeps you entertained but doesn't annoy you even though it is not Mozart and it is very repetitive. Now, you've got some virtual money in your wallet – the starting balance of most of the demo games is $3,000 and you may press the spin button and just sit back and enjoy how the pictures are reeling in front of you with exciting sounds and your balance flickers in white. You don't have to risk or lose anything.

You click on the button and hear the clashing sounds and you don't really care if the bet amount is more or less than the amount you win. There is a full-screen option to any of the slot games for even more pleasure. The pictures reeling before your eyes are colorful, and the accompanying sounds are merry.

Sound is also optional – if it's the middle of the night or you don't want anyone to hear you playing. You can press the spinning button for ages. You can even automate the process. Add to that adventure a treat such as the beloved old-fashioned Slot Fruit Loot – does it get any better than this? Yes!
Progressive Jackpots
Some of the slot games come with progressive jackpots, which can be yours if you're very lucky. The jackpot amounts very from $115 to $180,000 – an attractive offer for the keen gambler. Unfortunately you can not try the progressive jackpot slots without an investment.

That's a wonderful reason to become a privileged user of the online casino, instead for simply someone hanging around as a guest. After all, being a guest is for free, but there's lots more fun to being a member!
The table games can be tried before wagering real money as well. Why spoil the fun?

Well may be you want to try your luck on a very random day such as Wednesday… Or may be you would like to coin a strategy. Or may be you would like to see the familiar little ball whirling around on the roulette table – and hear the lovely, authentic and beloved sound the ball creates, while it's making its crucial choice among the numbers.

So, basically, the table games you can enjoy, selected by Miami Club Casino are as follows: the American Roulette, Atlantic City BlackJack, regular BlackJack, Downtown Vegas, European Roulette, Perfect Pair BlackJack, Progressive BlackJack, Caribbean Stud Poker, Red Dog, TriCard Poker, Vegas Single Deck, and Vegas Strip BlackJack.
Tournaments
When you click on the Tournaments item in the main menu to the side, you will enter a world of gambling tournaments catered to you by Miami Club Casino. They are listed in a table, containing the ID of the Tournament, the currency – which is by default American Dollars. You can see on the list at what date the tournament has begun and when it will end.

What follows are the name of the game, the amount of the Prize Pool – which is later divided between the best players. You are able to see the Status of the Tournament – meaning if it is still active. The last column is for taking action – there you can register and participate on the Tournament so that you may win beautiful prizes.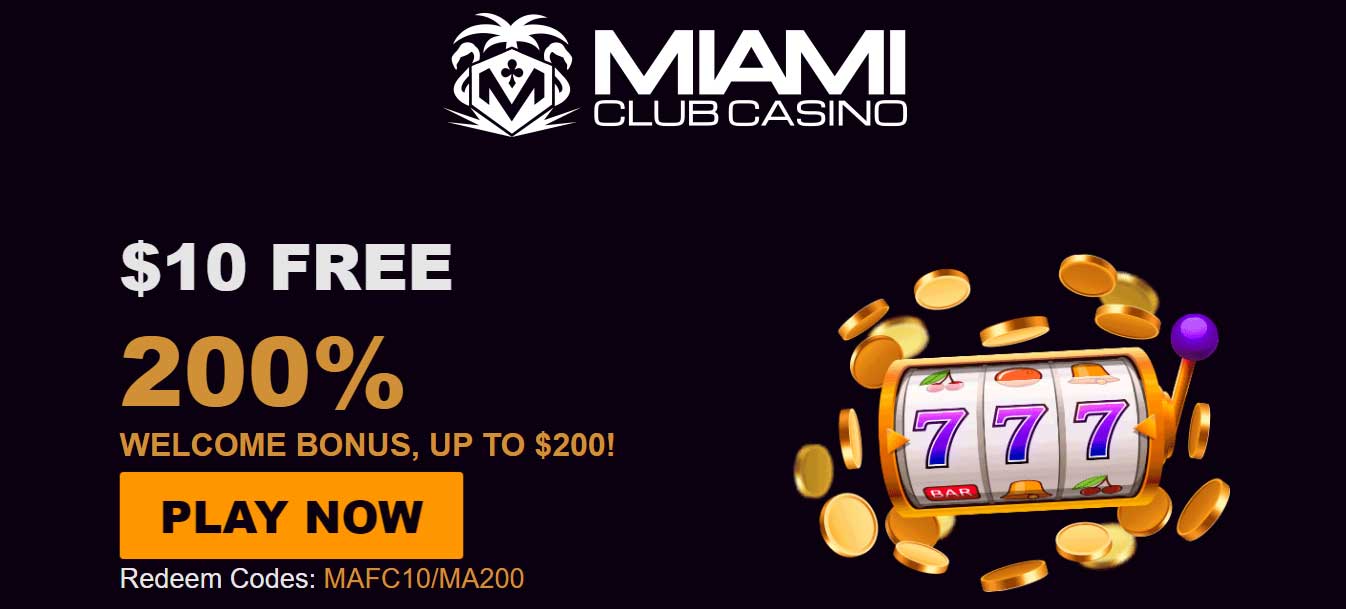 Except for the massive tournaments you can sign up for at any times, the online casino provides its customers with some fabulous bonuses. You can begin your day with a fresh bonus: The Daily Reload Bonus. You can gain free-rolls in the respective free-roll tournaments and that's not all – you are eligible to win casino bonuses, cash prizes, and you get to brag around to all your peers, that you are a great winner!

There is a daily deposit bonus, which gives you 20 to 50% of the money you have deposited in your virtual wallet. Whenever you play – you receive reward points, on any game and afterwards redeem them for bonus money. Bonuses, promotions, huge jackpots…oh!
Miami Club Casino allows several methods of payment and those are: Visa, MasterCard, Bitcoin, BitcoinCash, Litecoin, Neteller, Skrill, NeoSurf, ecoPayz, Sofort, Pay Safe, Check, Bank-Wire. All of these are reliable payment platforms and there are even options for payment with cryptocurrencies among them.
The icon for support options is in the top right corner, right next to the Sign-Up Button. Pressing on it will lead you to a page of Frequently Asked Questions and their answers. Clicking on the yuppie groomed in green, a small picture floating to the right on every screen will load a live chat form and somebody will soon join there to chat with you.
Responsible Gaming



Miami Club pays a lot of attention to the promotion of responsible gaming. It presents a selection of games to adult, responsible people, who control themselves as well. The casino informs its customers, that this online platform is purely for entertainment purposes, and can not and should not be used as a source of income. So if you decide to play and bet your money, you have to be ready to accept losses, as well as wins.

Miami Club advises its customers to set a gaming budget, they will even do you the favor to exclude you from the casino in case they feel you have a problem with gambling. So you have to keep in mind at all times, that gambling is a form of entertainment, not a real way to make money. If you want to make money – go to work. Gambling is not a good reason to stay away from college or work. It is not for minors. It is not an escapade from an unhappy or boring life.

You can not gamble until your last dollar is gone, and you don't have money to buy a cup of tea. On the contrary, gambling is for people who like to enjoy themselves, with a good cup of tea, in a cozy home atmosphere and stable source of money.