MostBet Casino
Review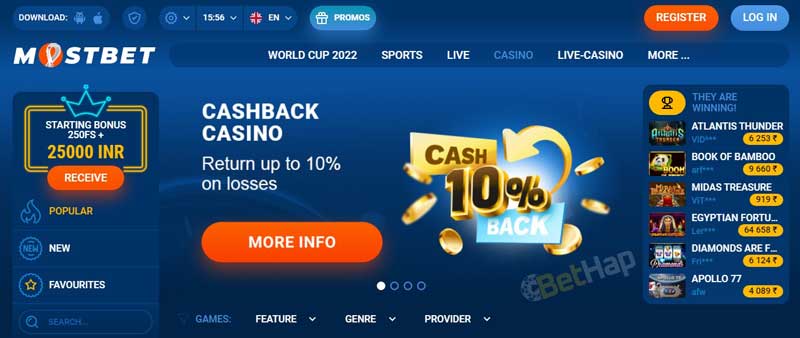 MostBet is a popular online casino provider that was established back in 2009. For all those years that it was functioning, it has gained thousands of customers all around the world. The casino is fully licensed and regulated by Curacao. It offers a lot of advantages to its customers, including great variety of games, live sports events, bonuses, promotions and great customer support.
So, if you are wondering if this is the casino for you – you are on the right place. Today we will share a detailed review of MostBet, including the bonuses, registration process and all the casino games available. Furthermore, we will conclude with a honest review of the provider.
MostBet Casino Bonus
MostBet offers some great Casino Bonuses, including a welcome one. If you are a Casino player, then there are a lot of Bonuses and Promotions waiting for you. Some of them are:
- Birthday Bonus

- Free spins in the game of the day

- Bonus for inviting friends

- Drops and Wins Slots

- Every hour new jackpot is available for you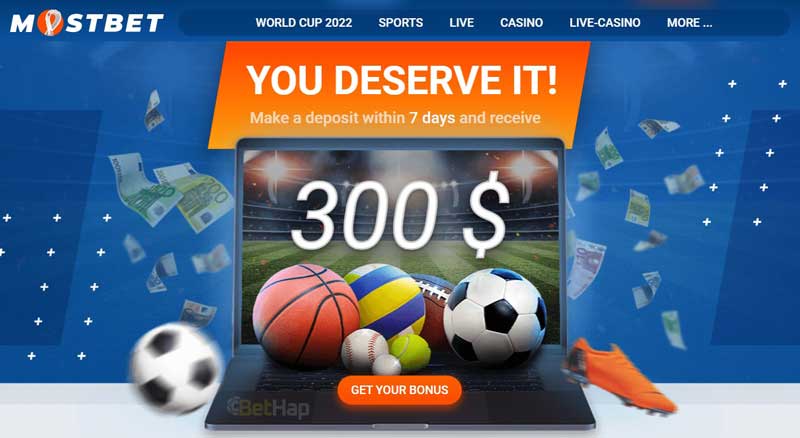 Casino Welcome Bonus
But the best Bonus available in MostBet is the Welcome Bonus. You can take advantage of it by simply opening an account. We have some great news for you – we have prepared an amazing Casino Welcome Bonus for you! If you use our Promo code - BETHAP , you will get 125% deposit bonus + 250 free spins.
This Bonus promises more than amazing start in your betting journey. You can add the Promo code during the registration process by clicking the 'ADD PROMO CODE' button. There you should put BETHAP and choose the Bonus as 'Casino'.
MostBet Registration
The Registration process at MostBet is not a difficult one, and it does not take more than a few minutes. All you need to do is to follow those simple steps in order to open your official account at MostBet:

1. Go to the MostBet website

2. Click on the button 'REGISTRATION'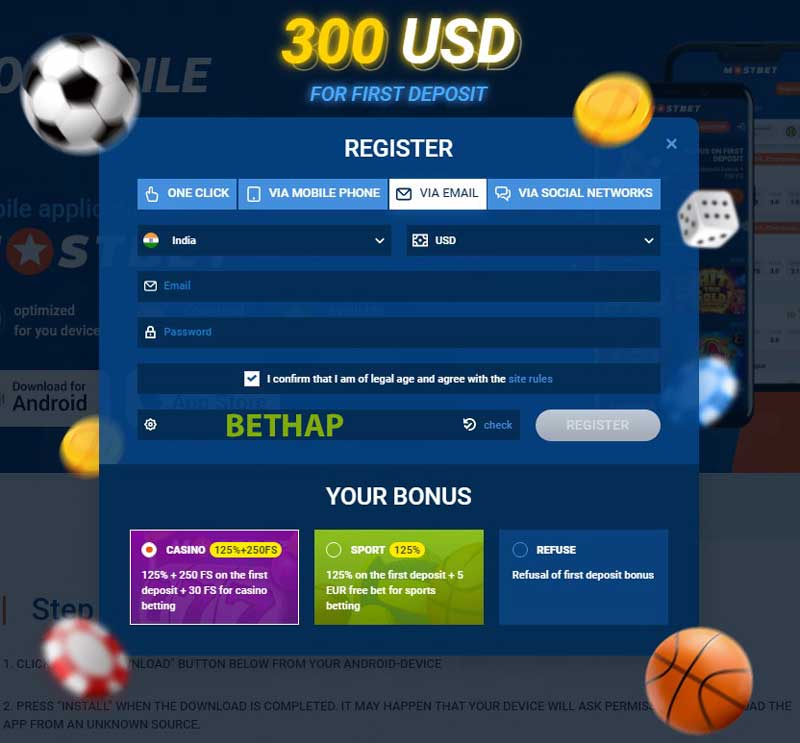 3. You can choose of different methods – one click, via phone, via email, via social networks. Choose the method you like, we will go with VIA MAIL *

4. Choose your country and currency

5. Add the email and password

6. Add your Promo code – BETHAP

7. Agree with the site rules and confirm that you are of legal age

8. Choose your Bonus

9. Click on the button Register and add all the required details

*It is strongly advised to choose the via mail method, even though it may take a little longer. It is the safest one, and all the required details will be added. If you choose another method, you will have to add the details later in your settings.


When it comes to the casino games offered at MostBet – the variety is more than amazing. You will find all the games you are looking for, and you will have the chance to enjoy more than 30 software providers.


Slots
There is a variety of slots games available at MostBet. They are loved by many, since they are easy to play, and they give great bonuses, promotions and jackpots. If you are a fan of the slots – you can enjoy hundreds of those, and the most popular ones are:
- Jackpot 7 hot and spicy

- Inca Son

- Aztec Spell

- Super Fruit Smash

- Money Jar

- Big Wild Buffalo
Roulette
If you like roulette, then you will surely be happy with the choice of roulette games you have at MostBet. There are different ones, you can find the most popular ones, and some not so popular such as:
- European Roulette

- 300 Carat Roulette

- American Roulette

- French Roulette
Cards
If you like card games, then the variety of those at MostBet will be astonishing for you. There are player to player games such as Bura, Seka, Okey, and many others such as:
- Poker

- Blackjack

- Baccarat

- Other games such as Craps, Three card rummy, etc.
Lotteries
You like lotteries? Great, MostBet has a lot of those available for you. They are great, because all you need is luck! So, here are the Lottery games you can choose of:
- Keno - Book of Keno, 80 Keno, Keno Jackpot

- Bingp – Alpachiko, Aztec Bingo

- Scratch cards – Champion's Pick, Slice and Dice

- Other – Dream Catcher, Atomico Lotto
Jackpots
The jackpots are great games that offer more than amazing chances for winning. If want to five those a try, then you can choose of the following games at MostBet:
- Hit the Gold

- Elvis Frog True Ways

- Fiery Sevens Exclusive

- Jack Pottter

- Diamond Explosion 7s
Fast Games
If you want to enjoy some fast games and fast winnings, you can do that at MostBet. They are good, because they give you the chance to win faster, without having to spend time and efforts. Here are the options available at MostBet:
- Rocketman

- Lucky Tanks

- Goblin Run

- Go Go Spinner

- Christmas Party
Virtuals
And for the lovers of sports, there are some virtual casino games available at MostBet. Here are some of the most popular options at the moment:
- EuroLeague

- Platinum Hounds

- Virtual Football Asian Cup

- Virtual Tennis
- Greyhounds
MostBet Live Casino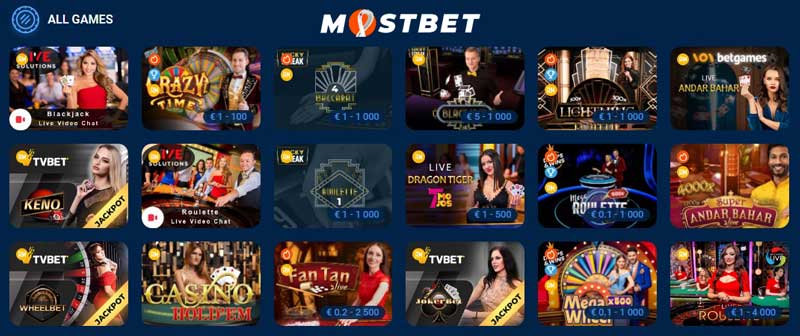 If you want to feel the real adrenaline and experience, then you can take advantage of the Live Casino option available at MostBet. It offers variety of games, and the real feeling of playing together with other players, real-time.


Roulette
If you are a fan of the roulette games, you will definitely like the live roulette options at MostBet. The games are live, and many other players are playing at the same time. Here are the most popular Roulette live games at MostBet:
- Lighting Roulette

- WheelBet

- Roulette 1

- Mega Roulette
Baccarat
Baccarat is one very popular casino game, and you can simply enjoy a variety of baccarat live games at MostBet. Here are some of the options available:
- 4 Baccarat

- Live Baccarat

- Speed Baccarat

- Fiesta Baccarat
Blackjack
One of the most popular live games is the Blackjack, and there is a variety of options available at MostBet. Here are some of them:
- Black Russian Blackjack

- Ultimate Blackjack

- RNG Blackjack Switch

- Gold Blackjack
Virtuals
There are some virtual games that are happening live too, such as sports, horse racing, greyhound racing, volleyball games, and many other popular games.


TV Games
If you are a fan of the TV games happening live, then you have a variety of options available at MostBet. Those games are nice and easy, and they can give you fast winnings. Here are some of the options:
- Keno

- Live Lucky 5

- Live War of Bets

- Live Dice Duel
Oter Games
Under other games, you can find many interesting and not so common live games that can get you high and fast winnings. Here are some of the available options:
- Live Dragon Tiger

- Bull Bull

- Super Sic Bo

- Cricket War LIve
VIP Games
For the VIP players there are some pretty nice games available, and they can get you very high rewards and winnings. Here are the most popular options:
- Immersive Roulette

- Blackjack 5
- VIP Blakcjack
In conclusion, we can say that MostBet is a very good casino provider. The variety of games is more than amazing, and every player can find his favourite, or try something new. If you are a fan of the live experiences, you will surely love MostBet, same goes for the virtual games. The customer support is good and available all the time, the bonuses and promotions are many and very good, so we can simply say that we love everything about MostBet
When it comes to disadvantages, we can say that one of them is the lack of auto cash out option, and the limited streaming services. Overall, MostBet is more than amazing option for both new and experienced players.
Yes, MostBet is fully safe and legitimate platform and you should not be worried about anything when using it.
Yes, you can use the Promo code - BETHAP at MostBet Casino during the process of Registration, and take advantage of a first Deposit Bonus of 125% + 250 free spins.
Yes, the customer support of MostBet is very good, and available all the time for resolving problems and issues. You can contact them by mail or by the live chat option.
You need to verify your account by sending a copy of ID/password and utility bill. Then, once you get approved, you can simply make a withdrawal of money.
It will not take longer than 5 working days, but it fully depends on the method. Some methods at MostBet will deliver your money in minutes.