Chicago Bulls deal with Los Angeles Lakers as host, Phoenix beat Charlotte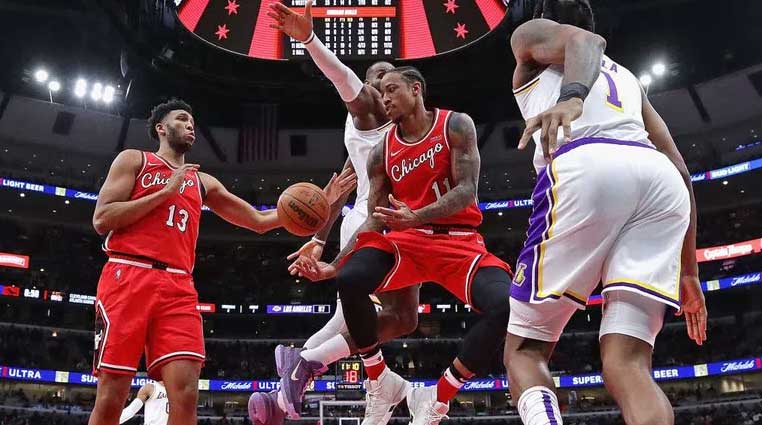 The Chicago Bulls defeated the Los Angeles Lakers 115-110 to host a regular season game of the National Basketball Association.
DeMar DeRosean scored 19 of his 38 points in the fourth half, and Nikola Vucevic recorded a double-double of 19 points and 13 rebounds for the Bulls.
The team could not count on several players because of the COVID protocols.
Lonzo Ball added 19 points for Chicago, and LeBron James finished with 31 points, 14 rebounds and 6 assists for the Los Angeles Lakers, who played their first game without the injured Anthony Davis.
Detroit also recorded a home success over Miami with 100: 90. Sadiq Bay scored 26 points, 4 rebounds and 2 assists, and Detroit broke a 14-game losing streak that equaled a club record. Amidou Dialo joined with 15 points, 7 rebounds and 2 assists.
The Portland team won as a guest of Memphis with 105: 100 after 32 points, 5 rebounds and 5 assists by Damien Lillard.
Norman Powell added 28 points, 3 rebounds and 4 assists for the visitors, who recorded their fifth consecutive victory.
The hosts showed a low percentage of shooting from the game, scoring only 35 of 91 attempts. Dylan Brook was the top scorer for the hosts with 37 points, 3 rebounds and 3 assists.
Phoenix beat Charlotte at home with 137: 106, with Diandre Eaton making a double-double of 15 points and 15 rebounds, Javal McGee scoring 19 points and Devin Booker finishing with 16 points, 6 rebounds and 5 assists after missing seven games. . Miles Bridges scored for Charlotte with 26 points and 5 rebounds.
The Sacramento team hosted San Antonio 121-114 in another game of the NBA tonight. Buddy Heald scored 29 points and scored 18 in the last quarter. The Kings were without six players, as was their mentor Alvin Gentry because of the COVID protocols.
Minnesota also congratulated itself with a victory as host after a success over Dallas with 111: 105. Carl-Anthony Towns scored 24 points, 7 rebounds and 6 assists, and DiAngelo Russell scored 22 points for Minnesota. Tim Hardaway Jr. was the top scorer for the guests with 28 points, 6 rebounds and 6 assists.