Daniil Medvedev continues to pursue Rafa Nadal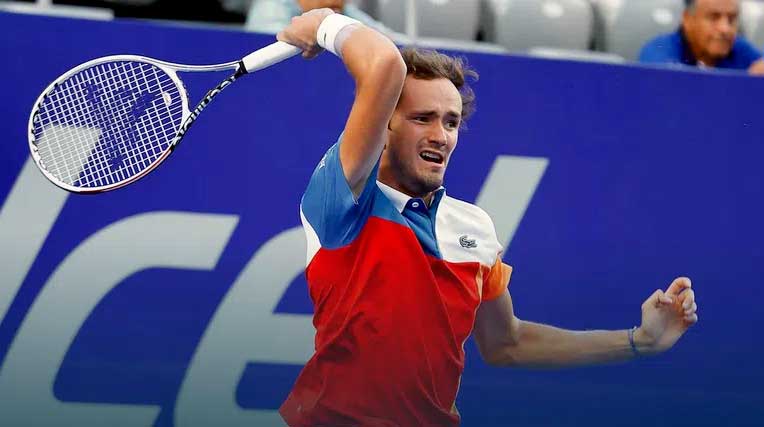 The world number two in men's tennis, Daniil Medvedev, who aspired to the top, easily defeated Pablo Andujar 6: 1, 6: 2 at the ATP 500 tournament in Acapulco with a prize fund of $ 1,678,065.
The Russian relied mainly on his powerful serve, as the Spaniard failed to break it once, which made the difference in the match.
In the next round, Medvedev will meet the Japanese Yoshito Nishioka, who surprisingly managed to number 7 in the tournament scheme Taylor Fritz with 3: 6, 6: 4, 6: 2.

At the same time, Rafael Nadal continued his winning streak in 2022 in 12 matches. Thus, at the age of 35, the Spanish magician made the best start to a season in his entire career.
He prevailed over the American Stefan Kozlov, who eliminated Grigor Dimitrov earlier, with 6: 0, 6: 3 and reached the quarterfinals.
It is interesting that the two had to train together, but due to the refusal of Maxim Kresi Kozlov was called urgently and surprisingly defeated Dimitrov, despite his muscle problems in the match.
Nadal was in the balance of 11-0 victories in 2014, when he lost to Stan Wawrinka in the final of the Australian Open.

Nadal's next opponent will be another American - Tommy Paul, and if he succeeds, he could clash with Daniil Medvedev in the semifinals.
"It's always important to win as fast as possible, but the most important thing is to win," Nadal said after his success in just an hour and 16 minutes.
The victory was clear, which is great, and I will try to be ready for the next opponent, which will be a difficult match, "the Spaniard expects.

To reach the match with Nadal, Tommy Paul had a hard time over the Serbian Dusan Lajovic with 7: 6 (6), 2: 6, 7: 5.
In the remaining matches, the American Marcos Chiron defeated the No. 8 seed Pablo Carenho Busta with 6: 7 (7), 6: 4, 7: 6 (4) in 2:52 minutes.
In contrast to this marathon match, Stefanos Tsitsipas remained only 49 minutes on the court in his victory over the American Jeffrey Wolf with 6: 1, 6: 0. The British Cameron Nori defeated the giant from the USA John Isner with 6: 7 (2), 6: 3, 6: 4.