Kelvin Keiter dominates Giga Chikadze in Las Vegas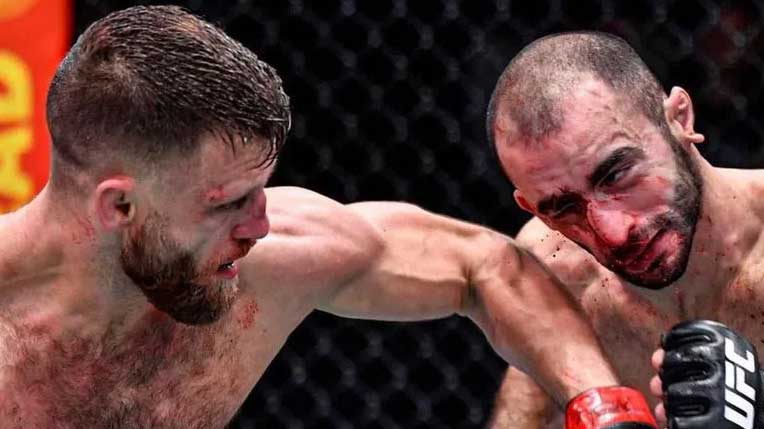 Few were the ones who gave Kelvin Keiter a chance to win the battle with Giga Chikadze. The two led the first UFC gala evening of 2022, which took place in Las Vegas. Their fight in the featherweight category was very interesting and saw all 5 rounds.
At first, Chikadze kicked a lot, but he slipped, so Keiter brought the battle to the ground and took his back. Kelvin dominated the land and earned valuable points in the eyes of the judges. In the second round, the two began to score goals in a stand and Keiter pressed Chikadze.
Giga scored heavy hits, and Keiter returned it with his elbows and at the end of the round he scored another knockdown. So Keiter won another round. In the third round, Keiter continued to push and force Chikadze to make mistakes and take on heavy hooks.
Chikadze was trying to answer Keiter, but he was already quite tired and the battle was slowly slipping away. In the fourth round, Keiter smashed Chikadze's face with strong elbows. Giga began to bleed, and things didn't look right for him.

Keiter hurt him in this round, but Chikadze survived until the end of the siren. In the last round, Keiter's criminal action continued. Chikadze tried to fight back, but Kelvin was just on another level.
Thus, their battle reached a judge's decision, and the judges were unanimous in their victory for Keiter - (50-45, 50-45, 50-44). The battle was chosen for the fight of the evening and the two won $ 50,000 each.
With this victory, Keiter returned to success and lost only to Max Holloway in his last 4 UFC fights. Chikadze, meanwhile, parted ways with a run of 9 straight wins and lost in the UFC for the first time. He moved away from the dream chance for the title.