Medvedev and Rublev started with convincing victories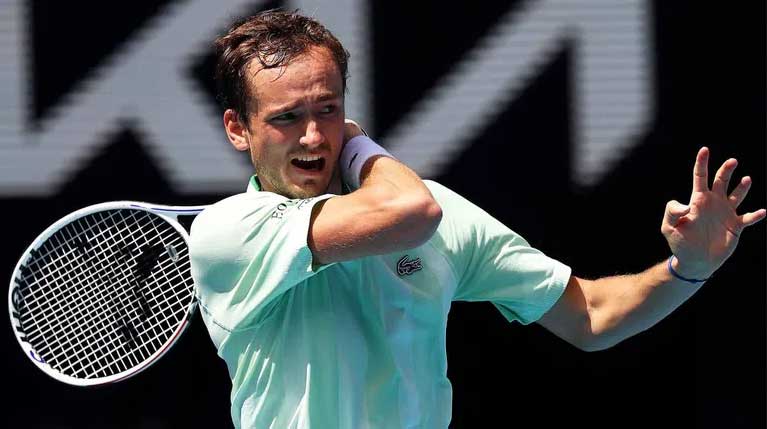 The Russians Daniil Medvedev and Andrei Rublev started with victories at the Australian Open men's tennis championship.
Medvedev No. 2, the highest-ranked player since Novak Djokovic was eliminated from the tournament, beat Switzerland's Henry Laaksonen 6-1, 6-4, 7-6 (3).
Medvedev, who played in the final in Melbourne last year and won his first Grand Slam title in the autumn in New York, made only one breakthrough in the match, which came in the first game of the match. After this initial inaccuracy, the Russian was flawless and without much hesitation closed the match for an hour and 56 minutes.
Laaksonen managed to hinder his opponent only in the third set, in which he improved to a tiebreak. In it, the result was equal to 3: 3, after which Medvedev scored four consecutive points to advance. Medvedev's next opponent will be the winner of the match between Australian Nick Kyrios and British Liam Brody.

Ruble-ranked No. 5 had even less difficulty against Italian Gianluca Mager and beat him 6-3, 6-2, 6-2 in 86 minutes.
Rublev made the most of Mager's 37 unprovoked mistakes and in addition with 31 winning shots and 13 aces showed no doubts in his class.
In the next round Rublev will play with Lithuanian Richardas Berankis, who eliminated Spaniard Roberto Carbayes Baenya with 6: 1, 3: 6, 2: 6, 6: 3, 6: 4.
Diego Schwartzman, number 13 in the scheme, also achieved an easy victory. The Argentine overcame the resistance of the Serbian Filip Krainovic after 6: 3, 6: 4, 7: 5. In the second round, Schwartzman will play Australian Christopher O'Connell, who eliminated Frenchman Hugo Gaston in four sets.
Italian Yannick Siner, number 11 in the scheme, won 6: 4, 7: 5, 6: 1 against the "lucky loser" of the qualifications Joao Sousa from Portugal, and the Spaniard Roberto Bautista-Agut gave a set to the Italian Stefano Travalia for the final 7: 6 (2), 6: 4, 5: 7, 6: 1 in their favor.