Michael Smith slaughtered champion Garwin Price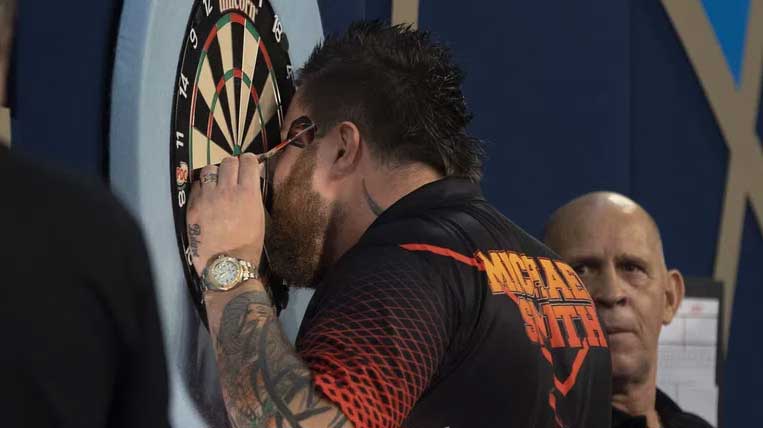 The last two matches of the quarter-final phase of the PDC World Darts Championship were played tonight. Spectators at the Alexandra Palace in London witnessed two great clashes. In the first game of the evening, Peter Wright snatched a very difficult success with 5: 4 over Cullen Reedes, and in the second Michael Smith ended the reign of world champion Garwin Price, beating him also with 5: 4 sets.
The evening started more than promising, with Cullen Reed showing phenomenal darts in the first few sets against Peter Wright and leading 3-1. The 23-year-old talent was like a real okito robot and he couldn't seem to miss it. "Snakebyte" did not play badly, but "Rebellion" punished even the slightest mistake, making a total of 5 checks of 100+ points.
Gradually, however, Wright recovered and showed that he would not give up so easily. The Scot won two consecutive sets, in one of which he was on the verge of a 9-dart leg.

However, Ridge continued to play at a level and once again punished his opponent's misses to lead with 4: 3 sets, but very quickly Wright restored the tie and brought things to 4: 4 and a decisive 9th set. In it, the experienced Scotsman showed stronger nerves, although there was no lack of drama, reaching 2: 2 legs. However, "Snakebyte" won the next two and thus ended the battle, apparently resting after the match. In the next round, he will face his old acquaintance Gary Anderson.
In the other match, the drama was no less. Garwin Price and Michael Smith "bite" from the beginning, with neither of them allowing the other to break away from the result, and the match went set by set.
There was a curious moment in the 6th set, in which Price recorded a 9-dart leg on his account, but still lost the set 1: 3.
The world champion was the first to have a chance to close the match in his favor, missing the match in a 4: 3 set.
And here came the decisive 9th set, in which Smith started with a breakthrough, then won in an extremely attractive way and his pass with a checkout of 126 points on Price Blvd. managed to return the intrigue, but finally again "Buliboy" won his pass and closed the set with 3: 1 and the match with 4: 3 in his favor.
Thus, the Englishman is in the semi-finals of the tournament, where he will face James Wade tomorrow night. Last year's champion Garwin Price said goodbye to the tournament.