Milan and Inter enter into a dispute for the first trophy in Italy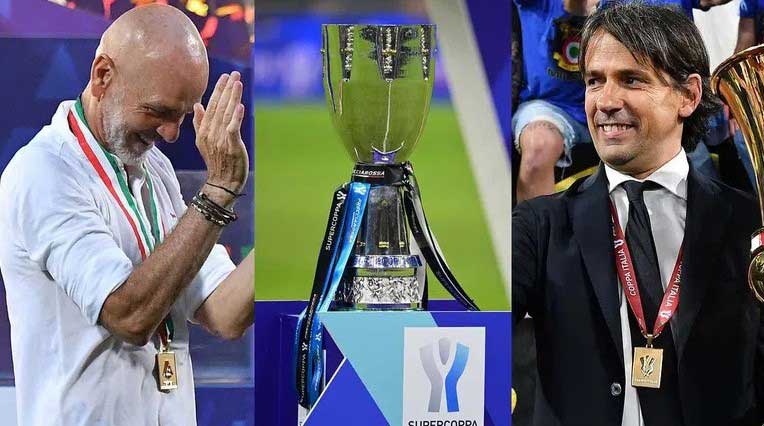 Serie A champions Milan and national cup winners Inter go head-to-head tonight at the King Fad Stadium in Riyadh, Saudi Arabia, in a clash for their first possible trophy of the season - the Italian Super Cup. The match starts at is 21:00.
Milan, who won the Scudetto in the last campaign, will argue for the trophy for the first time since 2018, when they lost 0:1 to Juventus. The Rossoneri have won it a total of 7 times from 11 appearances in such a match, the last time they did it in 2016, triumphing on penalties over the "Old Lady".
Last year, Inter won not only the Italian Cup, but also the Super Cup, so today they will have the opportunity to successfully defend it. If the Nerazzurri win, they will draw level with their city rivals with 7 similar trophies each, but with one less final played as they currently have 6 wins in 10 Super Cup encounters.
Milan have definitely been in unconvincing form since the start of the year. They beat Salernitana 2-1 but failed to record a single win in their next three matches. First they squandered a 2-0 lead at home to Roma in a 2-2 draw, then crashed out of the Coppa Italia after a shock 1-0 extra-time defeat at away Torino, who played 50 minutes with a man less, against Lecce they had to make up for a two-goal deficit for a new 2:2 draw.
Meanwhile, Inter have not impressed with their play, but their recent results have certainly been better. In their first game, they beat Serie A leaders Napoli 1-0, inflicting their only league defeat this season. Then came a 2-2 draw against Monza and a 2-1 extra-time win over second-division Parma in the Coppa Italia. Last weekend, the team won 1:0 over relegation strugglers Verona.
Stefano Pioli will not make major changes to his usual starting line-up. The only expected news is the inclusion of experienced centre-back Simon Kjaer in place of Pierre Caulieu following the Frenchman's disappointing performance against Lecce. In attack, the "Devil" will rely mostly on its star Rafael Leao, as well as on the striker Olivier Giroud, who already has three goals in the Derby della Madonina since he brought the "Rossoneri" team.
There is only one question mark in Simone Inzaghi's squad - who will play at right-half back, but it looks like Matteo Darmian will be preferred over Denzel Dumfries. Given the physical problems of Romelu Lukaku, who may not even be on the bench, the attacking duo will once again be formed by Lautaro Martinez and Edin Dzeko.
The only clash so far between the two teams for the Super Cup was in 2011, when Milan won 2:1. The Rossoneri also won 3-2 in the previous Serie A Derby of Milan on September 3.
Choose your bookmaker from
here
...