Schwentek and Ostapenko are semifinalists in Doha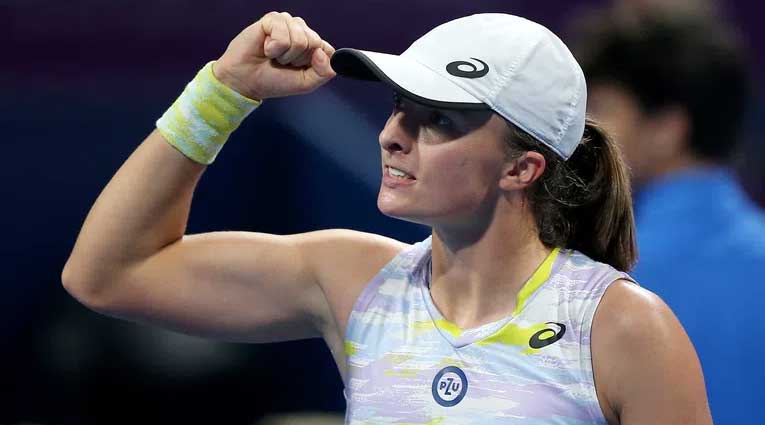 Poland's Iga Schwentek advanced to the semifinals of the tennis tournament in Doha, Qatar, after beating Arina Sabalenka in two sets - 6: 2, 6: 4. Schwentek was considered an outsider before the match, as Sabalenka has already won this tournament once.
Schwentek started the match very strongly, made two breakthroughs, won his pass to zero and took the lead with 3: 0.
But immediately after that she lost her concentration and allowed a breakthrough to be returned to her.

Then the breakthroughs continued in a ratio of 2 to 1 for the Pole, who pulled with 5: 2 in the first set and followed a service won - second in the match.
In the second set, the Belarusian athlete took the lead with 3: 0, making a breakthrough from a second attempt for 2: 0.
After that, however, Schwentek won six consecutive sets and left with a victory in two sets. Her next opponent will be Maria Sakari (Greece), who earlier today defeated Coco Goff (USA) with 6: 3, 6: 3.
Jelena Ostapenko continues to demonstrate her good form in the Persian Gulf, securing a semifinal after a 6-2, 6-2 victory over Garbine Muguruza.
And although the Spaniard Muguruza is generally a very good defender, Ostapenko decisively led 3-0 with a breakthrough.

Muguruza then returned a foreign serve, but the Latvian kept attacking and pressing her, for which she had no answer.
Ostapenko won his last pass, made another breakthrough and took the part with 6: 2. The second set did not differ much and again ended 6: 2 for Ostapenko.
Mugurusa won only three of the 17 possible points from the second serve, and each when her first serve did not enter properly, Ostapenko took some advantage.
Thus, after 67 minutes on the court, she secured a semifinal against Annette Contactweight. The Estonian, who is in 7th place in the UTA rankings, defeated Ons Jebür (Tunisia) with 6: 4, 6: 1.