Sean Strickland defeated Nasurdin Imavov at UFC Fight Night 217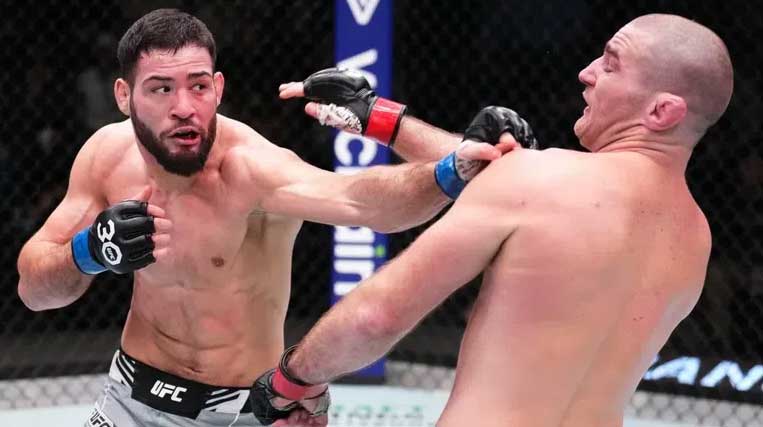 Sean Strickland returned to winning ways in the UFC cage. The experienced MMA veteran from the USA faced Nasurdin Imavov in the main event of the UFC Fight Night 217 event, which took place in Las Vegas. Shawn accepted the fight on short notice and it took place at light heavyweight.
In the first half of the first round, Imavov looked better in his stance. However, that changed as Strickland kept pressing and finding the target. Shawn kept pressing and scoring which clearly won him the round.
In the second round, Strickland continued to lurk, and Imavov is was not very active. Short clinch where Shawn landed punches. In that round, Strickland scored a takedown that accomplished nothing. The two exchanged a few hits. Clinch at the end of the round by Strickland, who continued to look the better.
In the third round, the two traded standing hooks. Jab by Imavov, followed by a kick to the body by Strickland. Shawn scores and Imavov was passived for 30 seconds. He tried a takedown but no chance. By the end of the round, Shawn was pressing and landing more punches.
In the last two rounds, Sean was one point better. Imavov simply could not make it difficult for him. Nasurdin showed no desire to win this battle. At the end of the match, Shawn had more punches scored as well as over 4 minutes of control in the clinch.
The fight went to a decision in favor of Strickland - (49–46, 49–46, 48–47). With this victory, Shawn stops a streak of 2 losses in a row. Imavov, on the other hand, broke away with 2 consecutive victories. In the interview after the fight, Strickland apologized to the fans and promised more attractive meetings in the future.
Choose your bookmaker from
here
...