The hockey players of Finland with the first Olympic title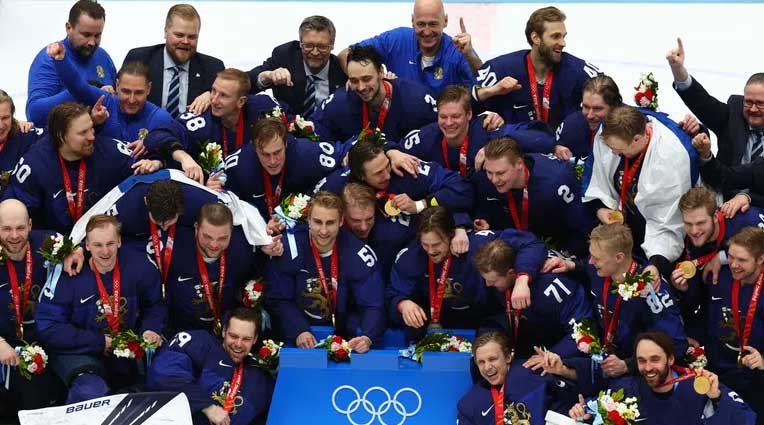 The hockey players of Finland won their first historic Olympic title.
In the final at the National Indoor Stadium in Beijing, "Suomi" won 2: 1 (0: 1, 1: 0, 1: 0) over the defending team of the Russian Olympic Committee. "
The selection of head coach Yuka Jalonen came to victory after a turnaround and finished the tournament with six wins in six matches. It was Finland's fourth consecutive victory over a Russian team at the Olympics.

The hockey players of the Russian Olympic Committee took the lead with 1: 0 in the 7th minute after a goal by Mikhail Grigorenko. The goal came exactly 17 seconds after the Russian hockey players used their numerical advantage.
The Finnish team tied the score at 1: 1 in the 23rd minute of the match. Ville Pokka received a pass on the blue line and shot towards the door, while Saku Mäenalananen fought in front of the door and blocked the visibility of goalkeeper Ivan Fedotov. The puck went into the near corner.
Finland took the lead at the beginning of the third part. The winning goal for Finland came 31 seconds after the start of the third period. Then Marco Antila turned behind the door and past the guardrail, fired, and the puck was deflected from the stick of Hannes Bjorninen and fell for the second time in the net of Fedotov.
Thus, "Suomi" took a 2: 1 lead in the final match in the 40th minute.

In the last minutes of the match, the Russians played with six field players on the ice, but this did not help them break through the excellent defense of Finland in this match. The goalkeeper of the winners Harry Satteri made a very strong match, finishing with 16 saves.
The top three in the men's hockey tournament in Beijing was complemented by the Slovakian team, which beat Sweden 4-0 in the small final on Saturday and won an Olympic medal for the first time as a stand-alone country.