The LA Clippers beat the Lakers in the final seconds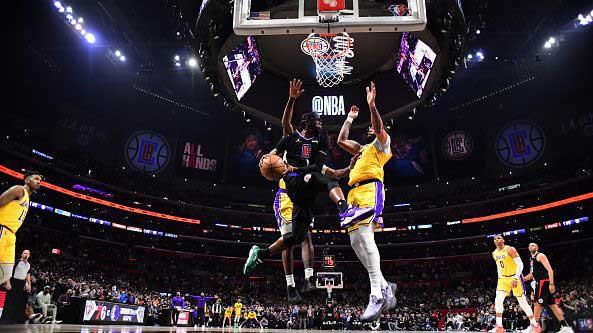 The Los Angeles Clippers have achieved their second consecutive victory over the city rivals from the Lakers this season. The Tyrone Lou basketball team won the LA derby with 111: 110 (28:26, 32:28, 34:28, 17:28) through a basket in the last seconds of guard Reggie Jackson, who brought success to his team. This is the Clippers' fifth win over the Lakers in their last six games.
The two teams are also neighbors in the Western Conference standings, with the Clippers' team increasing their distance from their direct opponent. They have an asset of 27-27 in eighth place, while the "ponds" are ninth with a balance of 25-28.

Thus, the boys of Tyrone Lou continue to have better results than those of Frank Vogel this year, although their leaders Kawai Leonard and Paul George are injured. Today, the Ivica Zubac center was absent from the rotation of the symbolic hosts, while for the Lakers LeBron James and Kendrick Nun continue to treat injuries. Carmelo Anthony left the game with a thigh injury in the second quarter.
In the first half, the two teams often shared the lead, with the difference reaching no more than four points in one of the two directions. Only at the end of the second quarter LA Clipus pressed the gas and went ahead at the break with 60:54, and in the third quarter came out with far more motivation than his opponent and in negative time raised his lead to 17 points at 84:67.
The Lakers didn't give up and expectations for the derby came true in the last quarter, when Frank Vogel's team caught up with their double-digit deficit and even managed to take the lead in a moment after a great shot by Anthony Davis after a pass from Russell Westbrook for 109: 110 12.5 seconds remaining until the end.

In the counterattack, however, the guard of the symbolic hosts Reggie Jackson demonstrated his great individual class, as he managed to feint the young Austin Reeves and lower the winning basket to 111: 110. The Lakers had a chance to steal the siren success, but Anthony Davis missed.
Marcus Morris became the top scorer for the Clippers with 29 points and 7 rebounds. Hero Reggie Jackson added 25 points, 8 rebounds and 6 assists, Serge Ibaka scored 20 points and Luke Kenard scored 10 points from the bench.
Anthony Davis was above all for the Lakers with 30 points and 17 rebounds. Malik Monk contributed another 21 points, 7 rebounds and 7 assists, while Russell Westbrook scored 17 points and 6 rebounds.