The Lakers lost to Charlotte without LeBron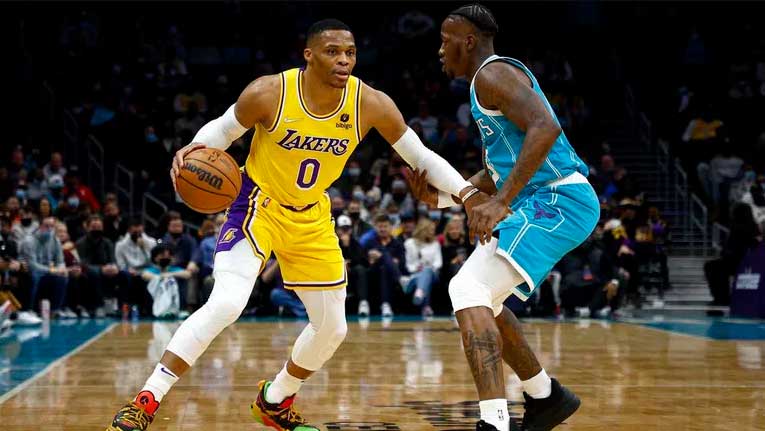 The Los Angeles Lakers lost to Charlotte 114-117. Miles Bridges scored 26 points and Isch Smith added 22 for the hosts against the injured LA Lakers. Terry Rosier and LaMello Ball scored 20 points each for Charlotte, who set a club record two days ago, scoring 158 points against Indiana.
LeBron James missed the second game in a row due to a knee problem, and in his absence Russell Westbrook scored 35 points, 4 rebounds and 5 assists.
The Atlanta team beat Boston at home with 108: 92. Trey Young and John Collins scored 21 points each and won nine fights for the Hawks' sixth straight success, the longest winning streak in the NBA Eastern Conference.

Bogdan Bogdanovic added 19 points and made an important contribution to the 18-2 series in the fourth half, which allowed the hosts to take the lead with 17 points. For Boston with 26 points and 12 rebounds, Jaylan Brown scored, and Jason Tatum scored 20 points and 6 rebounds.
Memphis over Utah also recorded a home success with 119: 109, and Ja Morant contributed with 30 points, 10 rebounds and 10 assists. Brendan Clark finished with 22 points for the Grizzlies, who won for the 15th time in 18 games. Daniel House joined with 21 points for Jazz, but Utah lost for the fourth time in a row.
Indiana beat Oklahoma as a guest with 113: 110 after a sequel in another game of the evening in the NBA. Domantas Sabonis recorded 24 points, 18 rebounds and 10 assists for the Pacers, who were 16 points behind in the third quarter.
Luguentz Dort scored 27 points and eight rebounds for Thunder, losing his seventh straight game and 12th in his last 13 games, and Shay Gilder-Alexander sprained his right ankle in the third.

Yannis Antetokumpo recorded his 16th double-double with 30 or more points of the season, finishing with 38 points, 13 rebounds and 5 assists in Milwaukee's 123-108 victory over the New York Knicks.
The success was the fourth in a row at home for Bucks. Jru Holliday added 24 points and 10 assists and Chris Middleton added 20 points. Evan Fournier scored 25 points for the Knicks.
In other games, Miami beat the Los Angeles Clippers 121-114, San Antonio beat Chicago 131-112, Portland beat Houston 125-110, and Denver beat New Orleans 116-110. 105.