Betway Tanzania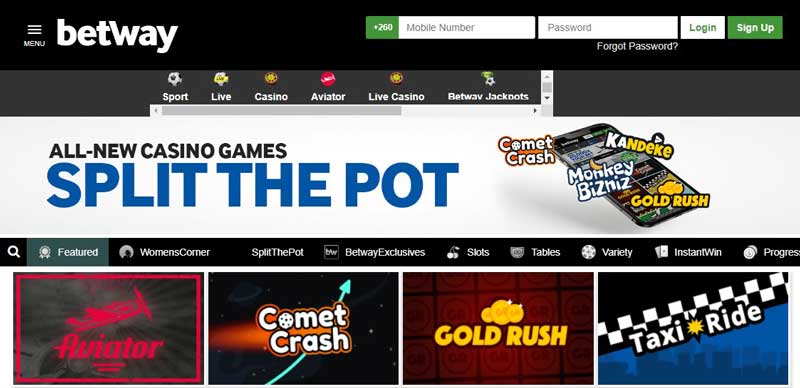 There is absolutely no doubt that Betway is one of the best betting platforms in Tanzania. As a company based in Malta and Guernsey, Betway had one goal – to expand to countries all around the world and to provide the best possible gambling experience. Well, it definitely has succeeded since this is one of the most recognisable brands in the industry of betting worldwide. It was founded back in 2006, and for less than a few years, it gathered a huge base of loyal clients in Tanzania.

We believe that all this is because it offers great gambling options, starting from a great casino portfolio, going through huge variety of sports betting markets, good bonuses and of course – high-quality customer support. So, if you are wondering if you should give this bookmaker a try – you are on the right place.

In today's review we are about to fully cover Betway's opportunities for Tanzanian people. We will discuss the Registration process, the gambling options such as Casino and Sports, we will cover the Bonuses and Payment Methods, and of course, we will conclude with our completely honest opinion about this provider.
Betway Tanzania Registration Process
If you are located in Tanzania and you want to open an account at Betway, you are on the right place. Today we are about to give you a step-by-step guide on how to do that. The registration process is simple, it does not require a lot of time and you will soon have an account at Betway Tanzania. All you need to do is to follow these simple steps:

1. Load the official website of Betway Tanzania on your browser

2. Find the button 'Sign In' and click on it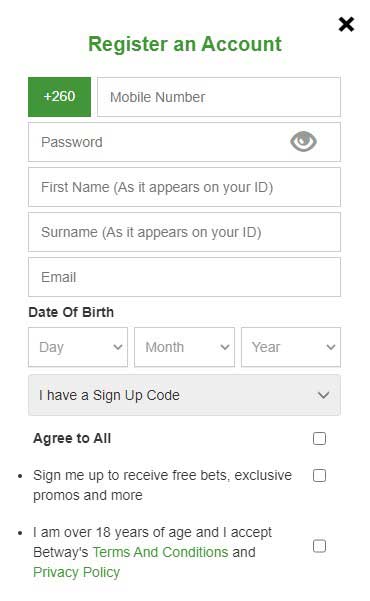 3. Give the needed personal information – names, password, phone number and mail

4. Agree with the Terms and Conditions only after reading through them

5. Click on the 'Complete Registration' button

After you click on that button you will receive a SMS code, enter in in the field so you can activate your account. Once you have activated your account, an important step comes – you should verify it by providing proof of identity. This is not difficult and not dangerous; all your information is completely safe and you have nothing to worry about when sharing it.
Betway Tanzania Casino Options
All of Betway's customers in Tanzania have access to fantastic gaming options. Many of the top titles are available in the casino, thanks to outstanding software providers like Microgaming. Despite the limited selection of titles, there are still a lot of well-known categories to be found. Slot machines are the most played casino games because they allow players to win without having to spend a lot of money, but table games are also well-liked by patrons.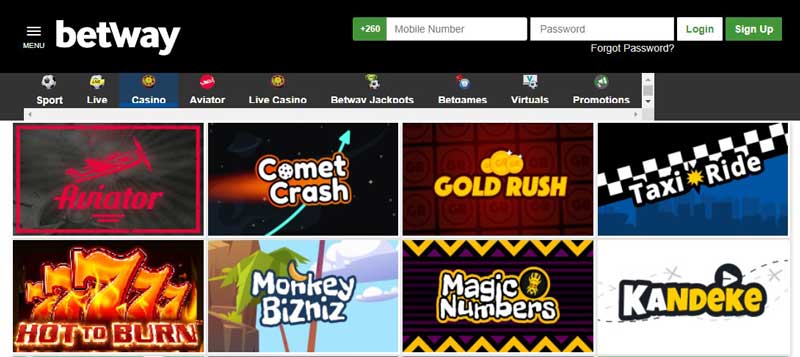 Betway offers a fantastic live gaming area for anyone who prefers to gamble in person. In this area, you can place real-time wagers alongside live operators on your preferred casino games. In the live casino there is also good variety of games, so you will be able to easily find the game that you want to play.
Betway Tanzania Sports Betting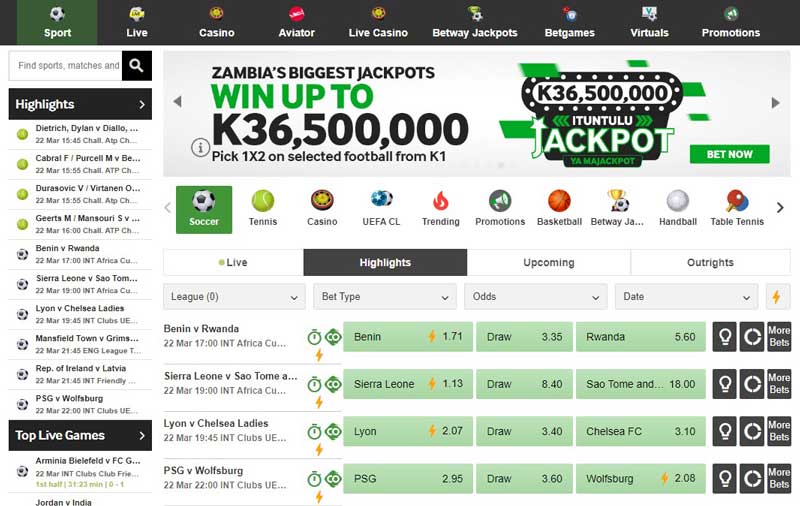 As a supplier of sports wagering, the Betway sports betting website provides a respectable selection of well-known sports. Among the many activities available are a plethora of international faves like cricket, rugby, table tennis, and volleyball. The remaining options include boxing, Formula 1, mixed martial arts, and other sports, but football is by far the most popular. If you enjoy watching eSports, you'll be pleased to learn that this provider's website offers a wide selection of eSports to Tanzanian customers. You will undoubtedly enjoy taking part in it because there are numerous wagering features that significantly improve the experience.
Betway Bonuses



Of course, we will also discuss the Betway bonuses that are available for all Tanzanian players. Let's start with the welcome bonus for sports that is pretty attractive for all new players. If you have just opened your account you can easily get 50% first deposit bonus up to TSh 10,000 as a free bet. There are requirements you must complete in order to be able to receive your money – wager the bonus deposit amount 3x times with odds of at least 3.00. Sadly, there is still no casino welcome bonus available for the players, but soon or later this will also change.

There are also other Bonuses for the already Registered and loyal players, such as:

- Weekly Bonus – you can choose of Weka Tuweke bonus that gives you more money for your next transaction, you can get a lucky bonus every Friday, and soon you will be able to receive Saturday bust of some amazing odds.

- Cashback in Forecast – you will be able to close the bet in your profile before the final whistle is blowed, and more information you can see in your account.

- Jackpots – if you predict 1x2 on the list of football matches at the website of Betway, and if the mat hits, you can win up to TSH 5 billion.

- Increasing Multi Bet winnings up to 700% - Multiply your betting winnings by up to 700%. For every match with an odds of 1.2 or more placed on your Collective Betting mat, the operator will multiply your winnings. The more selections you make, the bigger the multiplier. The winnings are paid in cash to your account.
Betway Tanzania Mobile Betting
This is entirely understandable if you prefer using your smartphone to place bets. You can use the smartphone app, which has been optimized for both iOS and Android devices, and Betway Tanzania provides favorable terms for that. Regardless of the program you use, you can get it by simply logging into your account or creating one if you don't already have one. You can simply visit the Betway Tanzania mobile page in your mobile browser if you'd rather not download anything to your mobile device.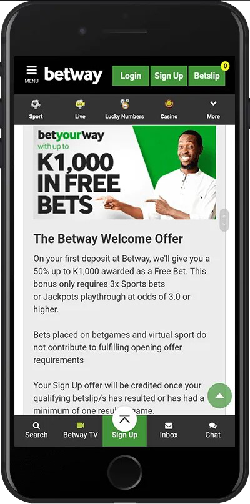 The interface is comparatively straightforward, and the application's style is identical to that of the websites. The software is fast, so using it shouldn't be challenging. The layout of the mobile version, which is also very excellent, is almost identical to that of the PC version aside from where the options are located. You won't encounter any issues if you use one of these since both the mobile software and the mobile edition continue to offer all features and betting choices. Well, if you do – don't forget to contact the support of the website.
You'll be pleased to know that Betway provides a great variety of payment options for you if you live in Tanzania. Simply select the path of your choice to gain access to fantastic wagering alternatives. Remember that you can deposit minimum TSh 100, and maximum TSh 1000000. While Betway does not charge fees, the other company might if you select a particular payment option. In contrast to withdrawals, which can take up to three days, deposits only take a few minutes to finish. You can always get in touch with the website's customer support staff for assistance if it seems to be taking too long.

The following is a summary of the different funding choices:

- Airtel
- M-Pesa
- Tigo
Conclusion
To conclude the review today, we will share our completely honest opinion about Betway Tanzania. This provider is really good – we loved the design of the website and the fact that there is a functional mobile version, as well as great mobile applications available. The variety of sports betting markets is great and gives all Tanzanian people the chance to enjoy amazing betting opportunities. The casino section is also good. We liked the bonuses, despite the fact that there is no welcome bonus for casino players. The customer support is good, and it can be easily accessed, but the deposit methods should be more. Overall, Betway is one great choice for all people who are based in Tanzania.
Yes, Betway is fully safe betting provider in South Africa and you have nothing to worry about when using the website.
If you ever encounter some kind of a problem at Betway you should not panic. All you need to do is to contact the customer support of the website by using the live chat option or by sending a mail.
Yes, there is a great mobile application for iOS that all Betway clients can use.
Yes, Betway offers great variety of sports for betting for all Tanzanian players.
No, you can't make deposits with crypto at Betway Tanzania at the moment.