FortuneJack Crypto
Review



FortuneJack is a unique bookmaker. The extraordinary thing about this gambling house is that it accepts payments only in cryptocurrencies. The same goes for the withdrawals, which are also processed in Bitcoins and similar decentralized digital currencies. Situated in the global gambling market as a classical crypto bookie, it also has a casino section where all profits are paid out in cryptocurrencies too. If you have extended time searched for such a real money gaming platform, this review will provide you with more details about the company. Read the material if you are keen on FortuneJack, but you have never operated with cryptocurrencies on a website of this type.
FortuneJack Types of cryptocurrencies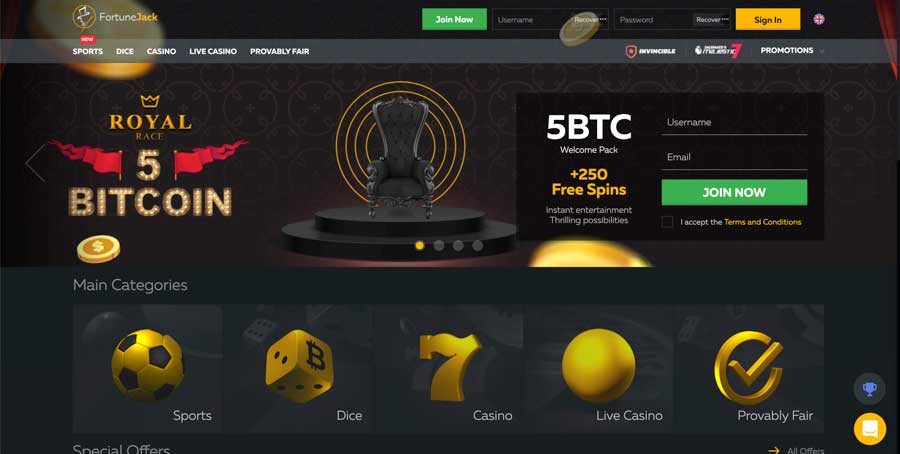 FortuneJack accepts deposits and processes withdrawals in different cryptocurrencies. In this platform, you are allowed to use any of these cryptocurrencies:
- Bitcoin, Litecoin, Dogecoin, Etherium, Zcash, Tron, Monero, Bitcoin Cash
Although there are so many different cryptocurrencies, all the listed sums on the website are usually in Bitcoins. Hence, you are allowed to choose any of these cryptocurrencies. If you get confused about the concrete amounts, you can download an exchange tool to quickly get an idea of how many Monero, for instance, is equal to the amount in Bitcoins listed in FortuneJack as a bonus amount or a minimum withdrawal amount, for example. Please, be aware that since the cryptocurrency types have been these days constantly diversifying with new additions, it's most likely for FortuneJack to soon adopt many new cryptocurrency types.
FortuneJack deposit and withdrawals
The list with cryptocurrencies available in FortuneJack refers to both – withdrawals and deposits. This means that you can make a deposit and a withdrawal with any of these cryptocurrencies. Please, note that in this bookmaker, you are not allowed to use any standard currencies like USD or EUR. Hence, you might see some data on the website (promos, prize pools, minimum deposit requirements, etc.) mentioned in USD. This is done only for the sake of the customer's easier orientation. If you see an amount of 10 USD, this means that the amount is supposed to be paid or received by the customer in a cryptocurrency with a total amount equal to this amount. Note that according to the latest FortuneJack Company's public announcements, soon it might be possible for the players to pay and cash out in FIAT currencies, too. Currently, though, this is not possible.

- FortuneJack minimum deposit – 0.002 BTC
- FortuneJack minimum withdrawal – 0.004 BTC
- FortuneJack withdrawal requirement – before you cash out, you need to verify your account by sending copies of your ID documents, play at least 2 times your first deposit amount and then make a claim for a withdrawal through your account settings
- FortuneJack maximum deposit amount – 5 BTC
- FortuneJack maximum withdrawal amount – no limits
- OrtuneJack deposit and withdrawal processing time – immediately
- FortuneJack deposit and withdrawal fees – Some financial transactions might be related to small fees. You will always be informed about them before an actual charging by the company
Buying and exchanging cryptocurrencies in FortuneJack
Please, note that in FortuneJack bookmaker, it is not possible either to buy or to exchange cryptocurrencies. You can only use your own cryptocurrencies to make deposits on the website and to receive your profits from gaming experience in the preferred cryptocurrencies. Note that all the e-wallets are protected by unique blockchain technology. It provides 100% security for your funds. Your money is in a safe place, including while you play with it on the FortuneJack gambling platform. The bookmaker highly recommends the following platforms for crypto exchange and purchases: coinbase.com or bitstamp.net.
How to make a crypto FortuneJack deposit?



If you have never gambled with cryptocurrencies and FortuneJack is the first crypto bookmaker you meet, it would be good for you to read the following guide. Within the next lines, you will see how exactly a crypto depositing procedure in FortuneJack works. Note that the withdrawal procedure is similar.

- Find the specially tailored button "Quick Deposit". It's right on the home page, besides your user name. You will see it only if you have an active account. Click on the button.
- You will see a new window opened for you. Please, within the form, choose the type of cryptocurrency you want to use.
- Then you will be shown your deposit wallet address.
- The next step is to simply copy or scan the QR code. Now it is time to deposit the desired amount of money directly in your FortuneJack balance balance.
- This is the shortest way to make a deposit with cryptocurrencies: Account -> Balance -> Cashier -> Deposit.
- Please, be aware that it is possible for you to change the deposit wallet address. For this purpose you need to push the button "New" right next to your wallet address. Then, select a new wallet address.
More for FortuneJack .....
All reviews for

FortuneJack
In FortuneJack you can pay and receive profits through any of these cryptocurrencies: Bitcoin, Litecoin, Dogecoin, Etherium, ZCash, Tron, Monero and Bitcoin Cash.
No, you cannot. Currently, FortuneJack allows only payments in cryptocurrencies. It's been promised by the company, though, to soon validate USD or/and EUR payments.
In some cases, you might be charged with some fees. This depends mainly on the cryptocurrency type and your e-wallet.
In FortuneJack, the minimum crypto withdrawal you can make a claim for is only 0.004 BTC.
Yes, all the services in this gambling house are available only in cryptocurrencies. This means that apart from the sports bets, you can also access real money casino games with cryptocurrencies. Hence, note that most of the slot machines in this gambling house are available in a demo (free mode), too.