1xBet offers tremendous bonuses on winning accumulator bets

If 1xBet does not load - Check here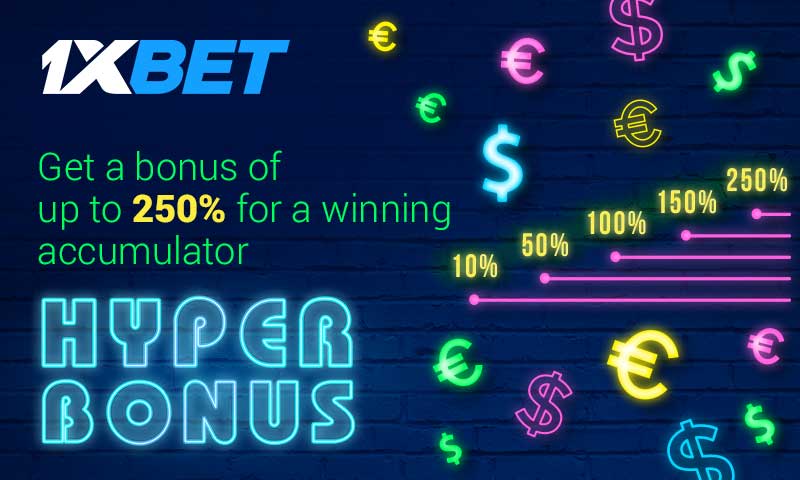 One way punters increase their winning chances is to place their bets at sportsbooks with the perfect blend of high odds and best bonuses. At 1xBet, the aim is to offer customers the best gambling experience with top offers.

If you are a fan of accumulator bets, then, the latest 1xBet promotion is specifically made just for you. As part of it, you stand a chance to claim up to 250% bonus when you place accumulator bets. The Hyper Bonus from 1xBet is designed to make your gambling moments fun, rewarding, and exciting!

How does it work?

To take advantage of this mouth watering promotion, you need to have a 1xBet account. If you are not a bookmaker's customer, this is the best time to sign up. Once you have your account registered, make sure to fill in all the details, which include your full name, country and city of residence, email address and phone number. Also, ensure you tick the box, agreeing to take part in bonus offers in My Account.

Then visit the promotion page and click the "Take Part" button to become a participant of the promo. After it, you are required to select your bets, choosing at least four events with odds of at least 1.2, and you are on the way to incredible rewards!

How much bonus awaits you?

Your bonus amount is determined by the number of selections you add to your accumulator bet. However, to claim this bonus, your bet must win.

For example, if there is a 5% bonus on four selections, ten more selections will give you a bonus of 40%. The bonus increases with every selection you include on your bet slip. The bonus is capped at 250% for 25 selections added in a single accumulator bet.

What are you waiting for? Sign up to 1xBet today and have an unforgettable experience with an up to 250% bonus for your accumulator bets!
More for 1xBet .....