1xBet - Champions League– 4 Scenarios Come Into Play
1xBet
Who will win the Champions League – 4 Scenarios Come Into Play
As fans had finished lamenting on last season's Champions League, a new one is just around the corner! No one can ever tell what is going to happen in soccer, but one thing is for sure that the very best action can be seen during these epic league matches!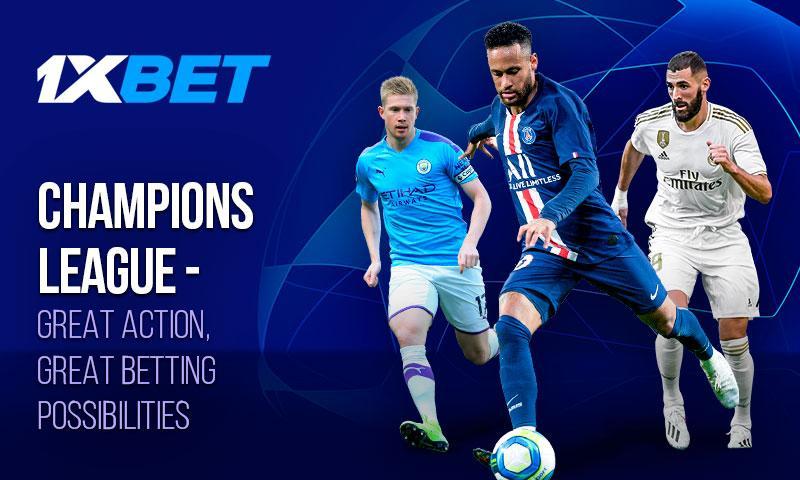 We all sit on the edge of our seats waiting for huge comebacks, semi-final underdogs and even eight goals against one team.
1xBet has come up with four possible scenarios for this year's epic Champions League which highlight this year's top 5 teams.
Scenario 1: Bayern To Defend Title
When the tournament was renamed in 1992, it was believed it had been jinxed by the name change as no team could successfully defend their title. Luckily the spell was broken when Real Madrid did just that. Not once but three times and were crown champions from 2016 to 2018.
Bayern were the winners last year and are looking to repeat Real's example. They will definitely be confident for a win, especially since the acquisition of Leroy Sane giving the team even more prowess than they already had. It's not hard to see them successful!
Scenario 2: Real Madrid Takes Back The Crown
As record holder winners of this tournament it is not hard to imagine the Real Madrid maestros taking back the title from Bayern. The team have so many records under their belt and they look set to add a few more. They did however suffer a few defeats in the European competitions with two consecutive exits of the Champions League on ⅛ stage.
Although this cast a slight shadow on the record-breaking team, they can still be upbeat about their chances under the guidance of Zidane. Last season the team grew substantially in performance and managed to regain stability and the younger players progressed well. Another form of ammunition is that Eden Azar is still coming into his own. Let's see if this combo is enough to clinch the crown again!
Scenario 3: Messi or Ronaldo win the Champions League and Go Head on Head for yet another Ballon d'Or
All thought these two megastar football players may be facing the sunset in their careers, it is far from over. In recent years their teams may have not shone as brightly, or they may not have played as boldly as in the past but nonetheless there is a great belief amongst fans and bookmakers that these two can still go head to head for a Ballon d'Or award next year.
There is an outside chance that either Barcelona or Juventus could make an unlikely bid for the top place of the Champions League. Although unlikely it is a worthwhile bet with bookmakers to estimate the chances of Barcelona and Juventus at the same odds - 13.
Scenario 4: Could Ajax Put Champions League
Although it seems completely unimaginable that such far outsiders could ever be in with a chance, why not believe in it? Just one year ago, the team missed the opportunity to be in the Champions League final.
And if you don't believe this could ever be a reality look back to 2004. Jose Mourinho's Porto managed to pull it off. Since then, there have been only favorites as league winners. Now, 1xBet and others believe there is a possibility that the underdog could take the crown!
The team consists of young talent on the rise. They are fresh and envigorated so what could stop them? Can you imagine winning on this bet, you find yourself strongly in the pound seats.
Place your bets at 1xBet and follow all the European Competitions with great bet options available while being assured of a reliable bookmaker!

More for 1xBet .....
If 1xBet does not load - Check here