1xBet - EGR Operator Awards
1xBet
Great Things Expected of 1xBet at the EGR Operator Awards
1xBet is on the road to success with a nomination in the 'eSports Operator" category at the EGR Operator Awards. Apart from 1xBet, there are another seven nominees, with the eventual winner to be announced in an online ceremony slated for November 11th to 12th, 2020.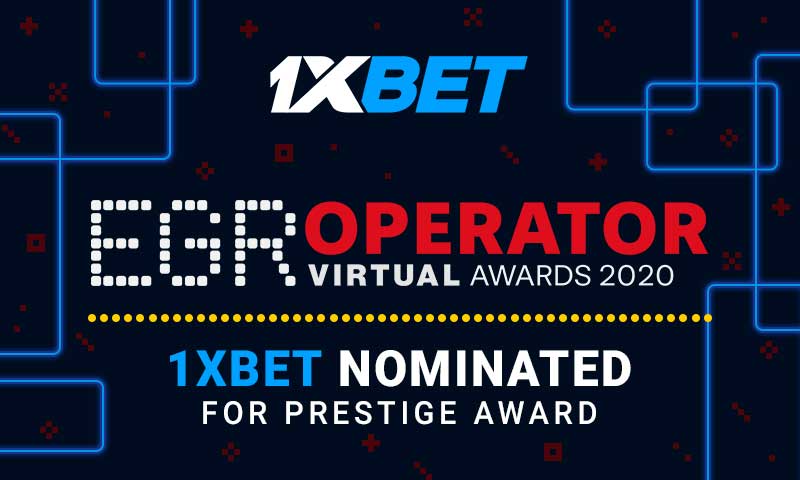 Representatives of 1xBet commented that "Being nominated for this prestigious award is a real honour for the brand and its employees. That isn't the first time 1xBet has been nominated for such a high-profile international industry award. 1xBet has already won several such awards, yet we appreciate the recognition every time. It's always a sign that we are moving on the right track, and our efforts are appreciated by our players and internationally renowned experts alike. It is highly satisfying to be placed among the best in such an important category that's becoming more and more relevant every year.

Esports is gaining followers by the day and continually growing. Fans view esports as an opportunity for excitement and entertainment. 1xBet provides those fans with the chance to support their favourite teams and win with them. 1xBet will therefore continue to make every effort to develop that sector further".

The esteemed panel of judges who are to determine the category winners at the ceremony typically includes several renowned representatives from within the betting industry itself. That endures the voting impartiality, and secrecy of the panel of judges will be eight until the end of voting. Verification of the voting results is by the international auditing company Deloitte. 1xBet pays particular attention to esports. The website and 1xBet mobile application allow you to bet on thousands of international events and in many tournaments. 1xBet sponsors esports organisations, including the popular teams NAVI, HellRaisers and Cascade. The EGR Operator Awards are regarded as one of the most prestigious industry events due to the esteemed status of its organisers. The event has been staged by the EGR magazine (eGaming Review) since last year, and the winners this time around will be determined in 28 categories.

About 1xBet

1xBet is a rapidly growing betting brand established in 2007. The bookmaker provides an incredible 2,000 wager outcomes spread across 25 esports titles that take in Dota 2, CS:GO, LoL and other popular games. 1xBet is the proud sponsor of renowned esports organisations like NAVI, Cascade Esports and HellRaisers Esports.
More for 1xBet .....
If 1xBet does not load - Check here