1xBet - Games Mania - Win a new iPhone 11 Pro Max
1xBet
Win a new iPhone 11 Pro Max, cash rewards and more perks with 1xBet's Latest Title - Games Mania
There is frequently something new to look forward to at 1xBet with new, innovative gaming experiences for players. The 1xGames section successfully showcases that with more than 100 exclusive game titles you won't find anywhere else. The outstanding games provide you with a chance to make money while you play and enjoy yourself.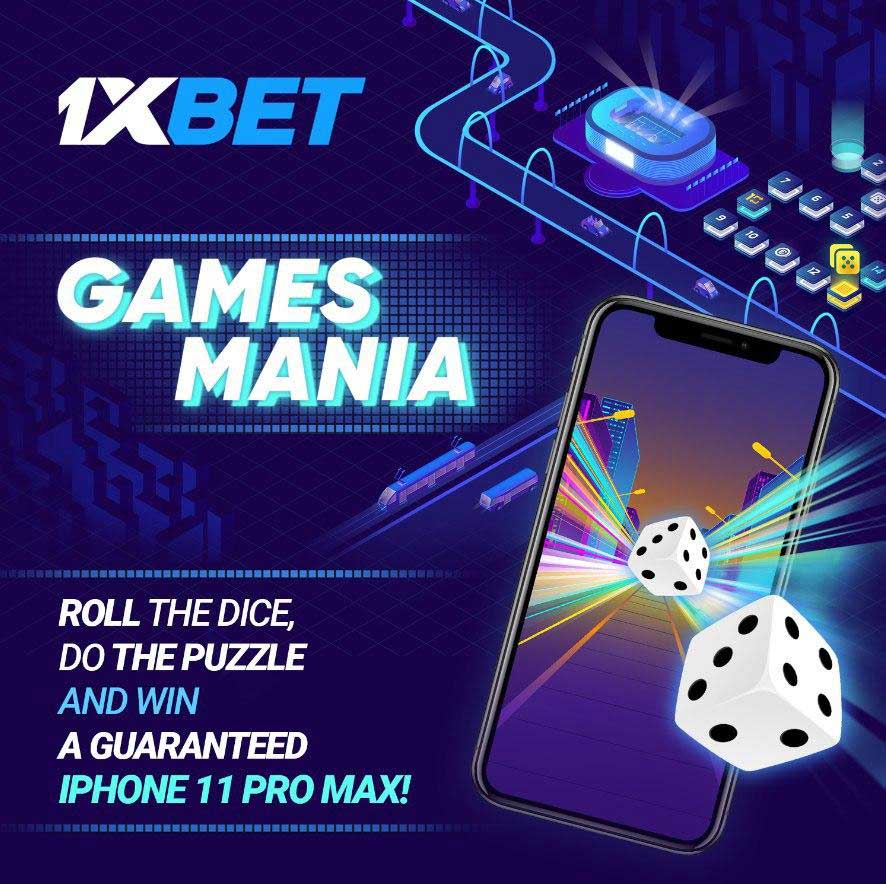 The 1xGames section is continually updated with newly released titles. Games Mania is the latest addition to the catalogue of top-notch games. It serves up the option of multiplying your stake and winning a brand new iPhone Pro Max at the same time.
How Can I Play?
Once you have an active 1xBet account, you can head straight to the 1xGames section on the site and open Games Mania. There you receive front-row tickets to an adventurous and exclusive experience with chances to win some outstanding gifts and prizes.
To start the game, you should place a bet and click the "Roll the dice" tab. When the dice stop, you automatically move on to the cells written upon them. Your prize will vary with the value of the cell you land on. If you land on a multiplier cell, your wager gets multiplied by that specific value.
Besides that, the cells could contain extra gifts like doubling your winning bet, getting half your losing bet refunded, getting a free €1 bet, or winning a spin on the Lucky Will. You get everything displayed on the game board.
How can I win a new iPhone?
There are cells without a multiplier or extra prizes; however, they might contain pieces of a puzzle. When you gather the puzzle pieces to make a picture, you get the chance of entering a quest game. That is where you can win an iPhone 1 Pro Max. To ensure you win the new iPhone, you only need to match up 15 puzzle pieces. Once you have completed the puzzle, the new iPhone 11 Pro Max will be all yours!
Win massive prizes by playing Games Mania at 1xBet by landing on prize cells and winning enormous rewards!
More for 1xBet .....
If 1xBet does not load - Check here