1xBet - Get an advance bet
1xBet
Get an advance bet at 1xBet!
1xBet prioritizes maintaining a relationship of trust with its customers by providing the best possible betting conditions for members. The renowned bookmaker is offering an ultra-special offer to players with the Advancebet promo to emphasize that point.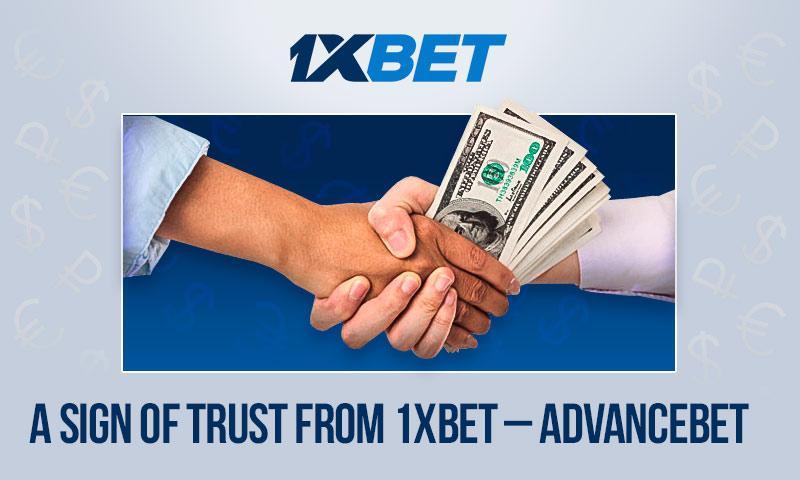 What is Advancebet?
Under the promo conditions, 1xBet members can request and receive an advance payment for a bet. It comes extremely handy when an unmissable opportunity for a sports forecast and a chance to make some money comes your way, but you don't have enough funds in your account.
You can use the promo offer if you have at least once unsettled wager on events not yet concluded. The exact advance payment depends on the assessment of your potential winnings.
To determine how much your Advancebet is, you should click the "Find out" tab within the "Bet Slip". Subsequently, you will be able to wager on any sporting event you choose and eagerly await the result!
How does the offer work?
If you bet $10 with odds of 2, for instance, your potential payout amounts to $20. You're offered an Advancebet worth $5, and you can then take your chances by making another bet on the next sporting event with odds of 3. If both your predictions are successful, you stand to receive payouts on both coupons - and your account balance is now $30!
You calculate it as follows - you win a payout of $20 due to your first winning bet. After that, you deduct the $5 advance from it, and subsequently, you add the $15 trust bet payout to the remaining balance of $15. Your total account is now $30, and you make a fantastic $20 profit!
1xBet always comes to your rescue to assist with your successful prediction, although you may not have enough funds. Why not take the plunge and place trust bets with a reliable bookmaker and win!
More for 1xBet .....
If 1xBet does not load - Check here