1xBet is the official global betting partner of ESL One Dota 2 and ESL Pro
1xBet is the official global betting partner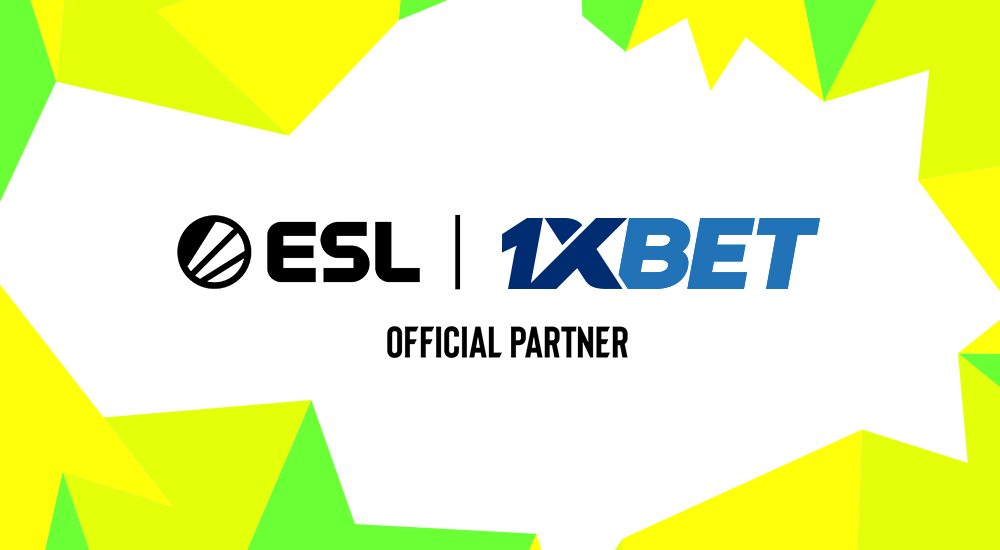 World-renowned sportsbook brand became a partner for the entire ESL Pro Tour CS: GO and ESL One Summer & Winter Dota 2

Cologne/Stockholm/New York - March 9th, 2021 - The world's largest esports company, ESL Gaming, announced that one of the world-leading bookmakers 1xBet has become the exclusive global betting partner of the ESL Pro Tour CS: GO and also the ESL One Summer & Winter Dota 2, running throughout 2021, up to IEM Katowice in 2022. The prestigious partnership will contribute to the success of both parties as leaders in the esports industry.

The worldwide partnership deal sees 1xBet and ESL work together closely to improve the esports experience for players and fans alike. Innovative developments are in the pipeline, including introducing unique custom segments like data-driven player impact cards, custom maps, and up-to-date match predictions throughout the season with broadcasts of both CS: GO and Dota 2.

ЕSL director of global partnership Jaslim Haasback informs the public: For the first time we are building a partnership with one of the largest online betting companies 1xbet. For us at ESL experience is at the heart of what we do and we haven't doubts about our partnership with one of the world''s biggest sports book companies and this will give a better experience for players and fans around the world.

Although 1xbet starts nearly soon his began in 2007, the company has managed to become one of the favourite in the field of sport books. Since its inception, 1xbet has managed to gain solid experiencein e- sports and it isn't coincidenc that in 2020 it was awarded the prestigious SBS Operator of the year award. Over the years, 1xbet has started to build promising realationships with some of the biggest football teams, such as Fc Barcelona and other popular teams from the top world championships as the Spanish La Liga and Italian Seria A

In one of his interviews the representative of 1xbet Alex Somer reveals to us:

One of the good ways to started in 2021 is by expanding our services in e- sports.
We are happy to have entered into a promising global partnership.

For fans of e- sports we want to reveal an exciting collaboration with the ESL PRO TOURS chain. The collaborating with ESL will allow us to us to grow up globally among In e-sports enthusiasts around the world.

About ESL GAMING

Since 1994, when ESL GAMING existed the company has proven to be one of the largest in the e-sports gaming market. It regularly offers innovations in the latest online and offline video games, spors competitions and others. Esl also controls some of the most popular events involving ESP PRO TOURS. The company also covers ESL ONE, INTEL R EXTREME MASTERS . ESL PRO LEAGUE, DreamHACK MASTERS and other racing games.

Moreover, ESL Gaming hosts and produces the DreamHack Open tournaments, grassroots amateur cups, ESL National Championships, matchmaking systems, and the signature DreamHack's gaming lifestyle festival, featuring everything gaming under the same roof. ESL Gaming forms part of the leading international digital entertainment group MTG. You can find out more information at about.eslgaming.com.

About 1xBet

1xBet was founded in 2007 and has gone on to evolve into one of the best betting brands worldwide, achieving global recognition and a reputation of excellence. It is a forward-thinking, progressive company with representative offices in Europe, Africa, Asia, and Latin America.

The company offers tens of thousands of online sports events every month with betting options available before and during games, with the in-play live mode. Members can bet on over 2000 esports events in 25 disciplines, including Dota 2, LoL, CS: GO, and numerous others.

1xBet has a wealth of experience cooperating with renowned esports organizations such as NAVI, Pro100, Cascade Esports, CIS Esports League, and HellRaisers Esports. The company is also a global partner of FC Barcelona, an official sponsor of Serie A broadcasts, and an official media partner with La Liga.
More for 1xBet .....