1xBet – Navi Boomers vs Zoomers Esports Event!
1xBet
Almost 1 Million Viewers for the 1xBet – Navi Boomers vs Zoomers Esports Event!
1 August saw the stage set for a massive event in the esports world. 1xBet collaborated with NAVI, the famous esports organization, to host an epic Boomers vs Zoomers event that saw NAVI-2010 take on NAVI-2020 in Counter-Strike 1.6 and the latest format CS:GO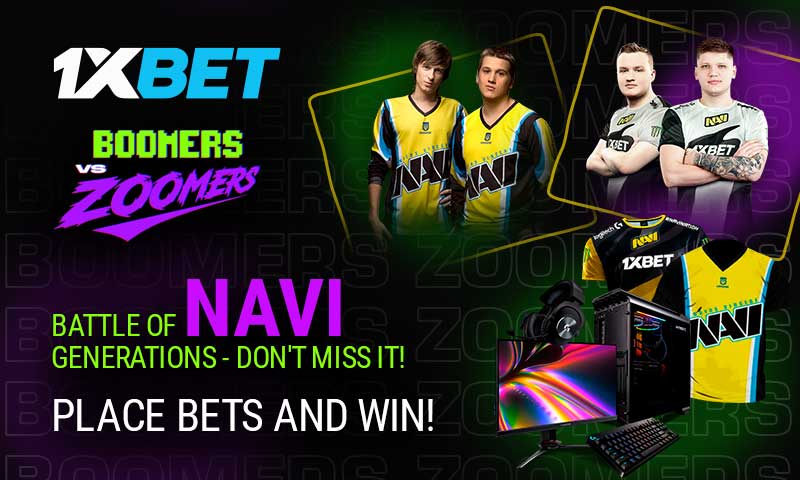 The event was hugely successful and players from around the world tuned in to be apart of the action-packed event. The event was streamed in both Russian and English, making it available to a wide audience. In fact there were more than 900 000 new unique users but overall there were 3 million views. It was a hugely successful event for both 1xBet and the NAVI organization.
The results speak for themselves with Navi-2010 taking the win for the Counter-Strike 1.6 clash while Navi-2020 bold over the old timers in the CS:GO event.
A 1xBet representative had this to say:
"It was legendary! When the NAVI veterans left the team, fans dreamt of their return to the stage. 1xBet was able to help make this a reality and we were very happy to organise such a cool match. We're all aware that the "zoomers" know how to put on a great show, now we're convinced that the "boomers" are not far behind them.
Look at the reaction of the fans - they loved it. 1xBet gives its players drive and incredible emotions - this is manifested both in our product and in these types of cool show matches. We would like to thank NAVI, our reliable partner. We can't wait to do something even more ambitious and interesting with them"
1xBet hosted the "Boomers vs Zoomers" event on their website. The betting saw top participants winning rewarding prizes such as a gaming supercomputer, merchandise and accessories. Some winners got to take home hand-signed t-shirts from the team players themselves. Future collectors items for sure!
1xBet has further solidified their commitment not only to esports in general but also to their partner NAVI! With the success of this event there is no doubt that esports fans can look forward to more exciting events and grand prizes!
Don't miss it, register or log in to 1xBet to get the latest esports events on offer!
More for 1xBet .....
If 1xBet does not load - Check here