1xbet Presents Time
1xBet
Presents Time! Get $10,000 and loads of other Great Prizes At 1xBet
It is the most wonderful time of the year, and 1xBet makes sure that its visitors know that! Celebrate Christmas and New Year in true style with 1xBet's latest promotion that is indeed worth joining. It is Presents Time, and all registered players can stand in line to be truly blessed this season.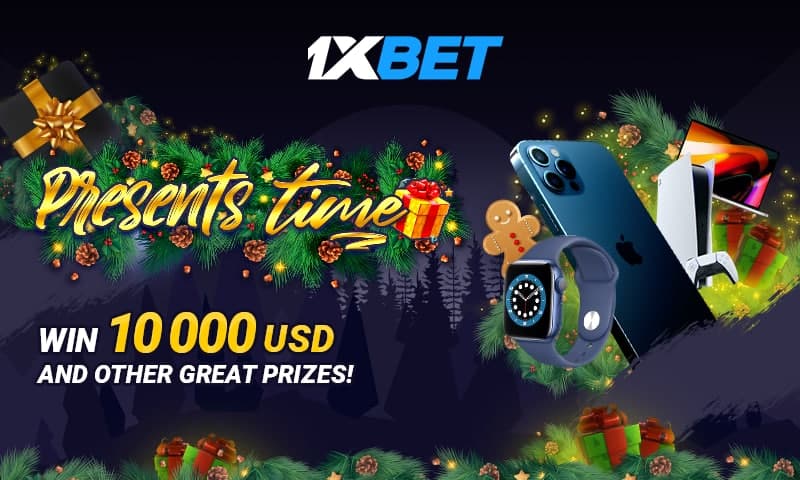 For the entire duration of this promotion, a generous bookmaker will be handing out laptops, smartphones, game consoles, headphones, and smartwatches to lucky winners. But the main prize is $10,000! What a way to feel festive.
To participate, you just need:
- Register or log in on the 1xBet website
- Go to the promotion page and click on the "Participate" button
- Place bets of $1 or more on sporting events. The players can open one New Year's gift on the promo page for each of them, which will contain bonus points for new bets or lucky tickets.
Collect 10 tickets to automatically qualify to participate in the weekly raffle! The best part is there is not only 1 chance to win. There will be four draws: December 21 and 28, and January 4 and 11. Don't forget to tune for each one!
Each of them will feature:
- 1st place: Apple iPhone 12 Pro Max smartphone (1 winner)
- 2nd place: Apple iPhone 12 Pro smartphone (2 winners)
- 3rd place: Apple iPhone 12 smartphone (3 winners)
- 4th place: Samsung Galaxy A71 smartphone (8 winners)
- 5th place: smartwatch Apple Watch Series 6 (10 winners)
- 6th place: smartwatch Apple Watch SE (15 winners)
- 7th place: smartwatch Samsung Galaxy Watch 3 (15 winners)
- 8th place: AirPods Pro headphones (20 winners)
- 9th place: Samsung Galaxy Buds Live headphones (20 winners)
To be able to have a chance to win the main cash prize, players will need to have 20 or more tickets. The major draw takes place on January 12. One person gets to walk away with a whopping $10,000!
But there are also many other prizes: 5 MacBooks Pro, 10 iPhones 12 Pro Max, 10 Samsung Galaxy A71, 15 Sony PlayStation 5 consoles, 20 Apple Watches Series 6, and 39 AirPods Pro. Don't miss out on this festive cheer from 1xBet!
Be A Part Of The Fun And Kick 2021 Off To A Rewarding Start With 1xBets Presents Time Promotion!

More for 1xBet .....
If 1xBet does not load - Check here