1xBet - "Clash of the Titans" Promo!
1xBet
Enjoy the Miocic vs. Cormier title fight with the "Clash of the Titans" Promo!
The date is fast approaching in Las Vegas as the city that never sleeps is preparing to host the UFC 252 headline fight between Stipe Miocic and Daniel Cormier.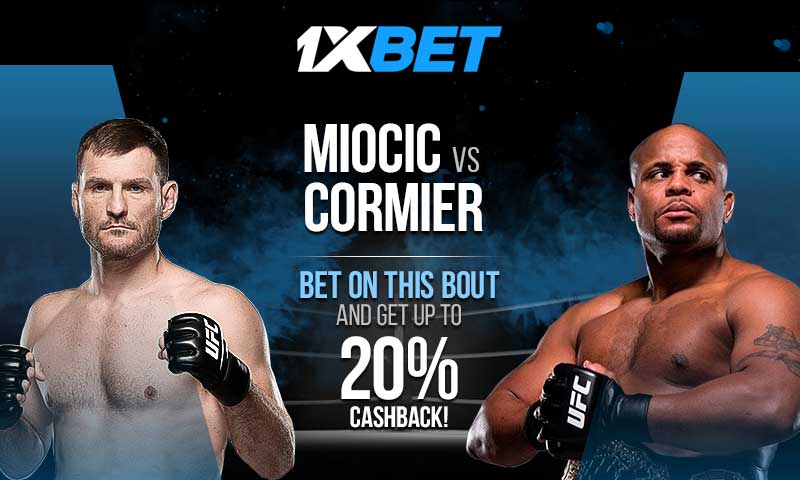 All is set for a steamy evening on August 15th (GMT -7). The battle promises a martial arts feast for fans of the genre.

Cormier knocked out Miocic in their first encounter at the Octagon in 2018. However, Miocic got his revenge in the rematch. That seemed to be the end of their bitter rivalry. Furthermore, Cormier has recently declared his intention to retire. However, he decided to accept this one last challenge from Miocic to settle who is the best once and for all. The epic fight is likely to be the final bout in Cormier's illustrious career.

A special event such as this one deserves outstanding offers for betting fans. 1xBet is complimenting the fight with the recently launched "Clash of the Titans" campaign. You can bet on the fight with reduced risks.

How does it work? You place a 1X2 bet, and if it loses, you are credited with a free bet covering up to 20% of your wager. If you are interested in the promotion, register at 1xBet, or log in if you are a member. Then select the promotion in your account to participate in the promo and place a wager on the outcome of the fight between Miocic and Cormier.

The "Clash of the Titans" promotion is waiting for you to take part in. You have all the best fights in the world in one place with a reliable bookmaker!
More for 1xBet .....
If 1xBet does not load - Check here