1xBet - Top 10 MLS players
1xBet
Review - Top 10 MLS players
When the story of football in the United States is written, it cannot fail to mention that the sport is referred to as soccer. While baseball and basketball remain the most popular sports in the United States, soccer has continued to gain prominence. This is attributed to the increase in the number of highly talented players who are featuring in the MLS league.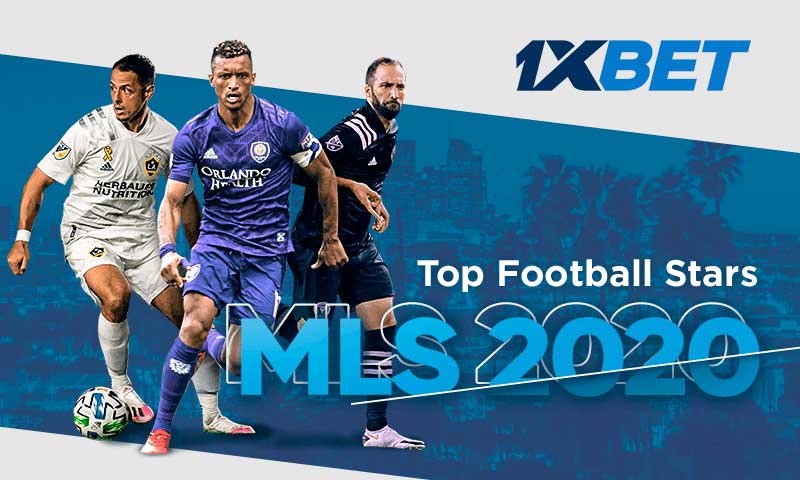 The United States has produced some big names in the football arena such as the likes of Christian Pulisic, who features for Chelsea. The USA national team has also featured in the World cup a couple of times. On top of this, the El Trafico, a derby between two Los-Angeles-based clubs has become popular among the younger generation. All these factors are a clear indication that the MLS league is rising from the ashes. This is besides the fact that high-profile players are joining the league. Here are the top 10 MLS players.

10. Joseph Martinez - Atlanta United
Joseph Martinez may not be a popular name in the European football arena. But if you have been following Serie A keenly, you may remember from his days in Torino. The Venezuelan currently plays for Atlanta United, an MLS team where his performance has been impressive. After featuring in 103 matches, he has scored 90 goals, becoming one of the most dreaded players in the league.

9. Diego Rossi - FC Los Angeles
In the recent past, we are seeing a trend where MLS teams are seeking for young talents to sign before they are discovered in Europe. One of the players who are an example of this is Diego Rossi. The Uruguayan only played for his local club Penarol before joining the MLS league where he has done exploits. His record of 50 goals and 20 assists in 96 games speaks for itself.

8. Carlos Vela - FC Los Angeles
Another talent that decided to shift his allegiance from European Leagues to the MLS is Carlos Vela. The Mexican was a young and exciting talent who managed to feature for Arsenal and Real Sociedad. He features for topflight clubs in Europe before moving to the MLS league, where his star has continued to shine. In the 2018/19 season, he emerged as the top scorer in the MLS league, performing better than more experienced players like Ibrahimovic.

7. Christian Pavon - Los Angeles Galaxy
Pavon is a fairly popular name having featured in the 2018 world cup for the Argentinean national team. While he didn't excel, he showed a lot of potentials and caught the eyes of European clubs that offered him some lucrative deals. However, he chose to sign for the LA Galaxy. While he hasn't reached the level of Martinez and Rossi in the MLS league, there is no doubt that he is a great talent to watch.

6. Chicharito (Javier Hernandez) - Los Angeles Galaxy
Javier Hernandez is one of the most popular names in football and doesn't need a lot of introduction. The former Manchester United player who was the star of the Mexican national football team at one time featured for Real Madrid, an indication of his glorious career. Chicharito could have successfully continued to play in Europe but he was lured to the MLS as a marketing tactic for LA Galaxy. While he hasn't scored many goals, he is among the most followed MLS players on social media.

5. Blaise Matuidi - Inter Miami
Since David Beckham joined Inter Miami as a co-owner, the club has made some high profile signings such as Blaise Matuidi. At 33 years, the Frenchman has reached his prime but he is still fit to play at the highest level. His arrival will bring fans to the stadium and help achieve great results for the club.

4. Victor Wanyama - Montreal
Wanyama is one of the most revered names in his country Kenya, and Africa at large, mostly because of his football exploits in Europe. He has had successful stints with Celtic, Southampton, and Tottenham. Recently, the Kenyan left spurs to play for Montreal, where he has become a star player in the midfield.

3. Giuseppe Rossi - Real Salt Lake
In 2018, Giuseppe decided to hang his boots but he is now back on the playing field. The Italian was recalled from retirement by Real Salt Lake and he already has a goal to his name. As an American Italian who previously played for Manchester United and Fiorentina, it is only reasonable for him to end his career in the MLS. While his career hasn't been smooth, he has managed to get a lifeline in the MLS.

2. Nani- Orlando
Orlando is a relatively new club in the MLS, just like Inter Miami. In the 5 years, it has been in the league, it has attracted top talents like Kaka and Nani, who has over 200 appearances for Manchester United and his Portugal National team. Even in MLS, Nani is still a delight to watch with his exceptional dribbling and goal-scoring skills. He now looks set to end his glorious career in the MLS.

1. Gonzalo Higuain - Inter Miami
Higuain is arguably the biggest star of the current MLS seasons. The EL Pipita could comfortably be playing for top clubs like Juventus, PSG, and Atletico. However, he chose to join Inter Miami, to play with his brother Federico Higuain. While Federico isn't as popular as Gonzalo, he is also a legend in the MLS. He now suggests that playing with his brother is a dream comes true.
Conclusion
There are many more stars in the MLS than these 10 names. The majority of players in the US national team also play in this league and Europe. Many young talents from Mexico and Argentina are now choosing to further their careers in the United States. Therefore, there is no doubt that the MLS league is growing tremendously and soon Americans may start referring to the beautiful game as Football like it's the case in other parts of the world.
At 1xBet, you can bet on MLS, NHL, NBA, and other American leagues. Enjoy your favorite game and win with the best bookmaker.

More for 1xBet .....

If 1xBet does not load - Check here