1xBet - Try new hot games in the 1xGames collection
1xBet - 1xGames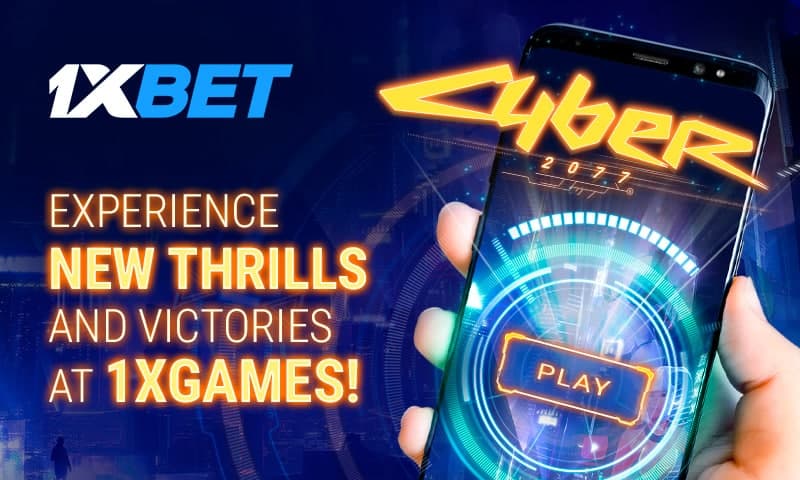 Try new hot games in the 1xGames collection
1xBet continually strives to offer an ultimately enjoyable experience for its members worldwide. The recently launched, unique selection of 1xGames provides players with exclusive titles, a broad range of themes, and diverse gameplay. The 1xGames collection currently has over 100 game titles with two brand-new ones just released. They are Cyber2077 and Royal Feast, and we will have a closer look at them and see what they bring to 1xBet members!
Cyber2077
The game takes inspiration from the launch of the latest CD Projekt title, Cyber2077. It transports players to an alternative universe full of advanced technology and Artificial Intelligence. The game's graphics are outstanding, and the game is extremely straightforward to play. Once you start playing Cyber2077, you have to predict exactly where the arrow on your screen stops when the wheel also stops. Use your mouse to set your range, and you automatically have a chance for your choice to grant you a win.
The odds increase the probability of winning, so you can win even more money. You should press the "Start" button to commence, and if the arrow ends up in your predicted range, you gain an amount equalling your initial stake multiplied by the corresponding odds of your selection. Apart from standard game wins, there is the possibility of winning a Jackpot prize that triggers at random with each bet you make.
Royal Feast
Cyber2077 takes you to the future, while 1xBet takes you on a journey into the past with the new title Royal Feast! You will visit a time when kings and queens reigned in the land, and you can win a share of the precious treasure and regal riches. You won't be hunting for gold, coins, or gemstones in this game. Instead, you have to discover golden plates hiding tasty treats!
There are 25 dishes on the screen, displayed upon a 5x5 matrix grid. There are five different tasty treats underneath, and five bottles of poison hidden from view. Once you place your wager, your objective is to find them all by clicking on the dishes one by one. You can choose a total of 15 dishes, and each dish you reveal increases your winnings.
Beware, if you get a poison bottle, you have to start the game from the beginning. You can stop and collect your winning balance at any time, without having to open all 15 bottles.
As with Cyber2077, Royal Feast has an hourly, daily, weekly, and monthly jackpot prize you can win any time. Satisfy your appetite to win and try the outstanding new game Royal Feast at 1xBet!

More for 1xBet .....