1xBet - Try Out the Newest 1xGames and Start Winning
1xBet
Try Out the Newest 1xGames and Start Winning Big with Daily Tournament, Jackpots, and Cashback Bonuses!
The iGaming industry evolved and changed a lot in recent years. If most operators were focused on providing as many games as possible to their customers, the focus has now shifted towards exclusivity.

And since 1xBet has always been leading the innovation process in the industry with many awards and plenty of recognition from international entities, it couldn't keep customers waiting when it comes to exclusive games. Thus, the 1xGames section was created with the desire to deliver truly unique and exclusive games to registered customers. Not only that this shows how much the company values its members, but it's also a sign of trustworthiness since only a big and trusted operator would have the resources to create its own games.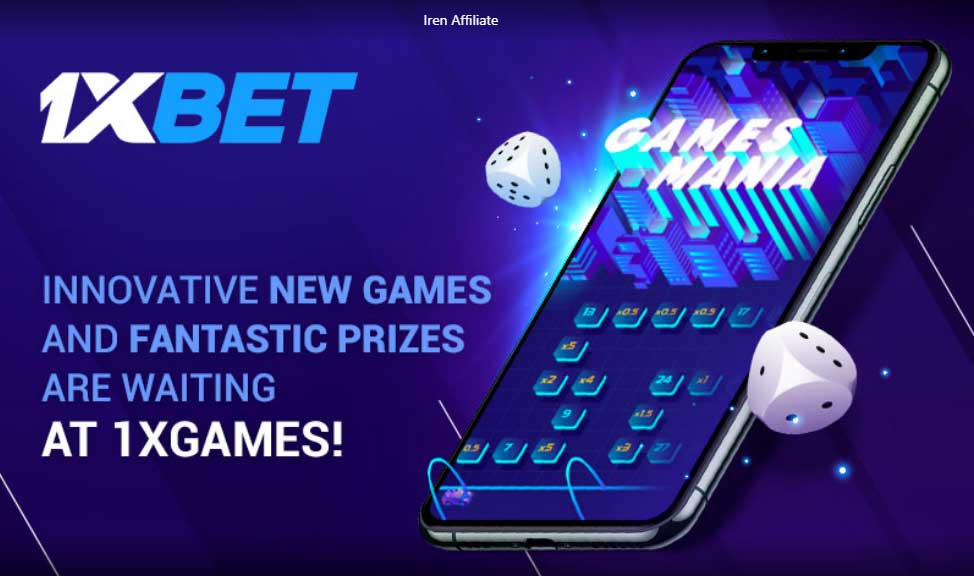 Try Your Luck with Unique 1xGames

The complete collection of 1xGames includes well beyond 100 titles and it's enough to explore them to realize you'll find anything you can think of. From slot games, table games, sports-related titles, or even card games, everything can be enjoyed through 1xGames.

And if the more than 100 unique titles didn't convince you it's time to check out 1xBet and their 1xGames section, wait until you hear about the bonuses attached to these titles. First of all, there's a guaranteed cashback bonus that applies to a number of 2 games you select from the list. The cashback bonus you get on these 2 games is 3%, however, if you wager more than €280 in one month, you boost that percentage to 5%. Even more than that, 1xBet also gives you an extra boost by choosing one random game that comes with a 5% cashback bonus.

Daily Jackpots, iPhone Smartphones, and More!
You thought the guaranteed cashback bonus is already too good to be true? There are plenty of more bonuses available at 1xBet. For instance, you get to enjoy a series of jackpots that are triggered randomly. So, every bet you place can be rewarded by a win while playing the game, a cashback bonus, and you can also trigger one of the jackpots. Getting 3 distinct winning chances with one bad isn't bad at all, is it?

If you're looking for some competition and you want to play against others, the 1xGames section comes with a series of dedicated daily tournaments. Each day you score points for each bet of at least €2 placed on any of games. Collect as many points as possible and finish in the top three to receive amazing gadgets, smartphones and other valuable prizes.

Not sure which game to choose out of the more than 100 available under the 1xGames section? Why not give it a go to 2 of the newest additions?

Commander
Have you always wanted to lead a great army towards greatness? Well, 1xBet gives you the chance to lead it towards huge wins with Commander. One of the fresh 1xGames to be added, Commander puts you in the shoes of a great army commander that needs to defeat its enemies to win big.

Before starting the game, you need to choose an enemy - the Romans, Anglo-Saxons, or the Vikings. Then, place a steak to get the game started. You get 5 territories while the chosen enemy also gets 5. Then, based on turns, you and the enemy have to reveal all the 5 territories to win. If you manage to reveal all your territories first, your stake gets doubled on the spot.

Games Mania
Games Mania is the 1xGame title that simply takes things to a whole different level. Besides the regular rewards of the game, the cashback bonus you can receive, the daily tournaments, and potential jackpots you can trigger, you can also win a guaranteed iPhone 11 Pro Max. How, do you ask? Simply by playing Games Mania at 1xBet.

There's a board of 30 numbers displayed in the game and everything starts by placing a bet to roll the dice. Once the dice stops in its final position, you advance on the board with the same number of moves as the sum on the dice. You can either claim a massive multiplier, great bonuses, instant wins, or reveal a puzzle piece. There are 15 puzzle pieces in total and as soon as all of them are revealed, the iPhone is yours!

All You Need is an Account
Remember that the 1xGames section is only available to registered users. So, make sure to create an account in case you don't already have one to enjoy a top-quality gaming experience. Play exclusive games, win massive jackpots, participate in daily tournaments, and get a new state-of-the-art smartphone. Good luck!
More for 1xBet .....
If 1xBet does not load - Check here