An Intergalactic Promotion From 1xBet
1xBet
An Intergalactic Promotion From 1xBet Will See You Winning The Latest Smartphones
You will think you are playing amongst the stars when you sign up or login to 1xBet and take part in their latest promotion called 1xGalaxy. All registered players will be eligible to win one of the over 100 smartphones for the duration of the promo.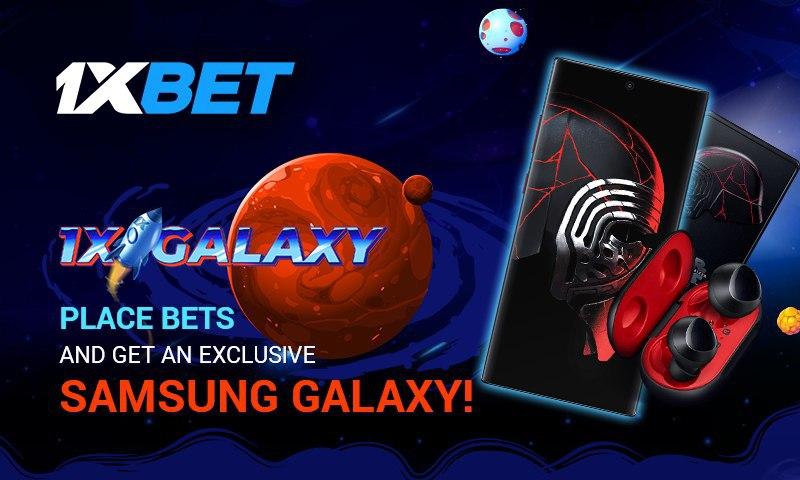 Just by placing a bet on any sporting event as a registered player, you will receive a ticket for the draw. The best thing is it is not limited. The higher the bet amount, the better your chances of winning a smartphone from 1xBet. Place a minimum bet of $7 and you are on your way.

All winners will be announced at the end of the competition at a prize draw. This how it will look:

- 1st place: Samsung Galaxy Note 10+ Special Edition with Galaxy Buds headphones, a leather case and an exclusive collectible card (10 winners).

- 2nd place: Samsung Galaxy S20 Ultra (15 winners)

- 3rd place: Samsung Galaxy Note 10 (25 winners)

- 4th place: Samsung Galaxy Tab S6 (50 winners)

- 5th place: Samsung Galaxy Buds Plus (100 winners)

For those not lucky enough to win a smartphone, no worries 1xBet has you covered. There are also loads of bonus points up for grabs!

So take a ride to space with 1xBet and be a part of the 1xGalaxy promotion from 1xBet to win big!
More for 1xBet .....