Welcome to the 1xBet Saloon
1xBet
Welcome to the 1xBet Saloon:
Great Chances to win an iPhone 12 and game consoles
Gold hunters and adventure seekers love the Wild West. The saloon is a home for adventurers, poker players, and cowboys. Well, we have some exciting news for you: 1xBet in partnership with NAVI, their esports partner, has opened a new 1xSaloon promotion.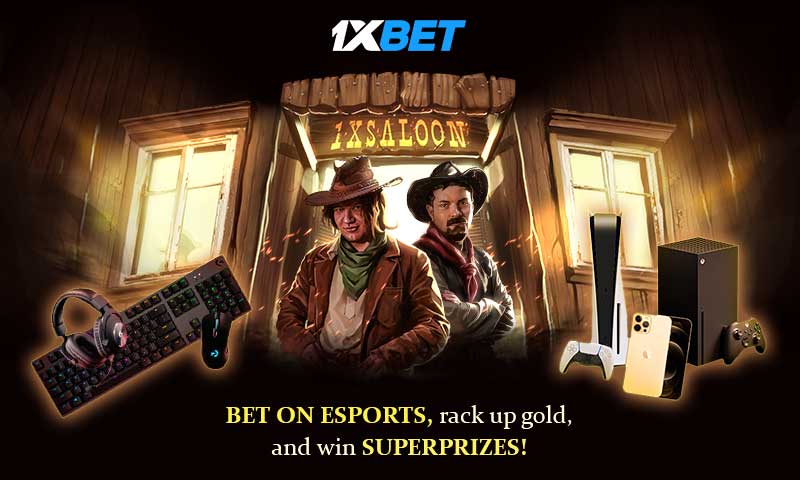 Just like the Wild West stars, 1xBet players now have an opportunity to hunt for the modern-day gold - a high tech Sony Playstation 5, iPhone 12, and an Xbox Series X console.
What is even better is that anyone can participate in the promotion. All you need to do is to:

- Register or log in to the 1xBet platform.
- Visit the 1xSaloon promotion page. To confirm that you would like to participate, click on the "Enter Saloon" button.
- Place a minimum bet of $3 on an esports event. All single bets with minimum odds of 1.6 and accumulator bets (each event must have minimum odds of 1.4) will start earning points.
- Earn points. When you make a successful bet, you will receive three gold points. If your bet fails, you will earn one point.
When you hit 80 points, you will automatically be entered in the first draw where you will get a chance to win various prizes including a Logitech keyboard and a mouse plus rare CS:GO skins.
When you accumulate 150 points, you will be entered into the second draw where you will get an opportunity to win high tech Logitech headphones and other exclusive NAVI x LITKOVSKAYA merchandise.
If you are lucky enough to accumulate 250 gold points, you will participate in the draw for top prices such as PS5, iPhone 12, and Xbox Series X.
This is an opportunity you cannot afford to miss! Take your seat in the 1xBet saloon and get a chance to win these highly coveted prices.

More for 1xBet .....