Bet9ja Bonuses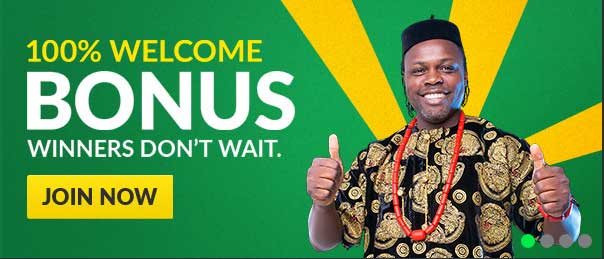 Review
Bet9ja is a Nigerian bookmaker, which gives the Nigerian people incredible opportunities for gambling entertainment, while their favorite teams are winning. Any citizen of legal age is allowed to register and will receive instant access to all their services. Though it has got a virtual casino, even a live casino, Bet9ja is focused mainly on sports bettings – for the heart and the soul of Nigeria are into their soccer.
Bet9ja's website is so cool because it brings to the convenience of your home the opportunity to win big and have it all. What makes even losses easier to bear is that Bet9ja also provides its customers with awesome bonus codes and promotions ready to be utilized by everyone, who wants to wager on the outcomes of his favorite sports events. Have in mind that all newcomers are eligible for a great bonus on the first deposit:

A 100% Welcome Bonus

It's plain and simple. In order to receive this bonus you will simply need to:
1. Create and log into a new account at Bet9ja
2. Deposit the first sum of money (between N100 and N100,000)
3. Utilize the bonus!

However, read carefully, because certain terms and conditions apply for all of the people who want to be eligible for this bonus.
1. You have to be an absolutely new user of the website.
2. One bonus per e-mail, phone number, bank card, or address – in general one bonus per person and per family.
3. Your bonus code should be entered in the field "Promotion Code" while you are registering.
4. You should make a first deposit – at least N100 (where N is the National Nigerian Currency)
5. You have to stake the entire amount of money on the sports market, with betting odds of 3 or more than 3. You can wager the money separately in several different bets. In order to receive the bonus, the bets have to be already settled.
6. The bookmaker gives you a 100% welcome bonus – that means you get exactly the amount of money you have deposited. The biggest possible amount that you can bet is N100,000, which will return to you after the conditions for the welcome bonus have been met.
7. The bonus has to be wagered at least 10 times on events which have odds of 3 or more in order for it to be accessible for withdrawal.
8. If you violate the rules of the bookmaker or try to cheat Bet9ja can always suspend the bonus.
Super9ja is actually a competition between keen players. All of them are eligible to receive the fabulous sum of N100,000,000 if they are able to predict the results of six football games correctly over the weekend. However, the dodge is that in this game you don't need to risk any of your money.

You can absolutely participate in the game and try to guess at the games results for free. It truly is incredibly strenuous to predict correctly the results of six matches, but in case you are a great football fan, you may try, and luck may even be on your side. Anyways, you have nothing to lose – so game on!
This promotion gives you the chance to get a substantial increase of up to 170% in your winnings. In order to be eligible for this wonderful offer, players need to place multiple bets on 5 or more than 5 challenges, which offer betting odds of 1.20. The percentage of the reward is precisely related to the number of selected events.
Bonuses for existing customers
Bet9ja's aim is to keep its customers happy and excited, all the time, therefore, the bookmaker spoils them regularly with the chance to grab some great bonuses. The quality of the promotional bonuses is one of the basic reasons the players are loyal to Bet9ja service.
Bet9ja League – Free Bets
Bet9ja bonus offers its customers a great opportunity to boost their betting budgets. The company does this by introducing a special feature, which allows certain members to profit from acquiring a Free Bet on their Bet9ja League. This appealing game has developed as one of the favorite pastimes for all the players and has made the bookmaker even more popular and exciting.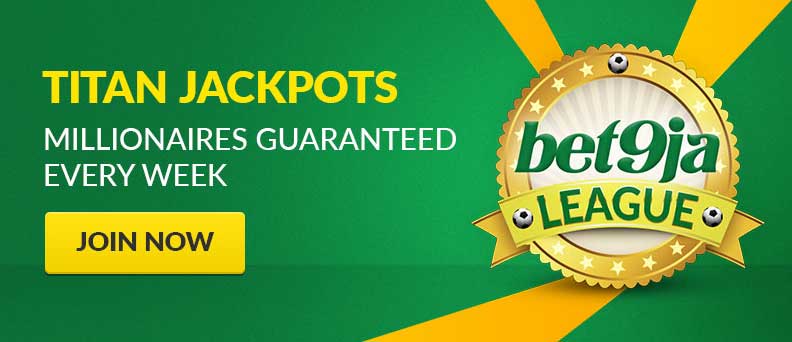 Bet9ja Titan Jackpots
These are the highest online jackpots in Nigeria and they give you the chance to win a mind-blowing amount of money – and that happens every week!
This is how you get rich without needing to go to work, and isn't that all that gambling is about. They are available in every possible shop of Bet9ja, all around Nigeria.
Simply playing in their online game Bet9ja League could avail you win the Red Titan Jackpot or even the Gold Titan Jackpot, which is, generally, an exorbitant amount of money. This allows Nigeria to produce one new hatched millionaire every week.
Bet9ja was founded by Kunle Soname, who is a politician, a sports fan and a great entrepreneur. He discovered the potential of the Nigerian sportsbook market since he owned two great local teams (Remo Stars FC and Clube Desportivo Feirense). That created and fueled his vast interest in the development of the local sports.

Bet9ja was established in 2013 and its immediate goal was to become Nigeria's number one bookmaker. That happened for real. Why? Their approach to the industry is highly professional. The website design, which is easy on the eyes, and the professional team have been some ingredients of the recipe for success. All in all, the bookmaker prides itself in delivering on the market a product, which is constantly improving, engaging and guarantees a wonderful way to spend your time and money.

In order to provide the best online experience, the technological part of the company is based in Europe, and it presents the latest tech advances in order to make the website secure and reliable. However, the customer service is based in Lagos, which gives the bookmaker even stronger local flavor.
More for Bet9ja .....