Bet9ja Installation on Android
To conform to the new tendencies in the gaming industry – Bet9ja has got a fabulous Android application that is rather handy. It is created in accordance with the main website and it's aiming at providing an extensive platform for online wagering. The app integrates the online casino and the sports section – in order to deliver a great mobile service that you may bring with yourself anywhere you go.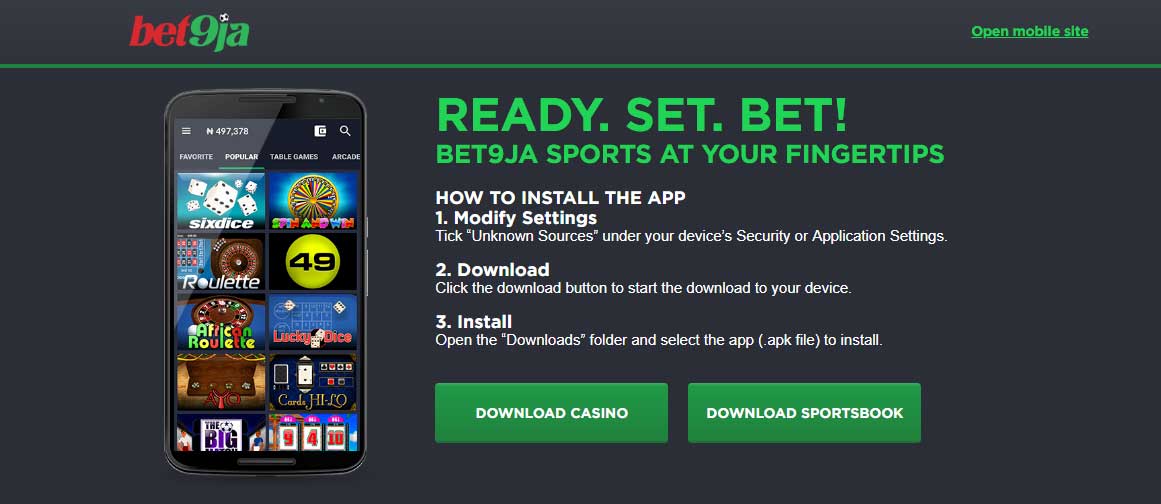 The interface looks simplistic, and rather friendlier than a complex environment. The color theme is dictated by the main desktop website.
How To Deal With The .apk File?
Google has tough regulations related to gambling, therefore you cannot readily find the Bet9ja .apk file in Google Play. However, the file is available to download from the main website – requiring quite a simple process of installation.
1. Make sure your telephone allows installation from unfamiliar sources – go and select: Settings-Security-Unknown Sources.
2. Load the main website, navigate to the section "Mobile Betting"





3. Click the button for download. Run the installation file.
4. Open the application and enjoy it.
Mobile Application for iOS
If you search all over iTunes, you will find out there is no downloadable Bet9ja application for the various iPhones. Facts are, this may be disappointing to the keen players in Nigeria, who use Apple devices. Still, they have the chance to enjoy the bookmaker's advantages through the mobile site version. It has got all the features of a dedicated application – same quality, same pleasure. You will only need a mobile browser, which performs well.



---
Mobile site version

Bet9ja impresses with its mobile site version – a wonderful alternative platform, which allows you to play from your phone. For all the mobile users it is a reliable solution. There is an incredible resemblance between the mobile version and the application. The color scheme of the mobile site is borrowed from the desktop platform – with just a few navigation buttons that are not in their original place. It will provide you with access to all the games and sports available on the desktop website.


---
Features
Except for the regular options, the mobile application is rich in unique features, such as:
Cash Out
This pleasing for the player's option allows you to withdraw the money you have wagered and some of the money you have won, before the closure of the bet.
Virtual Sports Betting
The mobile app disposes of a section for virtual betting – covering horse races, dog races, virtual tennis, and the virtual league – simulated games with great sound effects.
Goalscorer Betting
It allows you to make a prediction on the player who will score in a certain match, league or tournament.
Live In-play Betting
You can bet in real time, while the matches are going on.



---
Mobile sport betting


Since the beginning of Bet9ja bookmaker, it has become popular thanks to its sportsbook section – an impressive and extremely various collection of sports games to wager on. Hundreds of thousands of sports events are available to you through both the mobile application or website version.
One of the best-covered sports is soccer. The site offers the players opportunities to wager on football leagues from plenty of countries, among which Cyprus, England, Egypt, Germany, Kenya, Nigeria, and Saudi Arabia. You can also wager on tennis, basketball, cricket, baseball, rugby, hockey, and American football.

Aside from soccer, you can also bet on other popular sports such as basketball, tennis, cricket, baseball, rugby, hockey and American football. You will also find some less popular sports such as Bandy, snooker and water polo.
If for some reason you get weary from regular betting on sports – a special section gives you the chance to bet on other events – such as Nigeria's upcoming elections. Bet9ja offers good odds to its customers and chances for even greater wins.



---


The mobile casino is to some extent replicate to the general website casino in a multitude of ways. It offers card and table games, arcade games, roulette, dice and of course some slots. It will also give you the chance to play in the live casino – games such as baccarat, lottery, roulette, and blackjack. Fewer games compared to other bookmakers – however, they are wonderfully developed and served with thought for the customer.



---

Mobile app VS Mobile version


They are meant to deliver similar services, however, you might find some slight differences in the way the platforms run and function. These are the pros and cons of using both mobile platforms:
The Mobile Application:
Pros:
- Better interface
- Games load faster
- Keeps you up to date with push notifications
Cons:
- Installation is a bit tricky – you have to modify the security settings of the device.
- It is more susceptible to bugs
- Has got issues with compatibility.




---
Mobile Site Version
Pros:
- You can use it on any mobile device with a working browser
- No installation required.
- No need to modify the security settings of the device.
- Doesn't need to store files on your phone.
Cons:
- It is a little slower to load
- The interface is not as tidy compared to the app
- The casino games open slowly
System requirements
You have to make sure your OS is compatible with the android app. Optimally your Android will be version 4.1 or higher. For the mobile site, you need a browser that supports java and flash.
About Bet9ja



---
Company information


Bet9ja is definitely one of the most prominent online bookmakers in Nigeria. Established in 2015 – it is a relatively new website, but it has been developing pretty fast. It is owned by KC Gaming Networks Ltd. – a Nigerian company and caters to all the Nigerian states where gambling is legal.



---
Final rating


A major disadvantage of this site is that it is not accessible for players all over the world. It would have been great if the website expanded to other regions and countries, except for Nigeria. The final verdict of the connoisseurs is 7/10.