Stake Contact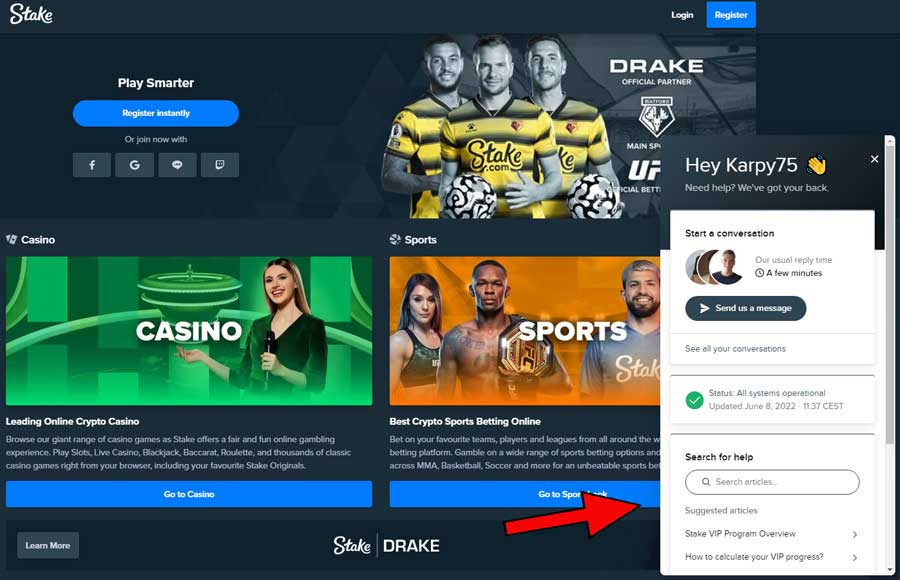 Stake has been on the global betting market for nearly 5 years. Though, for this short period of time, the operator has succeeded in attracting numerous players worldwide. On this platform, they can rely on high-quality gambling products for fund and money making and a trustworthy and amazing customer support service.
What is Stake customer support service?
Stake customer support is one of the first-class services provided by this company. Customer support service is a kind of administrative assistance. You can benefit from it whenever you find a problem in using any of the options, bets, games, or features on the website. It's also highly recommended to use this service when you have a question to ask regarding the platform. Please note that there are helpful information guides and articles you can read in advance at the bottom of the website. If you don't find your answer in the specially tailored Help Center, go directly to the Stake customer support center.
How to reach the Stake customer support team?
The Stake customer support team is formed of well-trained, kind, and understanding employees. They are all available for communication and assistance. You can reach them through any of the Stake contacts, including:

- Live chat. It's the fastest way to get some help from the company's customer support team, as the responses here are instant and in real time.

- E-mail message. Use this address to send your inquiry or question: [email protected].

- Residential address. Although it is rare for a customer to travel the entire world, it is a good sign that a gambling company officially announces where its headquarters office is. Stake is officially based in Fransche Bloemweg, 4 Willemstad Curaçao.

- Phone number: unfortunately, one of the most popular customer support methods is not available here.

- Forum: here's where you can communicate with the website moderators and the rest of the users.

- Social media accounts: Facebook, Twitter, Instagram, and YouTube.
When can I contact Stake?
Stake customer support team is available for you 24/7. This means that it does not have any working time. In other words no matter what time it is you can contact Stake. Moreover – what's even greater is that the customer support team of this company does not have any days-off. The service is available for you 365 days per year with no exclusions for the weekends or the bank holidays. No matter when exactly you need some assistance, Stake's employees will provide it for you.
More for Stake .....
You can contact this company's customer support team via live chat, e-mail, or use any of its social media accounts.
The best way and the fastest communication method with this operator's customer support team is via Stake live chat. It offers instant responses.
You will not find any. Unfortunately, Stake does not provide direct phone calls in its customer support service.
Stake customer support service is always on time and 100% free of charge, too.