Stake Crypto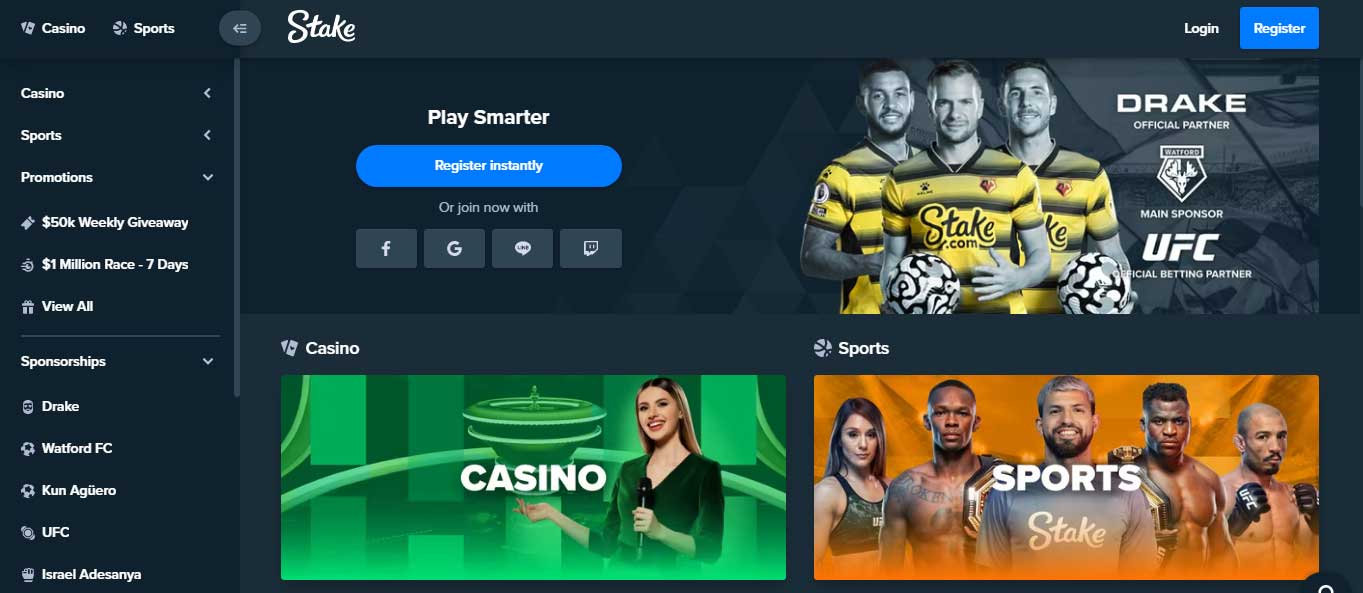 Stake is one of the latest gambling operators on the global online market. It offers a wide range of casino games and plenty of incredible options for sports betting in numerous disciplines and leagues. On the other side, the company provides exciting bonuses and really high-quality services and useful tools. But if you wonder what makes this platform stand out among the rest leaders in the sphere, Stake is a crypto-friendly operator. All Stake Crypto options are open to registered customers of legal age.
What makes Stake Crypto operator?
Basically, Stake is a gambling platform that allows mainly crypto payments. Though, you will see that the operator has mentioned the USD as an alternative currency. You should be aware that the USD sums are in an approximate amount. In other words, they depend on the concrete crypto currency rate at a specific moment.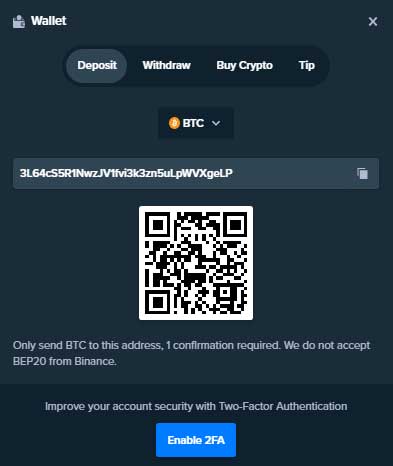 Meanwhile, we also see that Stake announces many of its services, mainly the promotions, in FIAT currencies. It doesn't mean, though, that you cannot receive them in a crypto currency.
How to use Stake Crypto currencies?
In Stake, Crypto currencies are provided as the primary payment methods. Practically, from the first steps you will make on the platform, you become a crypto player. The operator requires you to make crypto deposits and make orders for crypto withdrawals. Furthermore, you will place sports bets on the website and play casino games with cryptocurrencies, too. All financial transactions in Stake Crypto betting house depend on the concrete cryptocurrency rates.
What are the available Stake Crypto currencies?



As a crypto-friendly betting and casino website, Stake has established a long enough list of cryptocurrencies to choose from. Here are your financial options to make deposits, ask for withdrawals and play real money games:
Stake deposit
| Method | Minimum | Maximum | Taxes |
| --- | --- | --- | --- |
| Bitcoin | no limit | no limit | 0.00005 BTC |
| Litecoin | no limit | no limit | 0.0005 LTC |
| Dogecoin | no limit | no limit | 1.5 DOGE |
| Ethereum | 0.001 ETH | no limit | 0.0002 ETH |
| BitcoinCash | no limit | no limit | 0.00001 BCH |
| Ripple | no limit | no limit | 0.0001 XRP |
| Tron | no limit | no limit | 1 TRX |
| EOS | no limit | no limit | 0.1 EOS |
What are the specifications of Stake Crypto payment?
By selecting a concrete Stake Crypto type to make payments, you should also choose a particular payment method.

You have the several options to choose from:

- SamsungPay

- ApplePay

- Google Pay

On the other side, cryptocurrency payments on this website come with several pros. For instance, players don't have any deposit or withdrawal maximum limits. The same goes for the deposit minimum limits. There's only a minimum withdrawal limit that depends on the selected cryptocurrency. Last but not least, unlike any other betting house with Stake, you can receive your withdrawal in up to 30 minutes rather than in a couple of hours or even days.
More for Stake .....
This website for sports betting and casino games is a crypto-friendly bookmaker because it accepts withdrawals and deposits only through cryptocurrencies.
You can choose between the following Stake Crypto currencies: Bitcoin, Litecoin, Dogecoin, Ethereum, BitcoinCash, Ripple, Tron, or EOS.
Visit the website and login into your officially opened account. Then, select deposit through your account settings. Choose a concrete Stake Crypto type you want to use, and then insert an amount for your transaction. Confirm your order, and in a couple of seconds, your account balance will be increased with the selected amount of crypto cash.
As a crypto-friendly website, Stake offers speedy withdrawals. The processing time for each Stake Crypto withdrawal is up to half an hour.
Besides the available Stake Crypto types, you can also choose USD as a playing currency.