Stake Casino withdrawals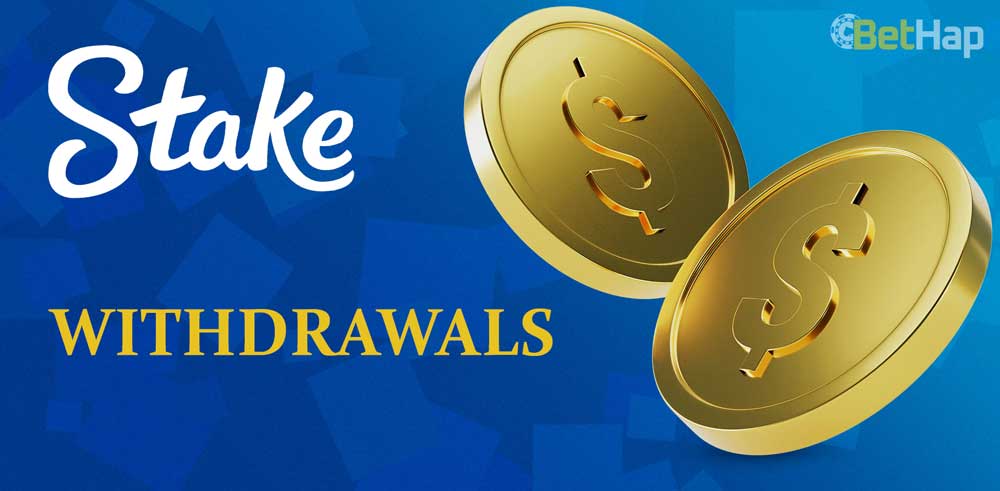 Stake is a fantastic place to play casino games and place football, tennis, cricket, and bets on 20+ more other disciplines. This platform has a very convenient navigation system. All the administrative procedures here are very simple, including the Stake withdrawal, which will be the topic of our today's material.
When can I make a Stake withdrawal?
A withdrawal is a typical financial transaction in a gambling house. You can make one in Stake, too. Just like its colleagues, this operator has introduced a couple of conditions you should meet to become able to claim for a withdrawal:

- You must have funds in your account balance to claim them for a withdrawal.

- You should have met all the bonus wagering requirements.
We are talking about welcome, which you can activate with our Promo Code: BETHAP in Stake.
You will get a 200% deposit bonus of up to 1000 EUR when you enter it with a minimum deposit of only 100 EUR.

- You must have successfully passed the Stake verification account process.

- You should possess the minimum amount for a withdrawal. This amount is different depending on the concrete payment method (cryptocurrency) you will use.
What is so typical about the Stake withdrawal?
There is one thing specific about Stake withdrawals. As a procedure, the withdrawal is quite similar to the one in the bookmakers you have visited. However, if you can choose a FIAT currency to receive your profits within them, the situation is different. All payments in Stake are processed in cryptocurrencies. This means that your profits are going to be paid out in any of the available cryptocurrencies you prefer.
What are the allowed cryptocurrencies for a Stake Withdrawal?
When it comes to choosing a cryptocurrency for playing, as well as for a Stake withdrawal, here are your options:
| Method | Minimum | Maximum | Taxes |
| --- | --- | --- | --- |
| Bitcoin | 0.002 BTC | no limit | 0.00005 BTC |
| Litecoin | 0.25 LTC | no limit | 0.0005 LTC |
| Dogecoin | 5000 DOGE | no limit | 1.5 DOGE |
| Ethereum | 0.06 ETH | no limit | 0.0002 ETH |
| BitcoinCash | 0.05 BCH | no limit | 0.00001 BCH |
| Ripple | 50 XRP | no limit | 0.0001 XRP |
| Tron | 750 TRX | no limit | 1 TRX |
| EOS | 4 EOS | no limit | 0.1 EOS |
How to make a Stake withdrawal?
It is not tough to make a Stake withdrawal at all. Please, simply follow our guide to perform this procedure when you get enough profits in your account balance:

1. Open the Stake website

2. Login to your account balance with your personal password and username

3. Select the account settings

4. Then, select the Withdrawal option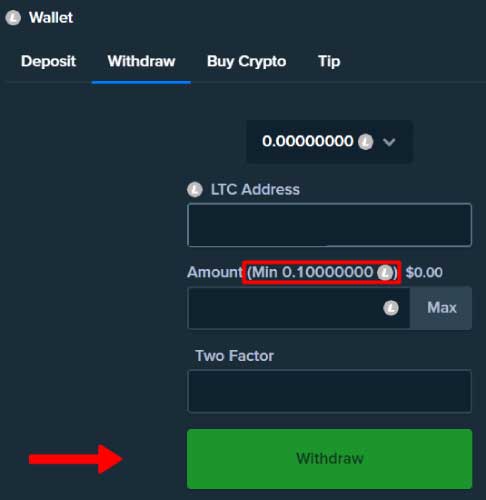 5. Choose a concrete cryptocurrency

6. Choose the withdrawal amount you want to use

7. Confirm your order for a withdrawal
How long does it take to get my Stake withdrawal?
Usually, in a bookmaker, the withdrawal processing time is a minimum of 24 hours. Even companies will perform this payment within up to 5 working days. Moreover, in most cases, the withdrawal processing time in the standard betting houses depends on the concrete payment system. However, Stake is not ordinary but a crypto betting operator. This is why you can expect relatively fast and similar duration withdrawals. You will have to wait not more than 30 minutes, to be more specific. And this guaranteed processing time refers to all the available Stake cryptocurrencies.
More for Stake .....
Once you get enough money and you verify your account, you can claim for a Stake withdrawal. Please, note that if you have used the welcome bonus through the Stake Bethap Promo code, you will also have to meet its wager requirements in advance.
The minimum Stake withdrawal amount depends on the concrete cryptocurrency you use.
It takes up to 30 minutes to get your Stake withdrawal.
No, you cannot. Stake works only with cryptocurrencies.
Yes, it is totally safe. Since Stake uses anonymous and decentralized cryptocurrencies, you can expect 100% secure and reliable payment procedures with no financial risk for you.