Stake poker
Poker is definitely a part of Stake's portfolio of gaming services. You can find it on this website and practice it 24 hours per day. It is completely logical for such a big gambling house to include the most legendary card games of all time. We tested the Stake poker service and we can confidently say that it is at a very high-quality level.
Where to find Stake poker?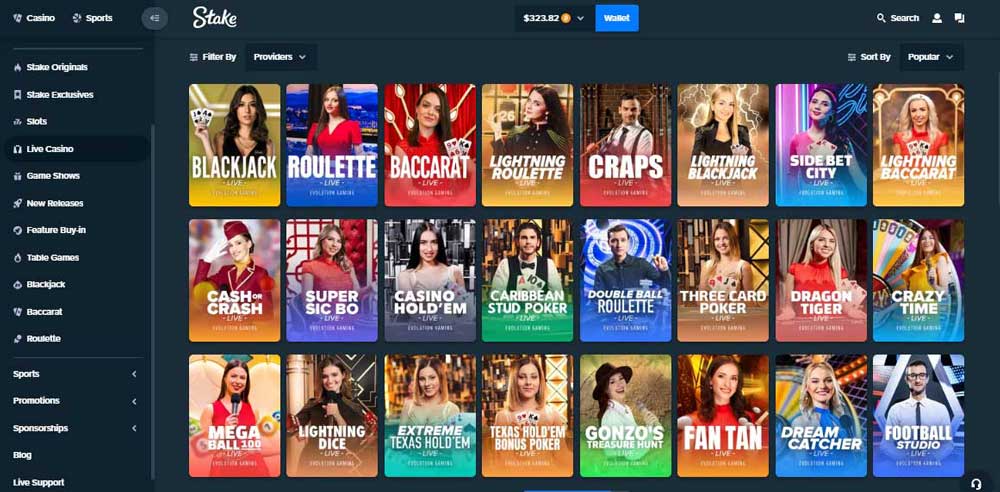 Poker is included in Stake casino's main service. However, it is very essential to know in advance that there is no independent poker section on this website. Don't look for one, but instead browse the different casino categories to discover your most beloved poker game.

Here is where you can find poker in the Stake casino website section:

- Table Games. On your left side, there is a whole list of game genres. In Table Games, you can find up to 5 different poker tables to enjoy.

- Live Casino. Stake has a modern live casino section with real dealers. Within the list of games in the category, poker is included, too. This means that you can play Stake live poker with a croupier, too.
What Stake poker formats are there?
In the two Stake casino categories the poker game is represented by several formats. It is very essential for you to have in mind that they are all alike, but not the same thing. Different poker games have different terms and conditions. Before you read and understand them, don't start a real money game.

Here are the Stake poker formats you can find in this crypto-friendly casino:

- Texas Hold Em Poker

- 3 Card Poker

- Casino Hold Em Poker

- Casino Stud Poker

- 3 Hand Casino Hold Em Poker
Are there any Stake in Video Poker?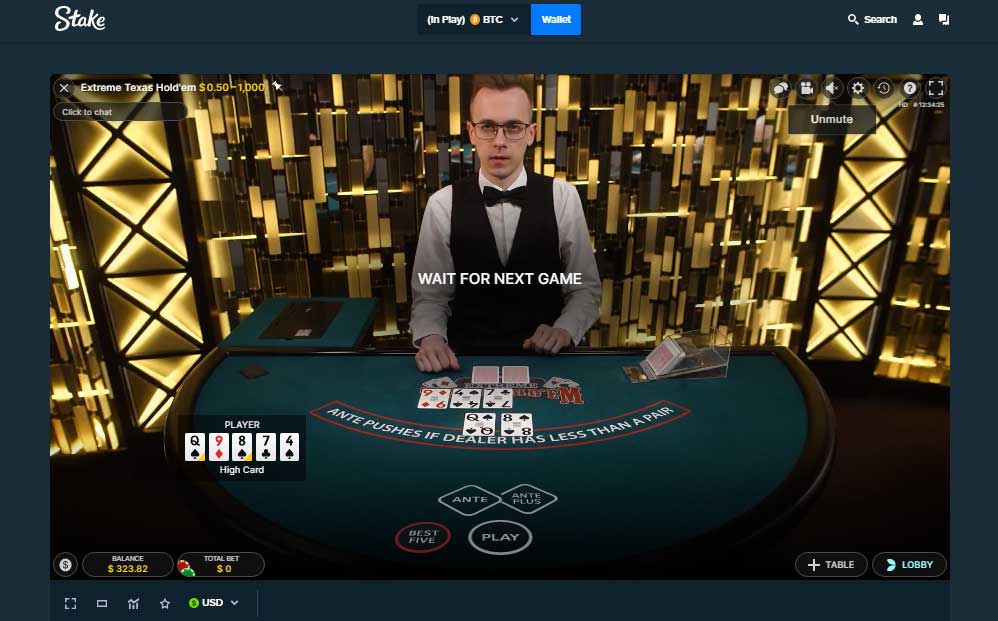 Video poker is a specific game that, though, includes some of the elements from the standard poker game. Yet, it looks more like a slot game. The specialists determine video poker as a hybrid mixture between the slot machine and the standard poker game. However, it has one specific feature – video poker is usually with quite a high RTP (at least 98%). So is there such a profitable game type in Stake? Yes, there is. In Stake, you can find a video poker game in the Table Games category.
Are there any Stake poker tournaments?
Unfortunately, at this stage Stake does not offer any poker tournaments. Currently, the operator offers only poker games where you play against the computer or against the dealer if you prefer a live poker game. We hope, though, to soon see a poker tournament offer on this website, so the customers can get the chance to play against each other. After all, this is the main authenticity feature in the traditional poker game.
Can I play free Stake poker games?
There is an option for you to play Stake poker games for free. This betting house has included a specially tailored demo mode for this purpose. The demo mode allows you to place bets with virtual chips rather than with real money. Find the free poker games in Stake Table Games right away. This could be a good option for you to gain some poker experience, as well as to check if your latest poker strategy really works.
Yes, there are actually a couple of Stake poker offers.
Yes, you can. In the Stake Live casino section there are a couple of poker tables. When you join them you can play against the croupier rather than against the computer, which increases the authenticity level of the entire experience.
Visit Stake casino and choose Table Games. Then, select the poker format you prefer. There's a specially tailored button called "Fun Play". Click it to start the demo mode. Attention: you can take benefits of the free poker games without even making a Stake registration.
You can find the only one Stake video poker offer in Table Games which is one of the main categories in the operator's Casino section.
In Stake, you can try numerous poker formats, including Texas Hold Em, Casino Hold Em, Stud or 3 Card Poker.