Stake Deposit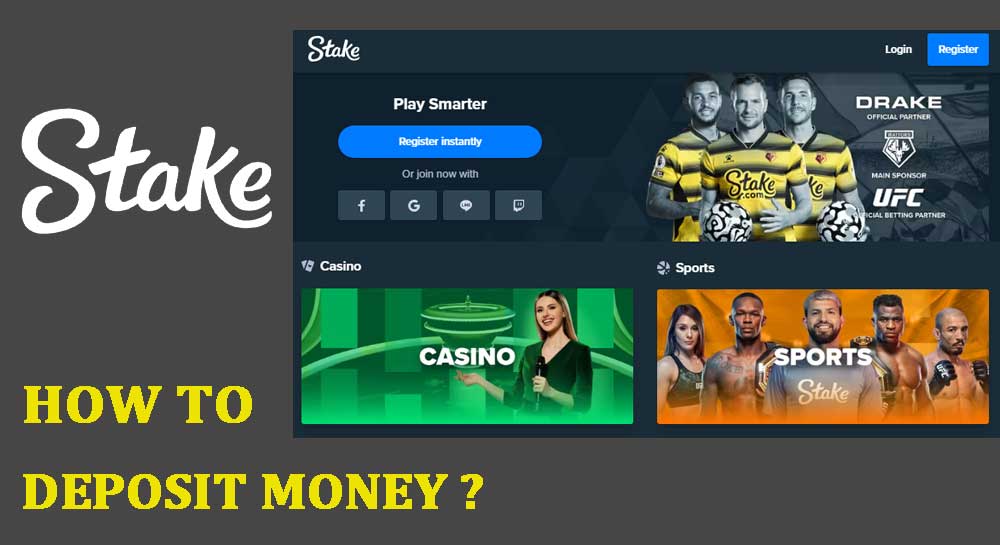 Punters and casino enthusiasts are used to make deposits via traditional methods such as bank wire transfers, Visa or Mastercard, and any popular e-wallets such as PayPal, Skrill, or Neteller. In Stake, the deposit has a bit more different nature, so spending a couple of lines for it in the following material is worth it. Stay with us to find out how to make a quick and safe Stake Deposit.
What is the Stake Deposit for anyway?
As a client with an official account on this website, the Stake Deposit literally represents your starting step for real money gaming and sports betting. Without a deposit, your account balance will be empty, which means you cannot win anything or even play anything. Meanwhile, there's something else you might be motivated by to make a deposit in Stake. It's our specially tailored promo offer. Although the operator doesn't have a welcome bonus, with our BETHAP promo code, you can one – a 200% deposit bonus for your first investment on the website. With this special offer, you can receive up to 1000 EUR with a minimum deposit of 100 EUR.
What is so different about the Stake Deposit?
The different thing is the fact that Stake is a fully crypto-oriented betting website. In other words, here, you will not make financial transactions, including deposits with common FIAT currencies such as USD, EUR, GBP, etc. Instead, you will make deposits and withdrawals, and bets on games and sports events with cryptocurrencies. They represent the latest decentralized digital currencies that are anonymous, secured, and with many other pros, you will meet in the future.
What are the available cryptocurrencies for a Stake Deposit?
All Stake deposit transactions can be made with any of these cryptocurrencies:
| Method | Minimum | Maximum | Taxes |
| --- | --- | --- | --- |
| Bitcoin | no limit | no limit | 0.00005 BTC |
| Litecoin | no limit | no limit | 0.0005 LTC |
| Dogecoin | no limit | no limit | 1.5 DOGE |
| Ethereum | 0.001 ETH | no limit | 0.0002 ETH |
| BitcoinCash | no limit | no limit | 0.00001 BCH |
| Ripple | no limit | no limit | 0.0001 XRP |
| Tron | no limit | no limit | 1 TRX |
| EOS | no limit | no limit | 0.1 EOS |

All deposits are instant. There are no limits for a maximum or a minimum deposit no matter what cryptrocurrency you choose. There's a very small fee per deposit transaction, depending on the concrete crypto type.
How to make a Stake Deposit?
It is very easy to make a Stake deposit. But before we list you the guide with the steps to perform, please note that you will need a crypto wallet. If you have one full of funds, you can use it to play games and place sports bets. If you don't, though, the operator has a special button for you to click and buy cryptocurrencies. When you do that, and you invest them in your Stake account, they will be stored in a new wallet. It's your personal account balance wallet. During your activity on the website, if you see that it is empty, here's what to do to deposit:

1. Visit Stake website

2. Login to the system by entering your password and your username

3. Click the "Wallet" button

4. Choose Deposit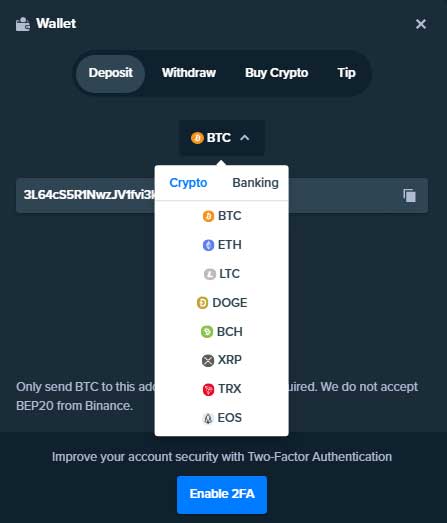 5. Select a concrete cryptocurrency

6. Select a concrete deposit amount

7. Confirm your transaction

The deposit is processed instantly, so if the transaction is successful, you will see the amount credited to your Stake account balance
More for Stake .....
It is preferable to make it immediately after the registration in Stake to receive a 200% deposit bonus up to 1000 EUR after entering our Promo Code - BETHAP
Stake is a crypto-friendly bookmaker that accepts only payments, including deposits with cryptocurrencies.
Choose any of these cryptocurrencies for a Stake deposit: Bitcoin, Litecoin, Dogecoin, Ethereum, BitcoinCash, Ripple, Tron, or EOS.
Yes, depending on the cryptocurrency you use, you will be charged a small fee per each Stake deposit.
No, there are no deposit limits in Stake – either for the minimum or maximum deposit amount.